5 Honest Glossier Brow Flick Reviews To Help With Your Decision To Buy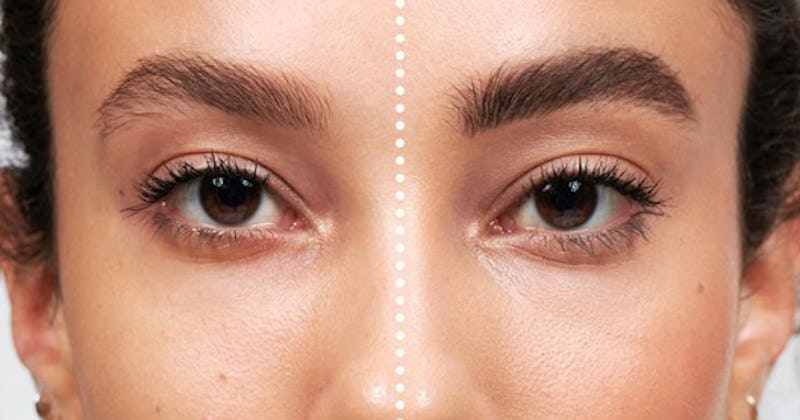 Glossier
When it comes brow products, Glossier's Boy Brow is typically a name that comes up in conversation. The fluffing, tinting brow gel has been a cult favorite for years now, but Glossier's Brow Flick may be coming for its brow crown.
On June 12, Glossier launched its new brow product: Brow Flick. The pen-like product is a bit more detail oriented than its gel counterpart and allows users to draw hair-like strokes in order to mimic the look of real brows. If you've got a sparse spot that Boy Brow just can't quite seem to fill in, that's why there's now Brow Flick.
The new brow pen comes in three colors — blonde, brown, and black — and retails for $18 on the Glossier website. It's up for grabs right now. If, however, you're a tried and true Boy Brow loyalist and don't want to leave the fiber gel behind, Brow Flick can be used in tandem with Glossier's iconic brow product. In fact, the brand offers a bundle on the two products that'll score you $4 off the purchase price.
If you're not quite sold on Glossier's new Brow Flick and want some real world review, 5 Bustle editors tried out the new brow grooming pen. Here's what they had to say.
Katie Dupere, Associate Fashion & Beauty Editor
"My brows are big and bold — and currently growing wild and free as part of a personal eyebrow experiment to see how they naturally fill in. I usually use a brow pencil and brow gel to give my fuller eyebrow look. As someone who has tried and hated brow pens before, I can't say Brow Flick is any different. I found swatching the pen on my hand resulted in pretty and light hair-like strokes, but changing the angle to apply it to my face caused an uneven and weak application. It was like trying to use an eyeliner that is dried up and long past its time. Some strokes lead to thick lines that were not hair-like whatsoever, while others lead to no product application at all.
"I would not use the product again because it took too much time to simply get my brows to look half decent. I have had much more success with other products, and plan to keep my brow loyalties there."
Kayla Greaves, Fashion & Beauty Editor
"Since I've always used a pencil or gel to fill in my brows, using a liquid product threw me off at first. I did notice the product tended to disperse unevenly depending on the angle of the tip. That said, applying Brow Flick took a second for me to get used to, but I loved the results. The product, combined with Boy Brow, left me with the thick, bushy eyebrows of my dreams."
Amanda Chan, Bustle Managing Editor
"My brows are naturally pretty sparse – even though my eyebrow hairs are black, there aren't a ton of them. My brows also tend to require some pomade to keep the hairs in place. So, with all that said, I was curious to see how Glossier's new Brow Flick would work to fulfill my particular brow needs.
"The tool itself is really easy to use; the super-fine brush tip makes it really easy to flick tiny dashes on my brows to make them look fuller. That being said, it did take me a little bit of practice to use. My first go, I was too heavy-handed, and ended up with really obvious black strokes on the sparsest part of my brows. But when I got the hang of the pressure I had to use, I was much happier with the result in terms of how it helped to fill in my brows.
"I'd definitely use Brow Flick moving forward, in conjunction with some kind of brow pomade to keep my hairs from jutting out every which way! "
Olivia Truffaut-Wong, Associate Entertainment Editor
"The Glossier Brow Flick was very strange to use. I like that it doesn't dispense too much product at first swipe because in theory, that means it won't look so unnatural. But it also meant that I just kept applying because I couldn't see any difference and then, all of a sudden, there were two caterpillars on my face. I think the felt tip is fine, but, it also caused uneven application. I'm right handed, and when I shifted from my right brow to my left, I changed the angle of the pen, and it was all of a sudden much stronger, as if the product wasn't dispersed equally on the tip, which made more ink come out at different angles.
"That said, I swatched the product on my hand, and the swatch has remained throughout the day despite multiple hand washes. So it does have staying power, and might be nice to just dash on a bit of extra color, especially for people who can get a bit overwhelmed by a brow gel. Final verdict: it's fine. Would I use it in my morning routine? No. I don't have time for that."
Shannon Stubbs, Bustle General Intern
"I have fairly dark and thick eyebrows (which is both a blessing and a curse), so the most brow product I've used is just clear brow gel and a brush. Brow Flick's pen-like applicator made it genuinely easy to apply the product to my brows, as long as you apply it with a light hand because the product can come out pretty strong. I just applied upward strokes to fill in any gaps and the tail of my eyebrows, and I liked that they looked fluffier and a tad darker after applying. After using some Boy Brow as the finishing touch, they were smooth and almost resembled the popular feathered brow look."