This New Podcast About Women Who've Changed The World Is Guaranteed To Be Your New Favorite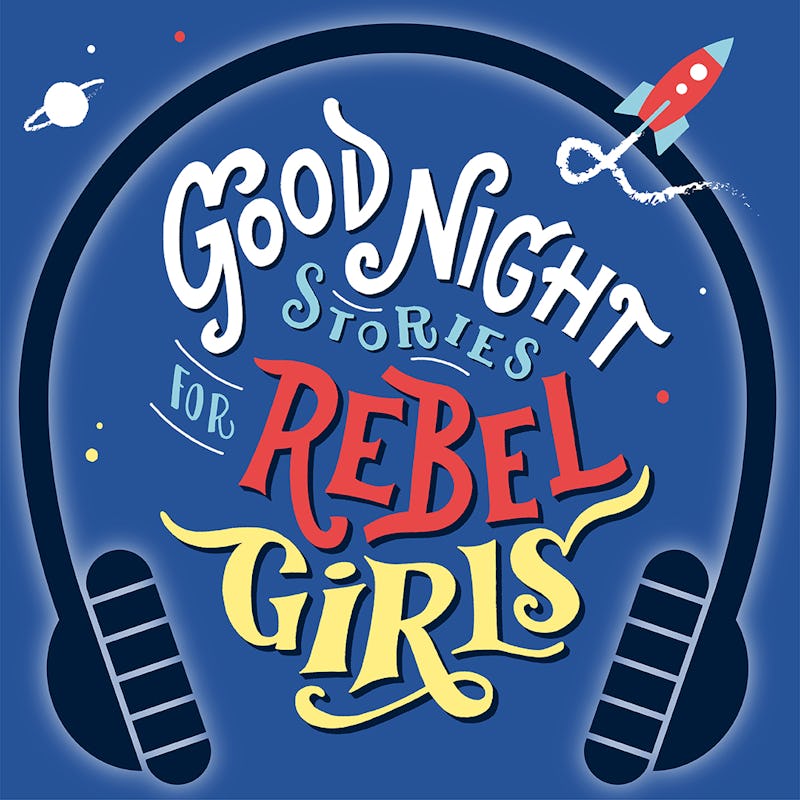 Courtesy of Timbuktu Labs
The "anti-princess picture book" Good Night Stories for Rebel Girls is becoming a podcast in March, and you're going to love their first subject. Tune in on March 6 to hear The Night Of's Poorna Jagannathan read about NASA engineer Margaret Hamilton, who helped put the Apollo 11 mission on the moon.
Created by Timbuktu Magazine co-creators Elena Favilli and Francesca Cavallo, Good Night Stories for Rebel Girls is an anthology book series devoted to telling the stories of brave women and girls you probably won't hear about in your history classes, including Queen Seondeok of Silla, Nanny of the Maroons, Eufrosina Cruz, Lozen, and Mae Jemison, among many, many others. The Good Night Stories for Rebel Girls books are the top two most-funded publishing Kickstarters of all time at the time of this writing.
The introduction to Good Night Stories for Rebel Girls podcast is pre-loaded on iTunes, so you can listen and get yourself pumped for more feminist bedtime stories. When it premieres on March 6, you can listen to this feminist podcast to hear 12-minute vignettes from the lives of history's most impressive women, beginning with NASA engineer Margaret Hamilton, whom you might remember from Hidden Figures.
The second episode of the Good Night Stories for Rebel Girls podcast will feature Dancing with the Stars alum Diana Nyad reading the story of Yusra Mardini, an Olympic swimmer from Syria who fled the civil war in her home country while she was still a teenager. Other upcoming episodes will feature feminist writer Jessica Valenti reading about Battle of the Sexes winner Billie Jean King, Creed star Tessa Thompson telling the story of artist Frida Kahlo, and a secret host reading about Green Belt Movement founder Wangari Maathai. Jagannathan will return to read about the U.S.'s first self-made, female millionaire, Madam C.J. Walker. Other podcast subjects and their readers include:
Irish pirate Grace O'Malley, read by The Kills' frontwoman Alison Lockhart
Abolitionist Harriet Tubman, read by #MeToo founder Tarana Burke
World War II spy Virginia Hall, read by CNN Vice President Mitra Kalita
Mathematician Ada Lovelace, read by The Obamas author Jodi Kantor
Celebrated opera soprano Maria Callas, read by singer-songwriter Our Lady J
Regarding the launch of their Good Night Stories for Rebel Girls podcast series, Favilli and Cavallo say that the demand for more stories of powerful women doesn't surprise them. From the press release: "There is simply a lack of content like this on the market, and we hope to help change that with our new podcast. We cannot wait to continue this conversation with such a rich medium, and hope that it can show young girls that no dream is too big or too far out of reach."
The Good Night Stories for Rebel Girls podcast premieres on March 6.