Sarah Drew Urges 'Grey's Anatomy' Fans To Stop Blaming Her Co-Star For April's Exit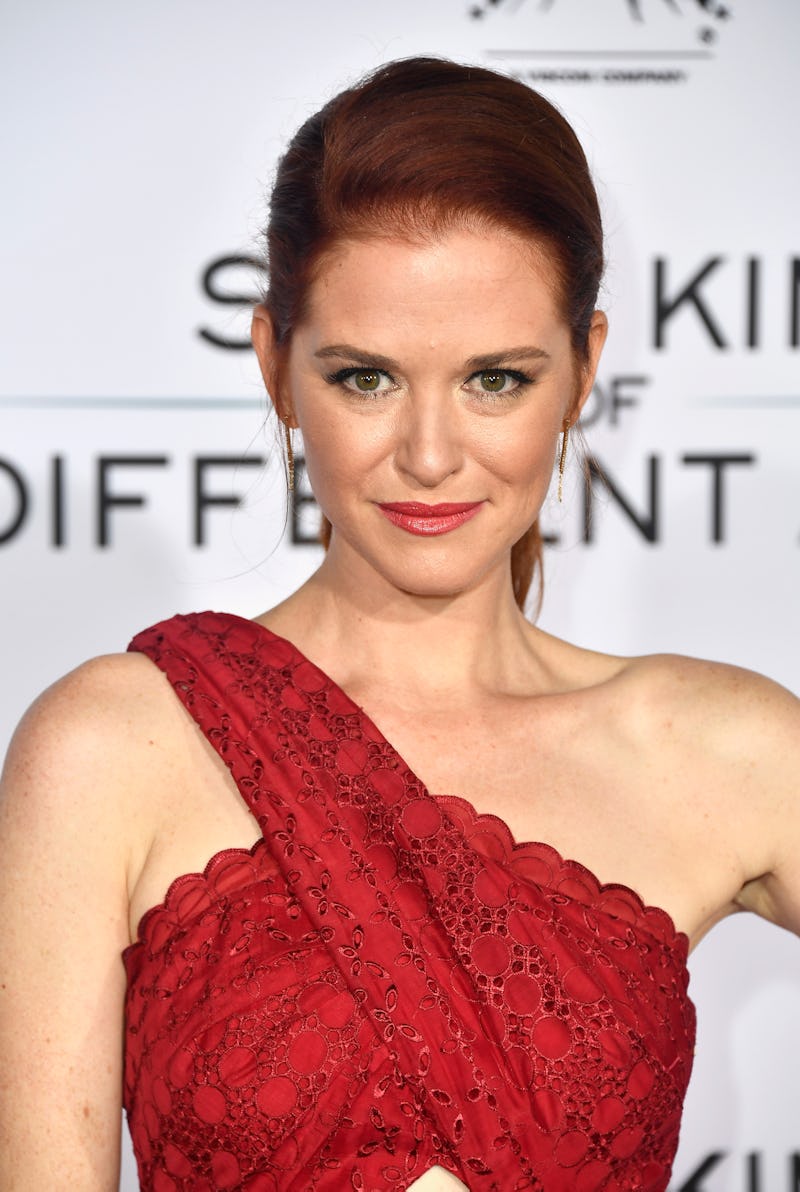 Frazer Harrison/Getty Images Entertainment/Getty Images
Ever since Maggie and Jackson (or "Jaggie," as some fans are calling it) started flirting on Grey's Anatomy, actor Kelly McCreary, who plays Dr. Maggie Pierce on the show, has been subject to some serious hate on Twitter. But, hopefully Grey's Anatomy actor Sarah Drew's statement on Kelly McCreary will convince those hateful social media users to back off a bit. Responding to the recent bout of angry comments directed at her friend and co-star, Drew came to McCreary's defense in a lengthy tweet Tuesday afternoon, May 8. In it, Drew implored fans to stop blaming McCreary, the actor, for the decisions and behaviors of her Grey's character.
"I need to say something to some of you," Drew's tweet began, opting for a pretty direct approach to calling out those Grey's fans who've been giving McCreary so much grief. In doing so, Drew took the opportunity in her recent statement to offer her co-star some due praise and kindly ask those mouthy commenters to leave McCreary alone. To that end, Drew's statement read,
"My beautiful, loving, loyal sister, Kelly [McCreary], is a brilliant, fiercely talented team player who ALWAYS shows up and dedicates herself to the stories she is asked to tell. Please stop attacking her for doing her job."
It's probably worth noting here that the vast majority of comments denouncing McCreary's character — as well as McCreary herself — seem to originate from Drew's fanbase. As veteran Grey's enthusiasts have probably gleaned, the discontent on Twitter seems to have been spawned pretty obviously by Maggie's newly-minted relationship with Jackson, whose enduring on-screen romance with Drew's April Kepner has been difficult for fans to get over.
In Tuesday's statement, Drew acknowledged that the fan-fueled upset probably comes from a place of loyalty to her own Grey's character. "Look, I know these characters mean so much to you," Drew wrote, continuing on to remind fans how much they mean to her, too. Still, as to the loyalty point, Drew made her feelings about that particular form of support quite clear, writing, "I do not feel defended when you attack my friends."
Suffice to say, Drew ended her statement with a string of concluding thoughts that probably could have been written by the notoriously kind-hearted Dr. Kepner herself. In the tweet's final few sentences, Drew urged her followers to amend their behavior with some logic that'll probably be tough for scorned Kepner fans to argue with:
"When you hurt [McCreary], you hurt me. When you show kindness to her, you show kindness to me. Please be kind."
McCreary has yet to comment on the statement. But judging by the responses to Drew's statement (the tweet's comment section alone touts several hundred), it sounds like, for the most part, fans seemed to hear what the actor was saying. Amid dozens of replies from Twitter users who championed Drew's decision to virtually go to bat for McCreary, several Grey's fans echoed those points made in her statement.
One fan, who admitted to disliking the "Jaggie" romance, acknowledged that the character's storyline shouldn't have any bearing on the way folks view McCreary, adding that the actor is doing a pretty awesome job playing Maggie.
Unfortunately, after having portrayed Dr. Kepner for nearly a decade on Grey's Anatomy, the series previously announced that the show's current season will be Drew's last. Given that her character's upcoming departure from Grey's is fast approaching, it seems there couldn't have been a better time for Drew to address the issues that have cropped up in recent months among April's robust fan following. Only time will tell as to whether Drew's statement will actually mediate those hateful comments about McCreary, but here's to hoping.