Hailey Baldwin Is Justin Bieber's Number-One Fan, Based On These New Comments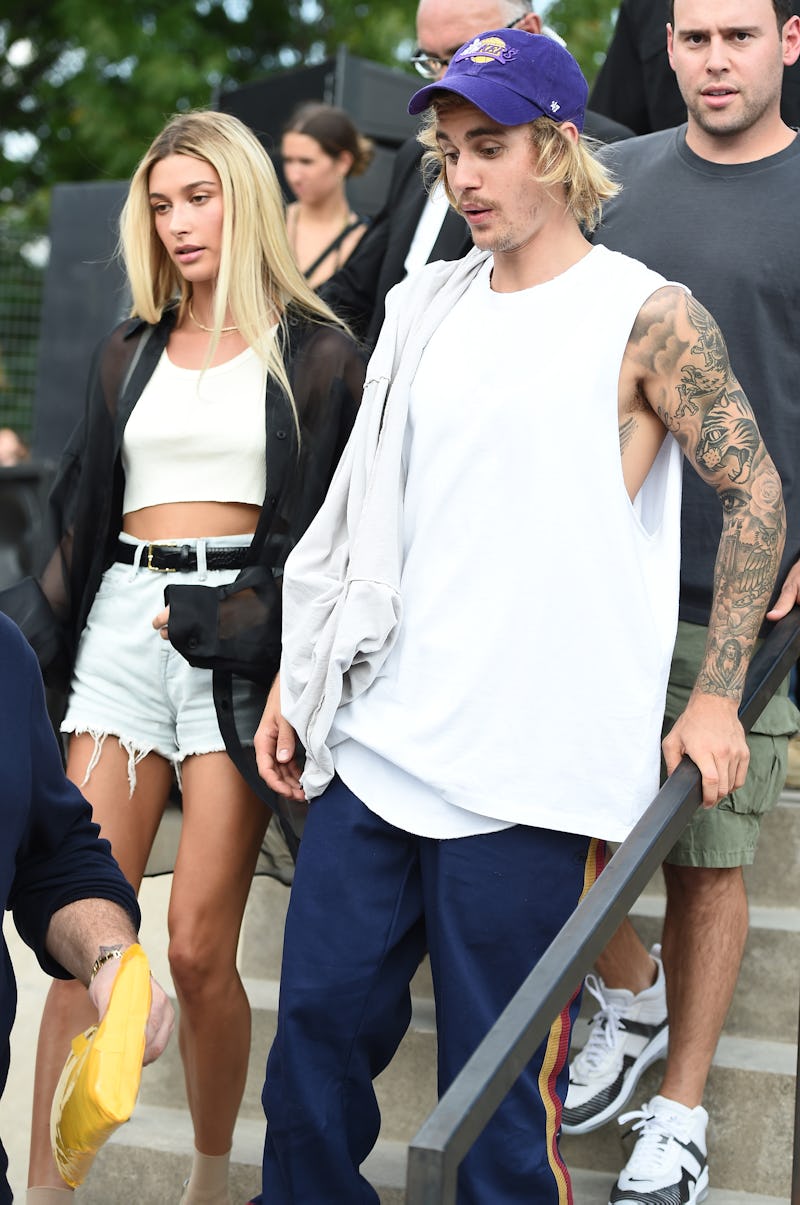 Theo Wargo/Getty Images Entertainment/Getty Images
While their marital status is still a bit unclear, there's one thing you can be sure of when it comes to Hailey Baldwin and Justin Bieber: They're head over heels for one another. Nothing is more evident of that than a recent interview with Harper's Bazaar in which Hailey Baldwin gushed about Justin Bieber. But that isn't the only thing she opened up about.
The Drop the Mic cohost had nothing but kind things to say about her significant other. She said about Bieber,
"He is incredible. He crushes everything. Every song, every feature. It's crazy to see what he does. I'm always blown away."
It really does sound as though Baldwin is the singer's biggest fan, which is just so sweet.
In her interview with Harper's Bazaar, which was published on Oct. 16, she also discussed the increased amount of attention that she's received after her relationship with Bieber went public. "Over the past year," she told the publication, "I've had more attention on me than I've ever had in my life. Even before…" she continued, an obvious reference to the time before her relationship made headline after headline.
The model said it took her some time to figure out how to balance everything in her personal life. Baldwin explained, "It's easy to not think about your mental health or your physical health because you keep pushing, pushing, pushing. Before this year, I wasn't balancing anything." As for how she deals with that increased attention? She said that a combination of church, boxing classes, and her family keep her grounded.
This isn't the first time that Baldwin has opened up about the pressures that come with being in the spotlight. She previously told Stellar magazine, in her first interview after the engagement news broke, all about how she feels in regards to the happy news. According to the interview (obtained via E! News), Baldwin is not letting any of the haters get to her.
When asked about how she's dealt with all of the increased attention (some of which has not been positive), she said:
"I don't think it's affected me really. I have learned to just try my best to ignore the negativity at this time so that I can enjoy this season of my life."
Instead, she's indeed focusing on the positive like the start of this new chapter with Bieber, which she told Stellar that she was "beyond excited" for.
As previously mentioned, the couple's relationship status is still a little unclear at the moment. It was reported by TMZ in July that Baldwin and Bieber were engaged, a fact confirmed by both parties on their social media accounts. Now, it's been rumored that they actually walked down the aisle together and made things official. Multiple publications including People reported that the couple officially wed in September in a low-key courthouse ceremony.
However, neither Bieber nor Baldwin have confirmed these reports. Until they do, fans will only have to speculate as to their real relationship status. But no matter whether they do confirm the news or not, those fans can rest assured that, based on the model's latest interview, the couple's love is still going strong.