Hailey Baldwin's Old Tweets About Biebs Will Make You Simultaneously Smile & Cringe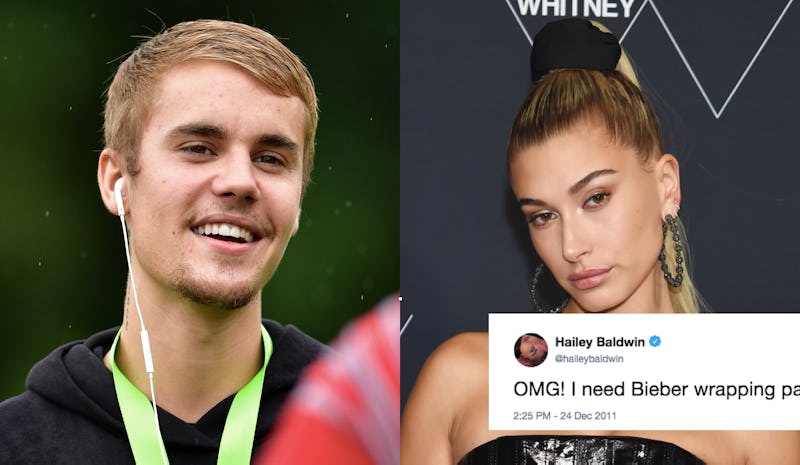 Stuart Franklin/Getty Images Sport/Getty Images; Dimitrios Kambouris/Getty Images Entertainment/Getty Images; Hailey Baldwin/Twitter
Beliebers, here's something you're going to want to see. Hailey Baldwin's old tweets about Justin Bieber have resurfaced ever since their engagement became public knowledge, and, well, they're hilariously sweet. If you consider yourself a diehard Bieber fan, just wait until you see what Baldwin posted over the years about the "What Do You Mean?" singer.
On July 8, TMZ reported Bieber and Baldwin were engaged, but it wasn't until July 9 the singer confirmed his engagement with a sweet photo of himself and his fiancée and a lengthy caption gushing about the model. Part of his post read:
"Was gonna wait a while to say anything but word travels fast, listen plain and simple Hailey I am soooo in love with everything about you! So committed to spending my life getting to know every single part of you loving you patiently and kindLY. I promise to lead our family with honor and integrity letting Jesus through his Holy Spirit guide us in everything we do and every decision we make. My heart is COMPLETELY and FULLY YOURS and I will ALWAYS put you first!"
He later went onto say how excited he is for his brother and sister to see a "healthy stable marriage." The 24-year-old concluded his post, "My goodness does feel good to have our future secured! WERE GONNA VE BETTER AT 70 BABY HERE WE GO!"
Baldwin also confirmed their happy news on Twitter on July 9 by writing, "Not sure what I did in life to deserve such happiness but I am so utterly grateful to God for giving me such an incredible person to share my life with! No words could ever express my gratitude."
They are clearly as happy as can be. It's like Baldwin's dream came true of marrying someone she's admired for a really long time. And, really, the 21-year-old daughter of Kennya and Stephen Baldwin has been an active follower of Bieber and his career. Basically, she's been his no. 1 fan since pretty much the beginning — and here is the Twitter proof.
Justin Bieber Wrapping Paper?
He's the gift that keeps on giving.
They've Known Each Other Forever
So much so, Bieber reportedly asked Baldwin's dad for her hand in marriage.
Bieber Rules
Talk about commitment.
She's Totally A Belieber
If you had any doubt.
She's Seen Him Perform
Some concerts are totally worth the "aftermath."
Wishing Him A Happy Thanksgiving
She's been giving thanks for Bieber for awhile now.
The Perfect Tweet
But, really, "waddup," Biebs?
He's A Great Tweeter
She's an avid follower.
Mistletoe Is Her Jam
Who else loves his holiday album, Under the Mistletoe?
This Is "Crazy"
According to this tweet, they first met in 2008, so, yeah, they've known each other for almost 10 years.
She Liked His Dark Hair
They Both Like Cereal
They are clearly meant to be.
These are only a few of Baldwin's many tweets about Bieber. If you think about it, his first song, "One Time," came out in 2009. At this time, Baldwin was a young teenager, so, really, she was probably a genuine fan of the singer. It's funny to look back at her tweets about him, especially now that they are getting married, but it's also kind of a nice way to reminisce about their journey. It also probably makes Bieber feel good to know Baldwin has supported him for about a decade. That's exactly the type of partner someone wants in life and they apparently found it in each other.