Hailey Baldwin Called Justin Bieber A Super Dorky Nickname Back In 2012 & You'll Love It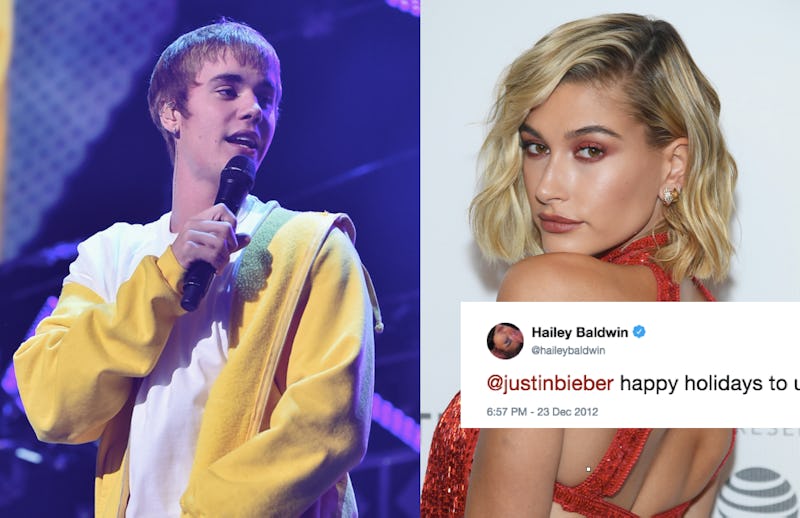 Theo Wargo/Getty Images Entertainment/Getty Images; Dimitrios Kambouris/Getty Images Entertainment/Getty Images; Hailey Baldwin/Twitter
Before Justin Bieber and Hailey Baldwin's engagement was reported on July 8, the pair were actually longtime friends. Their friendship was on full display in an adorable social media interaction from way back in 2012. Hailey Baldwin called Justin Bieber a funny nickname on Twitter, as BuzzFeed pointed out in a list of her old tweets. And unless were on AIM in 2006, you'll probably never guess what the moniker is.
UPDATE: On Monday afternoon, Bieber confirmed his engagement to Baldwin with a lengthy Instagram caption. He also shared two black-and-white photos of the pair together, writing, in part:
"Was gonna wait a while to say anything but word travels fast, listen plain and simple Hailey I am soooo in love with everything about you! So committed to spending my life getting to know every single part of you loving you patiently and kindLY."
EARLIER: In December 2012, Baldwin took to Twitter to wish Bieber a happy holiday season. But in the process, she let her nickname for the singer slip in her message. The model wrote, "@justinbieber happy holidays to u too Juz10!" It would be interesting to see if Bieber had his own chatroom-friendly nickname for his intended, like HayL33, perhaps? Maybe any of their guests could expect to see "You're cordially invited to Juz10 & HayL33's wedding" on any invitations? It would certainly be fun, to say the least.
Not only does Baldwin's tweet show off an especially dorky and cute nickname for Bieber (especially considering that the two are reportedly now engaged), it's also indicative of the couple's longtime friendship. If they got this jokey with each other back in 2012, it's safe to say that they've been friends long before they ever started up a romantic relationship.
In an interview with The Times in May, Baldwin opened up about their friendship. "Justin and I were friends for a long time," she explained. She went on to say that he was "one of my best friends" at one point. Of course, she also mentioned that their relationship did take a romantic turn years ago, but they've remained friends (after some initial post-split awkwardness). The model said, "Everybody knows that at a certain point in time that turned into something else, but that just happens when you're 18, 19. It was what it was." She continued to discuss their relationship, "But it brought both of us to the realization that we just work much better as friends. He's somebody I really cherish."
While its unclear when exactly they became friends (they did meet back in 2009, thanks to her father, Stephen Baldwin), it's clear that they were at least friendly with each other in late 2012, based on her tweet. As Baldwin mentioned to The Times, they were involved in a romantic relationship in the past. Although, the exact timeline of their relationship is sort of hazy.
In late 2014, it was reported by Hollywood Life that Bieber was getting close to his model friend after one of his splits from on-and-off girlfriend, Selena Gomez. Neither of them confirmed their relationship and the Drop The Mic co-host even denied dating rumors in a December 2014 interview with E! News. Despite denying the rumors, and then posting some pretty Insta-official photos together, they reportedly split sometime in August 2016, per Marie Claire.
However, they've since reconciled in a major way. As previously stated, Bieber and Baldwin are now engaged, according to TMZ. (Bustle reached out to their reps for comment, but did not receive an immediate response.) They only started sparking dating rumors again around June 11, as E! News reported. It's been a whirlwind romance for the two of them, with many of their family members supporting this happy milestone on social media. Both of the "Sorry" singer's parents, Jeremy Bieber and Pattie Mallette, expressed their happiness on Instagram and Twitter. Baldwin's father also had some kind words to say, even though he later mysteriously deleted them.
By all accounts, it seems like both Bieber and Baldwin are incredibly happy in taking this next step in their relationship. Or as the model would say, she's taking this major step with her intended, the one and only, Juz10.