'Halloween' Star Andi Matichak Had The Best Reaction To Learning Jamie Lee Curtis Would Return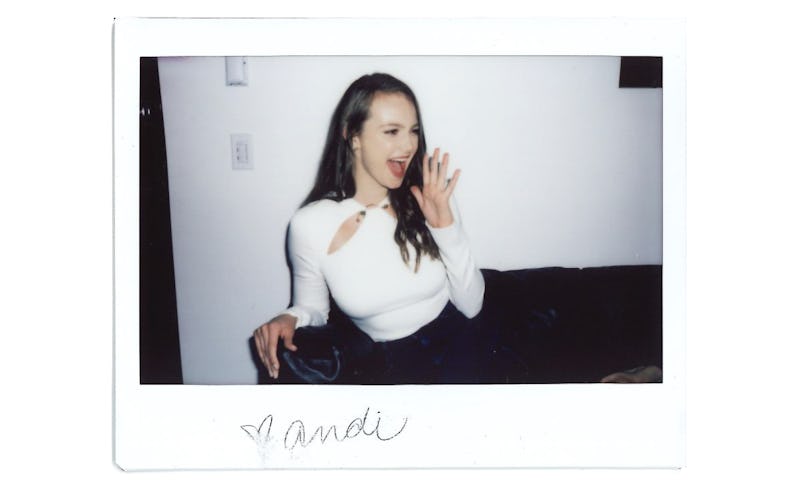 When celebrities hang out with Bustle editors, we want to give them the chance to leave their mark. Literally. So we hand them a pen, a piece of paper, a few questions, and ask them to get creative. The rest is up to them. This time, Halloween star Andi Matichak is leaving his mark in the Bustle Booth.
Andi Matichak knows she's lucky — like, really lucky. Not only is she starring in a sure-to-be blockbuster, Halloween, but she appears in the upcoming horror movie alongside two of her biggest on-screen idols: Judy Greer and Jamie Lee Curtis. Oh, and Halloween marks her breakout in Hollywood, her first major movie role after a few years of supporting parts in film and TV. "I joke with [the cast] all the time, I'm completely ruined for any project going forward," Matichak says with a laugh while in Bustle's New York studio.
"Ruined' is hopefully not quite accurate, but there's no question that Matichak (Making It, Underground) is starting off her big-screen career with a bang. In Halloween, in theaters Oct. 19, the actor stars as Allyson, the teenage granddaughter of Laurie Strode (Curtis). 40 years after Laurie survived vicious attacks by serial killer Michael Myers, she's struggling with PTSD and worried both Allyson and the teen's mom, Karen (Greer) aren't sufficiently prepared for Michael's inevitable return. And when the killer does hunt out Laurie and her family, the trio of women band together to fight for their survival.
"That was one of the things that I loved so much about it from the get-go, when I read the script, was the 'three generations' angle," says Matichak. "[The writers] didn't go in with the intention of, 'we're going to make something so innovative.' I'm sure there was part of that in there, but that's just how they write women, and that's something I really appreciated."
She also was thrilled to see that Laurie featured so heavily in the movie, as it meant that Curtis was likely to be reprising her iconic role. "When I read the script, she hadn't been cast yet, and [when I saw] Laurie Strode was on the page, I almost lost it," Matichak recalls, laughing. "I hoped that she'd do a cameo or something, some sort of little thing. But when I saw Laurie Strode, I was like, she's gotta be coming back. There's just no way that she's not."
Thankfully for both the actor and fans, Curtis' Laurie does indeed have a substantial role in Halloween — and along with fellow veteran actor Greer, she used her time on-set to impart some wisdom to Matichak. "They're both such incredible women and I learned so much from them, across the board — as an actress, yes, and as a professional in the industry, yes, as a woman in the industry, yes, as a woman in life," she says now. "Those are two people I'll use as a sounding board, and I'll call if I don't know what to do about something — even just life advice, it's not even just about career. These women are really bright, and really kind, and really generous."
Matichak may be relatively new to the scene, but she's clearly already following in Curtis and Greer's wizened footsteps, at least when it comes to spoilers. When I ask if she'll come back for a potential Halloween sequel, the actor expertly evades the question. "Halloween will always be sort of my first family, and same with Universal and Blumhouse, which I think is really special, and I would do anything they want," she says, choosing her words carefully. "But we must survive first though, so who knows."
Spoken like a true horror movie star. Read on for more about Matichak in her Bustle Booth: