The Actor Who Voices Apu Finally Addressed The Backlash — And In A Really Promising Way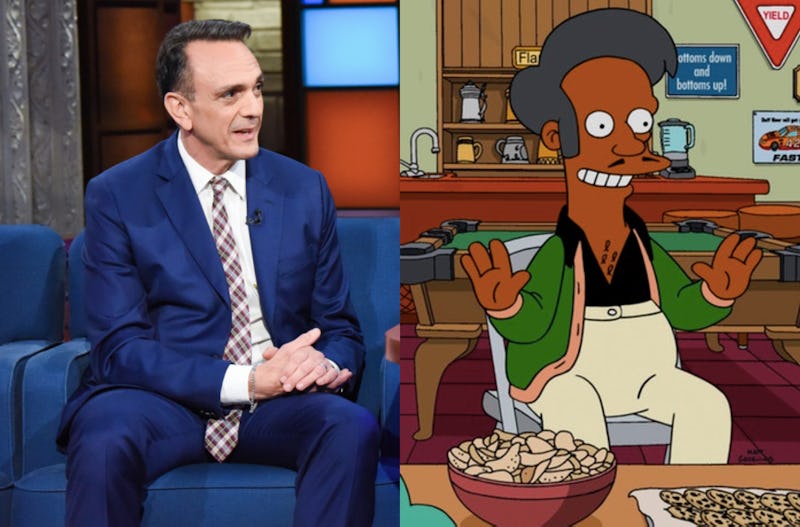 Scott Kowalchyk/CBS; Fox
Apu has been on The Simpsons for all 29 seasons, but given ongoing criticism, the man behind the voice said he's ready for the character to go in a different direction. Hank Azaria discussed the Apu Simpsons controversy during Tuesday's episode of The Late Show With Stephen Colbert. Azaria was there to promote Season 2 of his IFC show Brockmire, but the longtime voice actor spent the majority of his interview addressing his most controversial Simpsons character. In recent years, it's become clear that many are offended by the depiction of Apu, an Indian immigrant who works at a convenience store and is voiced by a white person. And if you were less than impressed with how The Simpsons recently responded to the Apu backlash, Azaria's words indicate that there might be positive change to come.
Azaria voices multiple characters on The Simpsons — like Moe, Chief Wiggums, Comic Book Guy, and Carl Carlson — but the most contentious is Apu. The owner of the Kwik-E-Mart has been accused of being a stereotypical and caricature-esque portrayal of Indian-Americans and Southeast-Asian Americans. The criticism came to a head when comedian Hari Kondabolu released his 2017 documentary The Problem With Apu.
"The idea that anybody young or old, past or present, was bullied or teased based on the character of Apu, it just really makes me sad," Azaria told Colbert. "It was certainly not my intention. I wanted to spread laughter and joy with this character and the idea that it's brought pain and suffering in any way, that it was used to marginalize people, it's upsetting."
But beyond feeling bad for any harm he may have unintentionally caused, Azaria also suggested a solution for moving forward with the character — and it starts with more inclusion in the writers' room. Azaria said,
"My eyes have been opened and I think the most important thing is we have to listen to South Asian people, Indian people in this country when they talk what they feel and how they think about this character and what their American experience of it has been. And as you know, in television terms 'listening to voices' means inclusion in the writers' room. I really want to see Indian, South Asian writers in the room, not in a token way, but genuinely informing whatever new direction this character may take, including how it is voiced or not voiced."
As Vulture pointed out, the thick accent that Azaria puts on for Apu has impacted how Indians and Southeast Asians are perceived in the media. So while it has taken far too long, it may be heartening to hear that Azaria is open to changing how the character is voiced. Azaria also added, "I'm perfectly willing and happy to step aside or help transition it into something new. I really hope that's what The Simpsons does. It not only makes sense but it just feels like the right thing to do to me."
Azaria's comments on Colbert come after The Simpsons addressed the controversy in a recent episode, "No Good Read Goes Unpunished." Marge realizes a favorite childhood book of hers now reads as offensive. She tries to update the book to remove any offensive references, but it doesn't have the same emotional impact. Marge asks what she can do and Lisa breaks the fourth wall by responding, "It's hard to say. Something that started decades ago and was applauded and inoffensive is now politically incorrect. What can you do?" Lisa then looks to a bedside photo of Apu, which is signed, "Don't have a cow, man!" Marge then says, "Somethings will be dealt with at a later date." Lisa's response? "If at all."
Some interpreted the aforementioned scene to mean that The Simpsons did not care about the very real concerns about Apu, which is also something Colbert and Azaria discussed. Azaria said that he didn't interpret the scene to be dismissive, but that he also had nothing to do with it. (After that Simpsons episode aired, Bustle reached out to Fox about the backlash, but the network declined to comment.)
As for the actor's own stance, Azaria is being praised for his words on Colbert. Kondabolu thanked him on Twitter, writing, "I appreciate what you said & how you said it." Others on Twitter also supported the comments.
Azaria is making strides to do the "right thing," but it will be up to the people who run The Simpsons to follow suit. Because even though it's taken 30 years to get to this point, fans shouldn't have to wait until a "later date" to see Apu better represent the Indian and Southeast Asian American experience.