Peter & Hannah B. Just Had A VERY Emotional 'Bachelor' Reunion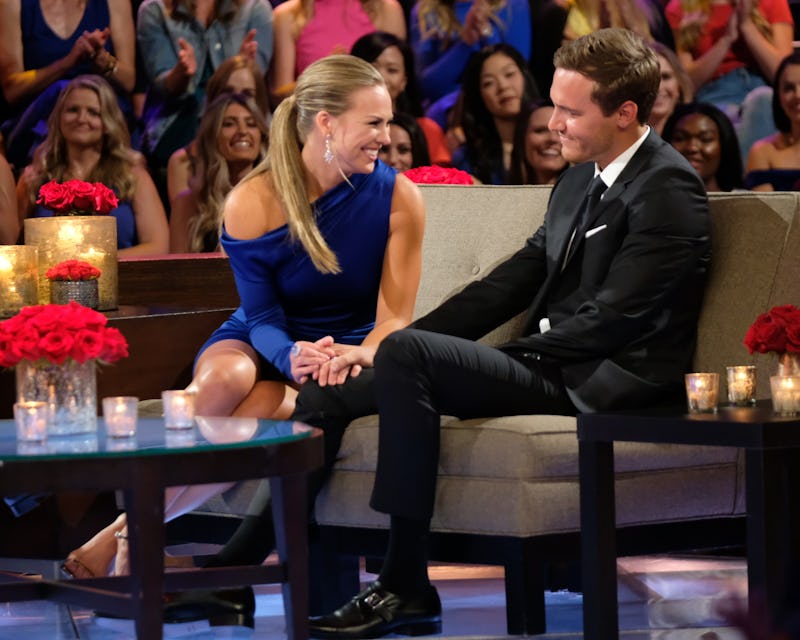 John Fleenor/Walt Disney Television/Getty Images
He may not have gotten her final rose, but Pilot Pete will always have a piece of Alabama Hannah's heart. The moment Bachelor Nation has been waiting for arrived on Monday night, and Hannah B. and Peter's Bachelor reunion teased a possible reconciliation, as the pair both admitted to being "confused" about how they still feel about each other. The former Bachelorette first appeared — much to the chagrin of the 30 women competing for Peter's heart — near the end of the limo entrances to offer Peter a very sentimental gift from her own season.
"When I heard that you were gonna be the bachelor I had mixed emotions," a nervous Hannah said, before handing Peter back the wings he gave her during his own entrance to the Bachelor Mansion. "I want you to find that person and so I brought these back for you."
But even though Peter told the contestants that they had nothing to worry about, as he revealed that his ex just wanted to drop off a good-luck charm, things took a turn for the dramatic when Hannah returned after the first Rose Ceremony to host the second group date for Peter.
During the date, Hannah told the chosen contestants that they would be sharing a memorable sex story, but after she shared one of her own — did you think The Bachelor would have Hannah show up on Peter's season without a mention of that infamous windmill date? — the former beauty queen seemed to have some regrets about turning down Peter on her season in favor of Jed Wyatt. "I don't know how I feel," an emotional Hannah told a producer. "I know that I care for him. I know that I loved him, but I know sometimes it doesn't work."
Peter joined her backstage for a teary conversation, where Hannah seemed to reveal that she was having a difficult time in the wake of her breakup with Jed. "I question what I should have done and I question [it] a lot," the former Bachelorette admitted, explaining that her "heart was confused" when she broke up with Peter in Crete. And then came the question everyone was waiting for: "What would you say if I asked you to come be part of the house?" Peter said, to which Hannah responded, "Maybe."
It turns out to be a much more loaded question than even the dramatic promos promised: Hannah admitted that she "question[s] every day" whether she made the wrong choice sending Peter home, while the pilot revealed that he told his family that he wanted another chance with Hannah after her engagement ended. In fact, he even told Hannah that when she stepped out of the limo on the first night, "part of me wanted you to come back in [the house]."
"I can't help how my heart feels. I look at her and I don't want to stop looking at her," Peter told the cameras after his emotional conversation with Hannah. "I want to kiss her and have had all this work out ... I feel like such a jerk because I have such an awesome group of expecting someone who was truly ready to have this work for them as well."
But now, it looks like both Hannah and Peter are confused about how they feel for one another — and whether or not they want to give their relationship one last try. Regardless of what happens next week with Hannah and Peter, one thing is for certain: the rest of the girls in the Bachelor Mansion will not be happy with all of the residual feelings from last season.