Harry Styles Dressed As Elton John For Halloween & The Photo Is So Uncanny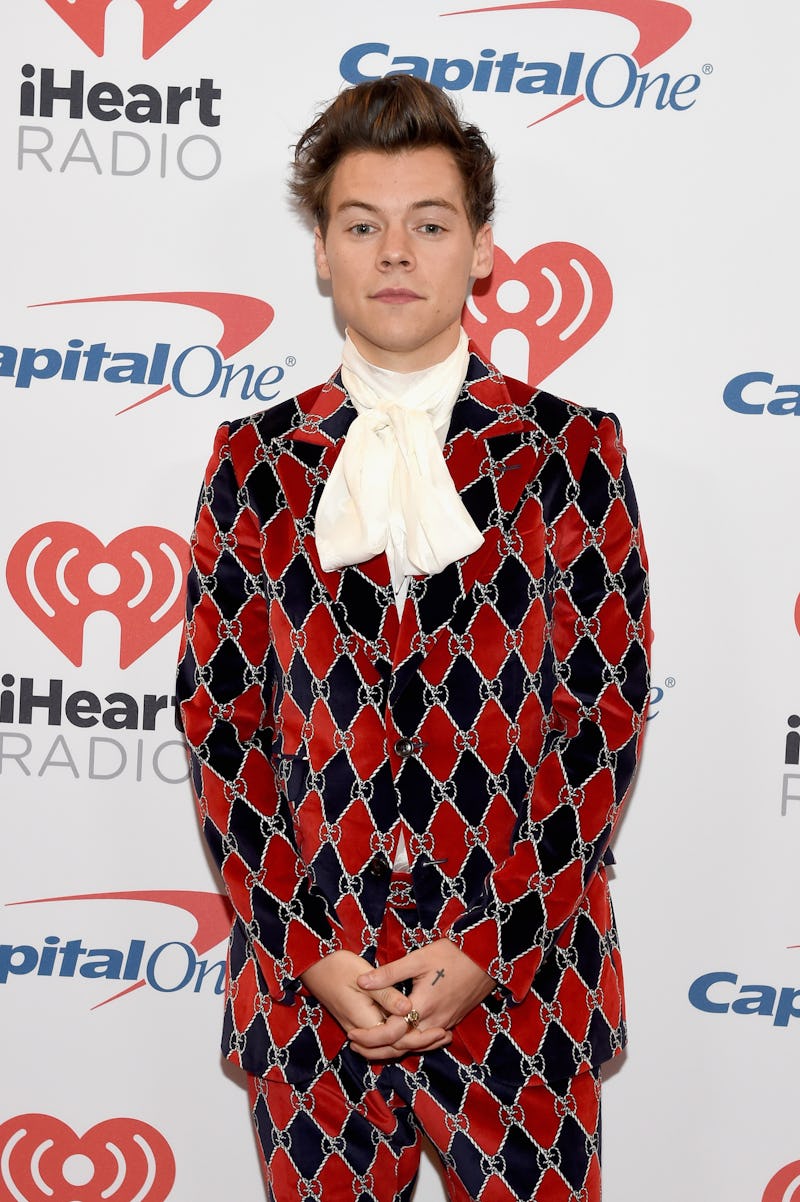 David Becker/Getty Images Entertainment/Getty Images
It might seem a little early to declare that a celebrity has won Halloween this year — after all, there are still three whole days to go until the holiday — but in this case, there's no more evidence needed. For the Casamigos Halloween party on Friday, Oct. 26, Harry Styles dressed as a 1970s-era Elton John — and the musical legend even gave him his seal of approval over the look.
For the annual bash, which is hosted by Cindy Crawford and husband Rande Gerber, Styles channelled John's iconic bedazzled L.A. Dodgers outfit, which he wore to perform at Dodgers Stadium back in 1975. The sparkling look, which Styles finished with a dazzling baseball cap and giant pink sunglasses (complete with rhinestones of their own, because you can never have enough sparkle), was designed for the "Sign of the Times" singer by Gucci.
John was so impressed by Styles' costume — and its attention to detail — that he posted several photos of the former One Direction singer to his own Instagram account, and gushed over the homage. "Now that's what I call a Halloween costume," John captioned the photo set, which showed Styles smiling and posing for the camera, as well as crouching on the floor with his tongue sticking out. Journalist Erica Zohar gave Bustle permission to publish her photo of Styles from the party:
Styles and John's connection goes deeper than just a Halloween costume, however; in 2016, John told The Daily Star that the younger singer had turned to him for advice while working on his debut solo album, Harry Styles.
"I've seen Harry a few times who is great and I'm always on hand to offer him advice," John said, in a conversation about mentoring the new generation of British singers, which included Styles, Ed Sheeran and James Blake.
And back in April, John called Styles a "sweetheart" and "a really fabulous guy," during a conversation with Kacey Musgraves for his Beats 1 radio show, Rocket Hour, on Apple Music. After finding out that Styles was the one who asked Musgraves to join him on tour to support his debut album, John declared "I love him even more now," after finding out that the "strange ... but great" pairing was the "Kiwi" singer's idea.
While Styles himself hasn't shared much about his friendship with the musical legend, his solo music — and his style choices — have been heavily influenced by rock stars of the 1970s, including John, David Bowie, and Mick Jagger, who Styles has been compared to since the beginning of his career. (In fact, Styles has been long rumored to be playing the Rolling Stones frontman in an upcoming biopic, though nothing has been confirmed or announced yet.)
But while Styles' Halloween costume might invite even more comparisons between his and John's similarly over-the-top fashion choices, when it comes to choosing his day-to-day outfits, Styles' main inspiration is decidedly more of a '90s icon.
"I think both music and fashion, [my] main influence was probably Shania Twain," Styles told Entertainment Tonight in a November 2017 interview. "Yeah, I think she's amazing." (Hopefully this means that fans can expect to see Styles rocking a whole lot of leopard print next Halloween.)
Regardless of whether he's dressing up in an elaborate costume or simply rocking a patterned suit on the red carpet, Styles has made it clear that he's never afraid to take a risk when it comes to fashion. And since his '70s inspired outfit got John's seal of approval, it seems like it's only a matter of time before bedazzled baseball hats start becoming a major trend. Just don't forget who rocked them first!
Photo courtesy of @ericazohar.