Hating Taylor Swift Isn't Going To Stop Her From Laughing All The Way To The Bank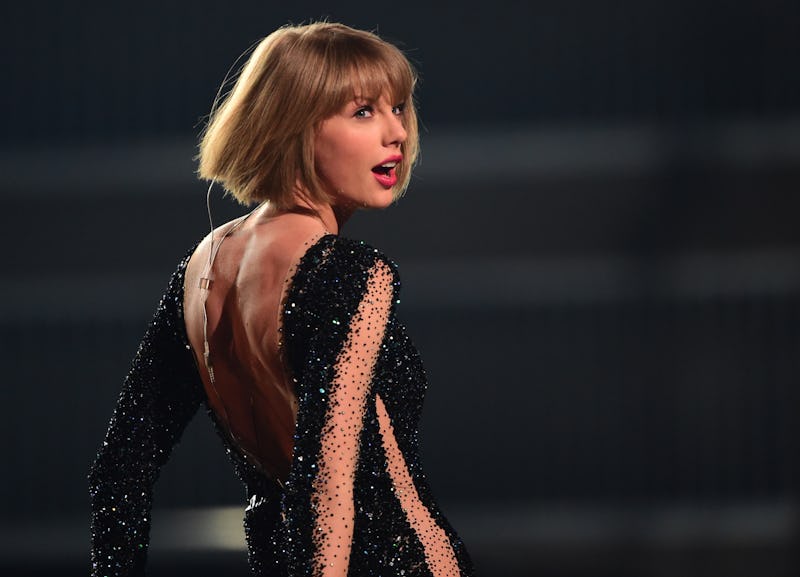 ROBYN BECK/AFP/Getty Images
Though it was hard for fans to endure, Taylor Swift's break may have worked in her favor. Just five days after dropping her latest single, "Look What You Made Me Do," Swift has broken Spotify and YouTube records and climbed the charts. The single from her upcoming November release Reputation was streamed 8 million times on Spotify on the first day it was out. And the video earned the most YouTube views in a 24-hour period with 43.2 million — grabbing the title from Psy's "Gentleman," which had an impressive 36 million. But, despite the backlash against the singer that's become so pervasive in the last year, did you really expect anything less?
America's blonde-haired, blue-eyed sweetheart took a G-rated turn to the dark side. Not like Rihanna's 2007 Good Girl Gone Bad era, but just enough to show that she's not one to take a public beating lying down. She's been called a snake and a liar, and has been accused of approaching her art with a flawed, white feministic air. Her reputation has been dragged through the mud. But, instead of trying to clear her name, Swift is taking the road less traveled. She's attempting to turn the vile label of "snake" into a term of endearment.
Whether you like her or not, you have to respect that Swift is a pop juggernaut. She's not the best singer, not the best dancer, nor is she the best performer, but her talent is enough to break records. Her ability to capture the attention of the world with her girl-next-door vibe is undeniable, and that same white mediocrity that she's been criticized for embodying is the very reason why "LWYMMD" is her latest victory.
Aside from smashing YouTube's record for most views in a 24-hour period, Swift is also the youngest artist to win a Grammy for Album Of The Year, the only person named Woman Of The Year twice by Billboard, and according to Forbes, is the only female artist to have had three of her albums sell over one million copies in its debut week. With over 500 nominations, and over 200 awards won throughout her 11-year career, Swift is obviously doing something right.
However, the reasons why people pay attention to America's Sweetheart are all so different. From the hate watchers to the think piece writers to her actual diehard fans, people tune in to Swift's antics because she's good for mainstream entertainment. Since 2015, she has uses her platform to encourage a safe and conservative version of feminism — one that isn't intersectional or the least bit controversial. With that, she attracts both those who praise her every move and those who want to challenge her to use her star power a little differently and decisively. But the thing is that in order to love her, hate her, or write a think piece about her, you have to listen to her music — so it's absolutely no surprise that, even at this low point in public perception of the pop star, she's breaking records.
Frustrated, socially conscious listeners may want to hold Swift accountable for her lackluster feminism and her use of victimization and white privilege, but she's stayed mum about every issue that could alienate the majority of her fans — including the current political climate. Instead, she's focused on the thing that unites them: her music and her career. If you disapprove of her methods, then that's tough, because, as "Look What You Made Me Do" shows, disapproval just adds more fuel to her musical fire. Her friend and backup dancer Todrick Hall explained it best in an interview with Entertainment Weekly's Instant:
"I'm assuming what she means by that [song] is, You made me break every record, you made me out-sell everyone. You made me hire the best backup dancers in the world.. That's what they made her do."
Swift benefits from the fact that, whether her reputation is a good one or a bad one in your eyes, you're still engaging with what she does or doesn't do. Even if that engagement is to talk about how you don't care. She can be the girl next door of Taylor Swift, the newly-declared feminist of 1989, or the vengeful phoenix reborn of Reputation, but the fact of the matter is that there's no version of Swift that the world won't pay attention to.