Taylor Swift's Trial Was A Victory For Women, But It Doesn't Fix Her Flawed Feminism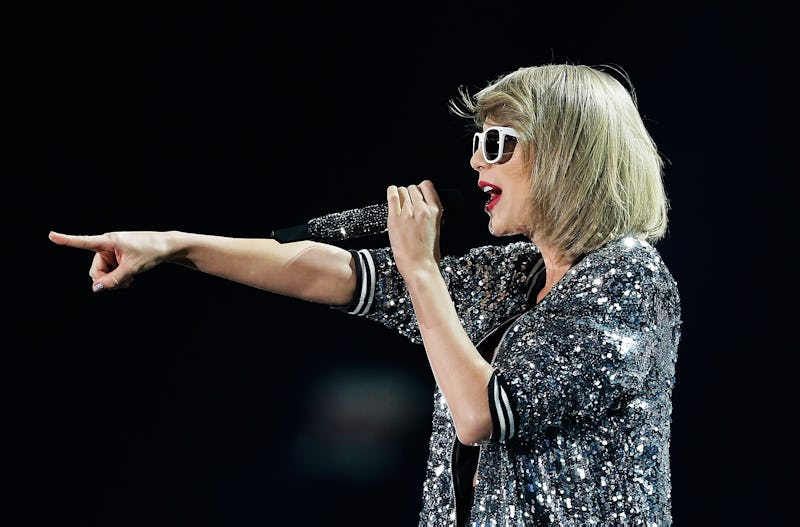 Mark Metcalfe/Getty Images Entertainment/Getty Images
As one of those people who can say they were a Taylor Swift fan before it was cool, I've been proud to see her put the focus on women standing up for themselves during her groping trial. The singer decided to countersue DJ David Mueller for $1 after he sued her for $3 million, claiming that her allegations that he groped her during a 2013 meet-and-greet led him to get fired from his "dream job." After the court ruled that the DJ is indeed guilty of sexually assaulting and battering Swift, she acknowledged her "privilege" in being able to afford her legal fees and expressed her desire to help "anyone who feels silenced by a sexual assault." This, and her court testimony featuring such empowering quotes such as "I am not going to allow your client to make me feel like it is in any way my fault, because it isn't" had those who once derided her calling Swift a feminist again. But here's the thing: Taylor Swift's feminism is still deeply flawed. This trial alone isn't enough to change that.
Don't get me wrong. What Swift did is incredibly brave. And the fact that she didn't immediately receive the same outpouring of support as other women in similar legal battles should worry feminists everywhere, especially after the outpouring of support for Kesha from so many people — including Swift, who reportedly donated $250,000 for Kesha's legal expenses in 2016.
That said, one of the main problems with Swift's feminism has always been that it's self-serving and centered on white feminism. The singer has a documented habit of using the word and the ideology to build up her brand and sell concert tickets without putting in the political work. And when she does speak out on important issues, it's usually only when they affect, or have affected, her or her predominantly white group of friends.
In 2014, Swift credited Lena Dunham with helping her to understand the meaning of the word feminism. "As a teenager, I didn't understand that saying you're a feminist is just saying that you hope women and men will have equal rights and equal opportunities..." she said to The Guardian. "Becoming friends with Lena... has made me realize that I've been taking a feminist stance without actually saying so." Afterward, she proceeded to say so as often as possible.
But though she told Rolling Stone in 2015 that "feminism is probably the most important movement," she's never spoken out about Donald Trump's misogyny, she didn't attend the Women's March (though she did tweet in support of it), or she's yet to publicly support organizations like Planned Parenthood. Instead, Swift's brand of feminism is based around the three core tenets: all women supporting all women; all women being empowered to date as many people as they want and write as many songs about it as they want; and ditching the boys to hang out with a girl squad of close friends that you can bring to events, have illustrious Instagram photoshoots with, and bring on stage at 1989 tour concerts so fans get even more for their money. But while the political aspects of the movement might not be Swift's cup of tea, she has failed to even live up to her own definition of feminism.
For example, Swift told Vogue and Rolling Stone about her squad of female friends and the importance of women supporting each other back in 2015, emphasizing that not focusing on boys allowed you to see women who were "killing it" and admire them rather than resent them. But she also released the "Bad Blood" single, which is rumored to be about her ongoing feud with Katy Perry, in 2014. Later, in 2017, Swift put her entire discography back on Spotify on the day Perry's album, Witness, dropped, essentially eclipsing some of Perry's album release fanfare. Swift's squad of female friends are predominantly white, predominantly thin supermodels, leading Lena Dunham to joke in 2015 that being on stage with them made her feel "chubby."
And, in 2015, when Nicki Minaj called out the MTV Video Music Awards, and other ceremonies, for failing to recognize black artists, Swift, a 2015 VMAs nominee, took the tweets as a personal attack and chastised the rapper for "pitting women against one another." When Minaj directly asked Swift to speak on this important intersectional feminist issue, the singer didn't. Swift instead invited Minaj to come on stage with her if she won at the ceremony, which pissed a lot of people off for being a tone-deaf and inadequate solution to the institutional problem Minaj was asking her to weigh in on. The rapper, for her part, did perform with Swift at the VMAs, but issues with Swift's feminism had been raised, quite publicly, during the Twitter spat.
Before the groping incident, Swift hadn't used her immense platform to speak out on the subject of sexual assault or in defense of the victims. Though though she quietly donated that money to help Kesha through her own lawsuit in 2016, Swift didn't take a public stand for all victims then. When celebrities like Ronan Farrow, Kristen Schaal, and even Dunham were tweeting about the Bill Cosby allegations, Swift took no public stand for victims then. Standing up for victims during her own trial is, again, very brave. But it can't be the sole redeeming factor for her feminism if it's the only example we have of Swift actually backing up those beliefs.
This trial cannot exist in a vacuum, but it can be the beginning of a new phase in the singer's feminism. Now that she's taken a stand and won, Swift needs to turn this kind of action — of weighing in on important issues affecting women, of supporting women of all shapes, sizes, and ethnicities, whether she's personally friends with them or not — into a pattern of behavior as consistent as her white feminism has been in the past.
No matter how you feel about her as a person, Swift has actively developed a voice and platform that can make a huge difference when it comes to legitimizing and empowering marginalized groups. That's exactly why people have been criticizing her for years for not speaking up on truly feminist issues; she's fostered her status as a role model, and what she says or very obviously doesn't say, matters.
So, no, right now, I'm not ready to say that Swift's feminism has been fixed. But it can be. It all depends on what she does next.