Everything That Happened Last Season On 'Grey's Anatomy,' Because A Lot Went Down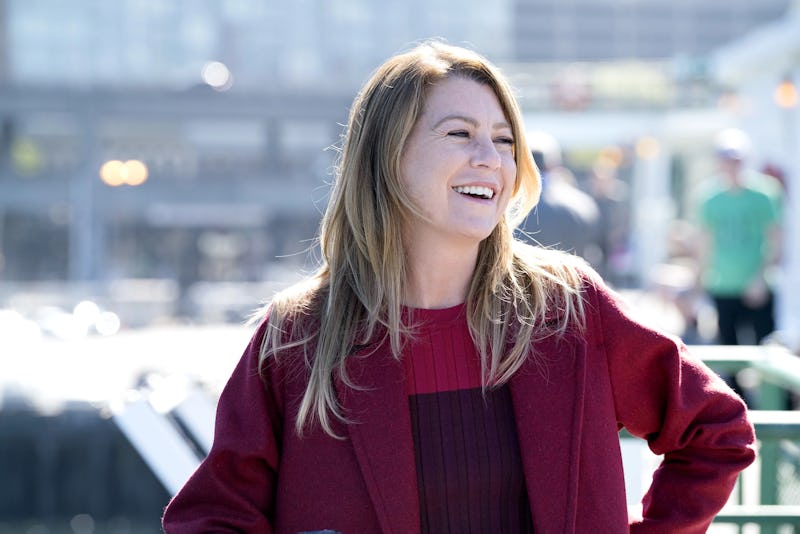 ABC
Congratulations, Grey's. With its upcoming season, the ABC series will tie ER as the longest-running primetime medical procedural in history. That's a lot of seasons, episodes, characters, and storylines for any one fan to remember. So I think a Grey's Anatomy Season 14 recap is in order before diving into this milestone year, no? It's a lot to remember.
By the end of its 15-season run, ER clocked in at 331 episodes — a total that Grey's will match after only 14 episodes of its own 15th season. With the show guaranteed to run for at least one more season after this (star Ellen Pompeo signed a contract through 2020, although she hinted to Entertainment Weekly that Season 16 might be the last), Grey's Anatomy will blow well past ER's record by the time the credits roll on its series finale. Of course, that still puts it behind such long-running shows as Law & Order, Gunsmoke, and, yes, The Simpsons, but it's an impressive record nonetheless.
Over the course of its 317 episodes so far, Grey's has also featured a whopping 28 series regulars, some of whom have impressively lasted all 15 seasons, some of whom joined the main cast for just one season. (Hi bye, Shane Ross!) Last year, the show juggled 14 main characters — including four who said their final farewells. Here's where all the doctors ended up at the end of Season 14:
Meredith Grey
There have now been three full seasons since Derek died (RIP), and Meredith is still staying as busy as ever in her single life. In Season 14, she broke up with Nathan, treated some Cristina-George-Izzie lookalikes, and won the freakin' Harper Avery. Her biggest storyline came when she needed the patent for a new medical technology in order to compete in Jackson's research competition, only to have her mother's old friend Marie Cerone refuse to give her the rights unless she gets credit for helping to invent the Ellis Grey method.
It turned out that Harper Avery was a lecherous old creep who assaulted at least 13 women, all of whom were paid to stay quiet — including Marie Cerone. Disgusted by the truth, Meredith returned her and her mother's awards and added Cerone's name to the newly-minted Grey-Cerone method, and the Harper Avery Foundation was renamed the Catherine Fox Foundation.
Meredith ended the season by getting ordained in order to officiate the ferryboat wedding of Alex and Jo... and making out with a drunk DeLuca at the wedding. Could romance be on the horizon in Season 15?
Alex Karev & Jo Wilson
Alex and Jo's lives were thrown into turmoil when Jo's estranged and abusive husband Paul showed up at Grey Sloan, charming the rest of the doctors but terrifying his wife. Paul fell victim to a hit-and-run and, although he recovered from that accident, when Jo told him she was filing for divorce, he tried to attack her and ended up hitting his head. Jo decided to take a brain dead Paul off of life support, and eventually proposed to Alex.
Worried that his mother had stopped cashing his checks, Alex took Jo with him to track her down... only to find that she was doing well and had recovered from a lifetime of mental illness — but that any sort of sustained relationship with Alex was not a part of that recovery. He invited her to the wedding, but she turned him down. When their ceremony was derailed by the wedding planner's anaphylaxis, Alex and Jo ended up getting married on a ferryboat.
Owen Hunt & Amelia Shepherd
Owen was thrown quite the curveball when his sister Megan turned up alive and well after having been missing and presumed dead for many years. While she eventually moved to California with Nathan, he was thrown another curveball when his wife Amelia was diagnosed with a brain tumor. Although Dr. Koracek managed to remove the tumor, the couple was unable to reconcile which decisions were made by Amelia and which decisions were made by her "tumor," and they divorced.
They remained friends with benefits for a time, until Amelia encouraged Owen to reunite with Teddy in Germany. Although the pair had a great night together, Teddy was furious to find out that he slept with her less than 24 hours after sleeping with his ex-wife and kicked him out. Having always wanted a family, Owen adopted a foster child just as Amelia took in a young recovering addict. Their makeshift family will once again be thrown a curveball with the arrival of Teddy — now pregnant with Owen's baby.
April Kepner, Jackson Avery & Maggie Pierce
Season 14 was a rough year for Japril fans. Not only did the pair not get back together, but Jackson started up a relationship with his stepsister, Maggie. (Remember, their parents Catherine and Richard are married... and none too happy to find out about their offsprings' dalliance.) April was thrown for a loop when her ex Matthew — whom she left at the altar for Jackson — came to the hospital with his pregnant wife. When she was unable to save Matthew's wife, April had a crisis of faith and acted out in surprising ways.
After a near-fatal accident, April regained her faith and quit the hospital, devoting her life to serving the homeless instead. She and Matthew got back together and, when Alex and Jo's wedding was derailed, took advantage of the nearby minister to tie the knot once and for all.
Arizona Robbins & Andrew DeLuca
Although Arizona struck up a steamy affair with DeLuca's sister Carina, that wasn't enough to keep her in Seattle when her daughter Sofia decided she'd had enough of her cross-country lifestyle and wanted to move closer to her other mom, Callie. Fortunately, Dr. Herman arrives back in Arizona's life at just the right time, offering her former mentee the opportunity to collaborate on a women's health center. So Arizona quit Grey Sloan and moved to the Big Apple.
Meanwhile, Carina's brother Andrew was wrapped up in his own love affair after his former flame, Sam, arrived at the hospital as an intern. Unfortunately, Sam was a Dreamer who ended up in ICE's crosshairs — but she avoided deportation thanks to Meredith, who got Sam a job working with Cristina in Switzerland. A bereft Andrew ended up making out with Meredith at Alex and Jo's wedding, so we'll see where that goes...
Miranda Bailey & Richard Webber
Richard's biggest storyline of the season came when his AA sponsor, Ollie, was admitted to the hospital (having not been seen on the show since Season 2) and ultimately died of liver failure. He also fired one of the interns, Vikram Roy, after he operated under the influence — but then hired him back when Roy threatened to sue the hospital and Richard felt empathy for all the times he operated under the influence over the years.
Bailey had a brief scare when an irate Harper Avery came to Grey Sloan to fire her as Chief of Surgery… only to die before he could make the firing official. She had another, less brief scare when she checked herself into Seattle Presbyterian for a heart attack. Symptoms being different for women than they are for men, the doctors initially dismissed her concerns; fortunately, Maggie saved her life and Bailey soon returned to work. In the finale, short-handed with all the doctors at Alex and Jo's wedding, Bailey offered a job to a visiting (and pregnant) Teddy.
Nathan Riggs & Ben Warren
Aside from April's and Arizona's finale exits, Season 14 also said farewell to two other series regulars along the way: Nathan Riggs, who moved to California with Megan and her adopted son Farouk; and Ben Warren, who decided to become a firefighter — and jumped ship to the new Grey's spinoff, Station 19.
Fortunately, new blood has been brought in to replace the cast members who left. Tune into the Grey's premiere on Sept. 27 to meet Dr. Kim and Dr. Link… as well as to catch up with all of your returning favorites.