'The Bachelorette's Rachel & Bryan Are Totally Engaged And Here's The Proof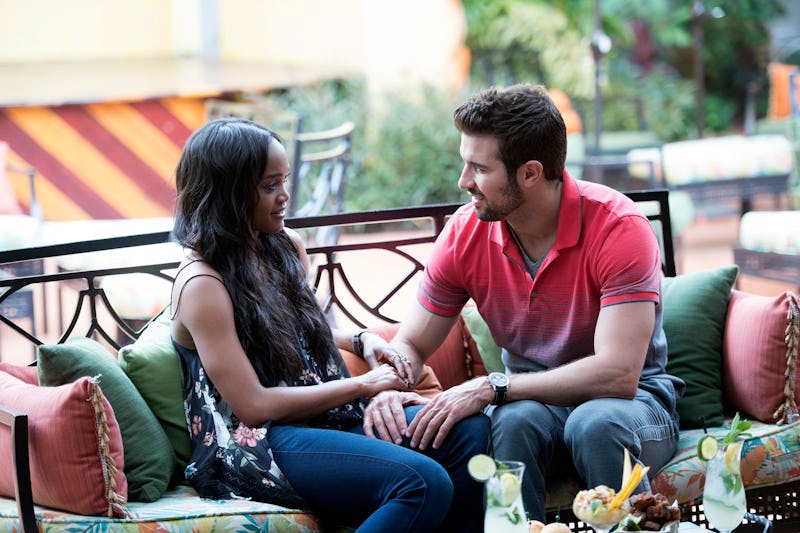 ABC/Rodrigo Varela
Season 13 won't wrap until Aug. 7, but enough clues have been dropped by now that it's basically official that Rachel and Bryan are engaged after The Bachelorette. Yes, there's the fact that Bryan has been a frontrunner since Night One, when he earned the First Impression Rose. But, really, the biggest spoiler for this season — and the smoking gun evidence that Rachel and Bryan are the endgame couple — actually happened offscreen.
You see, one of Rachel's friends accidentally revealed that the engagement party was going to be in Miami, Florida. Which, if you were paying attention during Hometowns, you'll remember is where Rachel visited Bryan's family. Mic drop.
The slip-up came from Astrid Loch, a fellow Bachelor alum who bonded with Rachel on Nick Viall's season earlier this year and is now one of her closest friends. During an interview with Entertainment Tonight, Astrid was asked about her friend's plans to celebrate, once the news is finally public. The 26-year old shared that her attorney friend was "planning a party" in Dallas, so that her fiancé could "meet all of her friends, and non-Bachelor people too." But then she added, "And then they're going to Miami after that to have an engagement party there too."
Miami, huh? That's chiropractor territory, and almost a guarantee that the 37-year-old is the winner. After all, Peter Kraus and Eric Bigger, who round out the trio of remaining men, are from Madison, Wisconsin, and Baltimore, Maryland, respectively. So while it's possible that an engagement party is being held in Miami in order to throw viewers off the scent, that sure seems like a lot of effort.
Plus, it feels like a stretch to imagine that Astrid would've been in on that scheme. It seems much more likely that she accidentally said more than she should have. After all, Bachelors and Bachelorettes themselves are pretty savvy about how to keep spoilers from leaking out, but their inner circles don't get the same training.
The simplest answer is often the best, and, in this case, it seems like Rachel and Bryan are engaged. We'll know either way on Aug. 7, but, if you want to look like an all-knowing wizard in front of your friends in the meantime, this is the way to go.