There's A Golden Snitch Fidget Spinner Now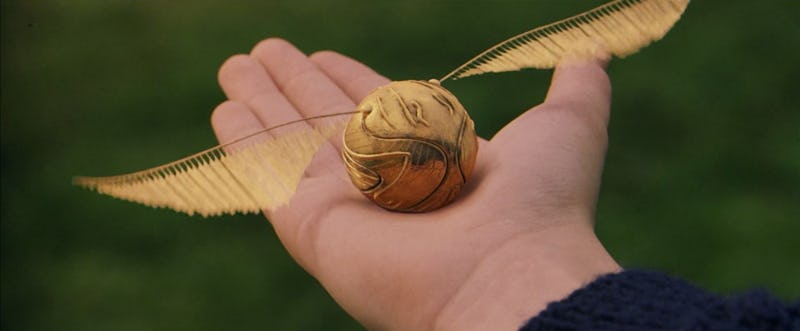 If you thought that fidget spinner mania had peaked when some guy used his fidget spinner to hack Tinder, think again. At last, the Potterheads have come in on the craze — and the Golden Snitch fidget spinner has arrived to win this trend once and for all. Consider the Internet officially broken.
This Harry Potter-themed spinner was created by UltraSpinners and is officially called The Brass Tattletale — probably for, y'know, copyright reasons. But we see what you're doing here, UltraSpinners; even without the official name, it's clear that this golden spinner would not be out of place in a game of Quidditch.
As the Harry Potter Go game has still not materialized, Potter fans now have a whole new way to immerse themselves in the Wizarding World, without even needing an app. Twirling the Golden Snitch-shaped fidget spinner in between your fingers, you'll constantly feel right at the center of a Quidditch match — one where you've just caught the Snitch and saved the day.
Fidget spinners are already everywhere — but I have a feeling we're only going to see more of them now that Potterheads can get in on that sweet spinning action too. Just look how magically this spinner can zap away your stress!
Mk2 Modulator Brass Tattletale Edition, $149.99, UltraSpinners
But wizarding paraphernalia like this doesn't come cheap; the Brass Tattletale is currently being sold for $149.99. Elsewhere on the Internet, you'll find everything from Pokemon fidget spinners to Batman fidget spinners — but nothing can quite compare to the magic of the Golden Snitch.
Batman Fidget Spinner, $15, Amazon