'Hidden Figures' Is The Best Galentine's Day Movie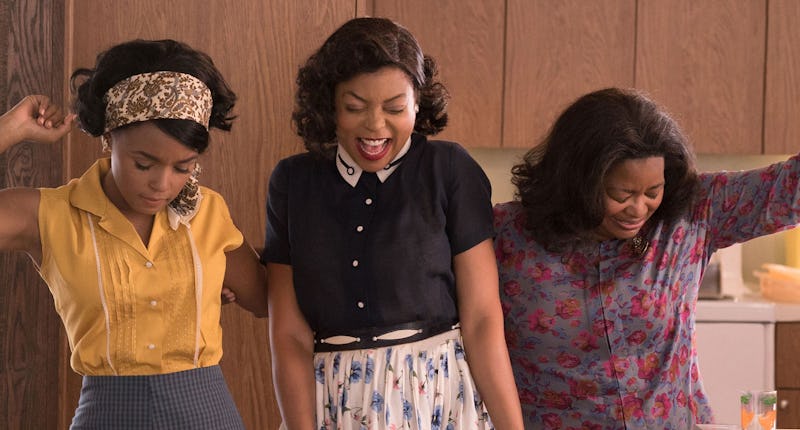 20th Century Fox
Whoever said you needed to have a significant other to celebrate Valentine's Day clearly never had a best friend, and they definitely never had a best girlfriend. Otherwise, they would know that while Valentine's Day might, technically, be for lovers, Galentine's Day is for friends. And, what better way to celebrate friends than a trip to the movies? This year, Hidden Figures is the perfect Galentine's Day movie. So, grab your BFFs, get some guilt-free snacks, and celebrate your friends by watching a movie all about celebrating women.
What is Galentine's Day, you ask? Well, as our fearless leader Leslie Knope says in Parks and Recreation, it's a day full of "ladies celebrating ladies." Technically, Galentine's Day is the day before Valentine's Day, but, just like Valentine's Day, it can be rescheduled or tweaked depending on your relationship status. And, this year, there's a movie in theaters perfect to see in celebration: Hidden Figures. The film, about three black women working in NASA's space program in the 1960s, is nominated for three Academy Awards and is a box office hit. Stars Taraji P. Henson, Janelle Monáe, and Octavia Spencer have all received rave reviews for their performances, and they just won the SAG Award for Outstanding Performance by a Cast in a Motion Picture. Awards aside, though, here's why Hidden Figures is the perfect Galentine's Day movie.
It Spotlights Smart Women
Hidden Figures doesn't just celebrate women, it celebrates smart women. The three main sheroes, Katherine Johnson (Henson), Dorothy Vaughan (Spencer), and Mary Jackson (Monáe), are women who are not afraid to show off their intelligence. More than that, they demand to be recognized for it. It's a trait you don't often see in women on screen, and it will definitely inspire any Galentine's Day celebrators to celebrate each other's intelligence.
It Celebrates Working Mothers
Have you ever noticed that female characters in movies who are both mothers and professionals eventually end up having a scene where they break down due to the pressures of being a working mom? Either that, or strong, working female characters in Hollywood movies just don't have kids at all. Working moms are rarely depicted as just that: mothers who work. All three of the female leads in Hidden Figures, though, are working mothers, but the film doesn't dwell on that fact. The fact that they are moms doesn't provide an extra hurdle for them in their professional lives, it just adds to who they are as people.
It Shows Women Supporting Each Other
The three women in Hidden Figures support each other and respect each other no matter what. They don't fight over assignments. In fact, if anything, they encourage each other to be more ambitious. Moreover, they refuse to advance in NASA without bringing their fellow, under-appreciated, female co-workers with them.
It's Totally #FriendshipGoals
A good chunk of the movie has to do with the characters' struggles as African Americans working through segregation, as well as dealing with racism and sexism in the workplace and beyond. The real heart of the movie, though, is the friendship they share and their love for one another.
Bonus: It's A Love Story
Now, romance is not a requirement for a successful Galentine's Day, but a little bit can't hurt, especially if it involves Mahershala Ali playing a love interest. The love story between Katherine and Jim (Ali) isn't a huge part of the film, but it's just enough to give you your romance fix. Bonus points for there not being a love triangle.
So, this Galentine's Day, take your girlfriends out on a movie date to Hidden Figures and forget about Valentine's Day for a little while. Remember the immortal words of the Spice Girls: "Friendship never ends."