Hilarie Burton's Wedding Doubled As A Mini 'One Tree Hill' Reunion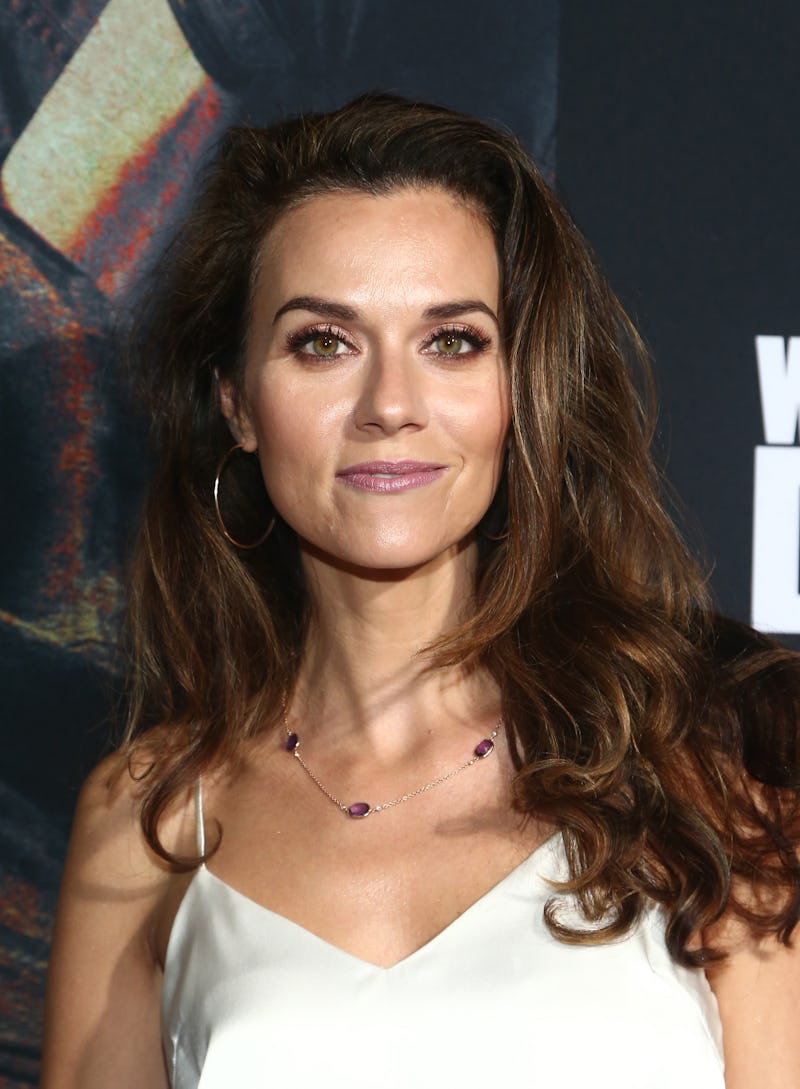 Tommaso Boddi/Getty Images Entertainment/Getty Images
New details are emerging about Hilarie Burton and Jeffrey Dean Morgan's wedding, following a secret (and surprise!) ceremony over the weekend. According to new photos shared on Instagram, both actors, who each starred on shows with very loyal fanbases — One Tree Hill and Supernatural, respectively — were surrounded by friends, family, and former co-stars on their special day on Oct. 5. The wedding was basically one big reunion for both shows, and there are selfies to prove it.
After news broke about the surprise wedding, Sophia Bush shared a photo with the bride, describing Burton and Morgan's big day as "perfect. Just like them." Bethany Joy Lenz, who played Haley on One Tree Hill, was also in attendance and did her part by posting a seflie with Burton. "My sis got hitched in the BEST WAY," Lenz said in part on Instagram. Burton, Bush, and Lenz have shared over the years how important the show and the cast are to them. Burton once described her connection with Bush as "a bond ... you can't deny." The pair played BFFs Peyton Sawyer and Brooke Davis throughout the series.
While Danneel Ackles, who played Rachel, hasn't shared any photos from the wedding confirming her attendance, she commented on Burton's post about how it was "the most wonderful night." Danneel's husband, Jensen Ackles, performed the ceremony with The Walking Dead's Norman Reedus.
Not every OTH star attended Burton and Morgan's wedding, but several sent congratulations via Instagram, including Barbara Alyn Woods, who played Nathan's mom, and Kate Voegele, who played Mia. Notably missing were James Lafferty and Chad Michael Murray, who played Nathan and Lucas Scott respectively.
Prior to the couple announcing their marriage, some fans speculated they already tied the knot years ago, which Burton addressed in a photo she shared of her and her new husband on Instagram on Monday. "We've lived as husband and wife for a decade," she wrote. "We've built a family, and a farm and found our community. For years, publications have reported that we got married in 2014 or 2015 and that I've been married and divorced before. All untrue. But WE knew our truth. So it felt silly to try and correct anything."
Burton and Morgan's relationship began in 2009 after going on a blind date with their respective co-stars, Jensen and Danneel Ackles. The couple has two children together — a son Augustus, aka "Gus," and daughter George, who was born in 2018. According to Us Weekly, Burton kept her first pregnancy a secret and gave birth to Gus in 2010.
The wedding wasn't the first time the cast come together since OTH went off the air in 2012. Many of the stars have attended fan conventions throughout the years, and some have even worked together again. In 2018, Burton, Danneel, Antwon Tanner (who played Skills), Tyler Hilton (who played Chris Keller), and Robert Buckley (who played Clay) reunited on screen in a Lifetime holiday movie called The Christmas Contract. And fans that want more from the cast are in luck: Hilton, Burton, Tanner, Woods, and Lee Noris (who played Mouth) will all reunite again for a Lifetime movie called The Christmas Wish, airing on Nov. 28.