Attention, '00s Kids: Hilary Duff Just Teased A Possible 'Lizzie McGuire' Revival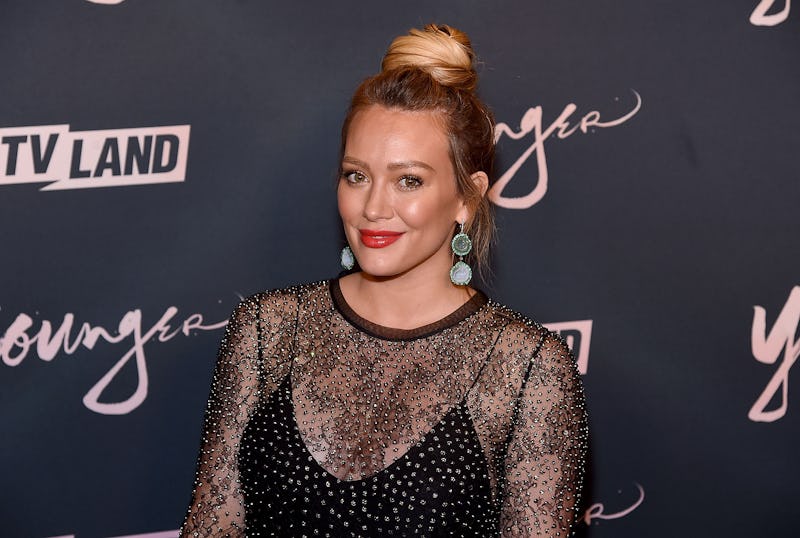 Jamie McCarthy/Getty Images Entertainment/Getty Images
The early aughts are making a comeback and everyone's favorite TV shows are being revived, so why not bring back the most iconic animated tween of all time? Hilary Duff revealed she'd do a Lizzie McGuire revival in a recent interview with Entertainment Tonight. And she even said that there have been "conversations" about bringing her breakthrough character back to the small screen.
"I mean I love her so much," Duff told Entertainment Tonight about the possibility of playing Lizzie once more. "I think she was so important to girls at an important time in their life. If she could be important to them again at this age, I think that would be amazing."
However, while Duff admitted that there have been talks about bringing Lizzie McGuire back to television, she did caution fans against getting too excited about a revival just yet. "There's been some conversations," Duff said, before adding that "It's definitely not a go. I don't want to get everyone wild talking about it."
Fans of the Disney Channel juggernaut first met Lizzie, a normal 13-year-old girl with exceptional early aughts style and an animated version of herself that expresses all of her inner thoughts and desires, back in 2001.
The show — which centered on Lizzie surviving the awkwardness of middle school life with the help of her best friends, kooky Miranda (Lalaine) and geeky Gordo (Adam Lamberg) — became a massive success, turning Duff into a superstar and spawning a cult favorite movie in 2003.
Part of the appeal of Lizzie as a character was that she was so relatable (minus, of course, the episode where she kissed Aaron Carter and the time she became an international pop star), and so one of the biggest conversations about a Lizzie McGuire revival has been focused on what the character is up to in 2018. "There's been lots of conversations about that," Duff said about where she thinks the character is in her life.
"I'm racking my brain," Duff told ET. "I don't think she's a mom yet, but she might be getting there soon."
While the actress — who recently welcomed her second child, daughter Banks, in October — admitted that the conversations about the revival "could be a possibility or it could be nothing," this isn't the first time that Duff has talked about her desire to step back into Lizzie's sparkly, platform shoes as an adult.
Back in June, Duff told Buzzfeed that she was interested in playing the iconic character once more. "Honestly, the idea sounded terrible two years ago when reboots were happening, but you never know," she said at the time. "I don't know. I loved Lizzie McGuire and it might be really fun to see where she is now."
Though it's easy to understand her hesitation about bringing Lizzie McGuire back all these years later, Duff has long been open about how the show was such an important part of her life, and her process of growing up. "I think that when that show came out, it was such a part of who I was, I didn't feel like I was playing a part," Duff told PrideSource back in 2015. "The writers all knew me so well and were writing things that were happening in my life and things that I would say, and I was dressing exactly like I wanted. It was so me.
She continued, "For whatever reason, that show grabbed people at a time in their life when they really needed her or related to her, so obviously I think I got a lot of fans from that who followed me into my music career. I've always been a very open and reachable person for them to relate to, but that's one thing that has really tied us together and why I've kept fans for such a long time who have really followed my career and stuck by me and grown up with me."
And now that those fans are all grown up, having their favorite middle school TV character back on the small screen truly would be what dreams are made of.