Hilary Duff's New Pic Of Baby Banks Is Too Cute For Words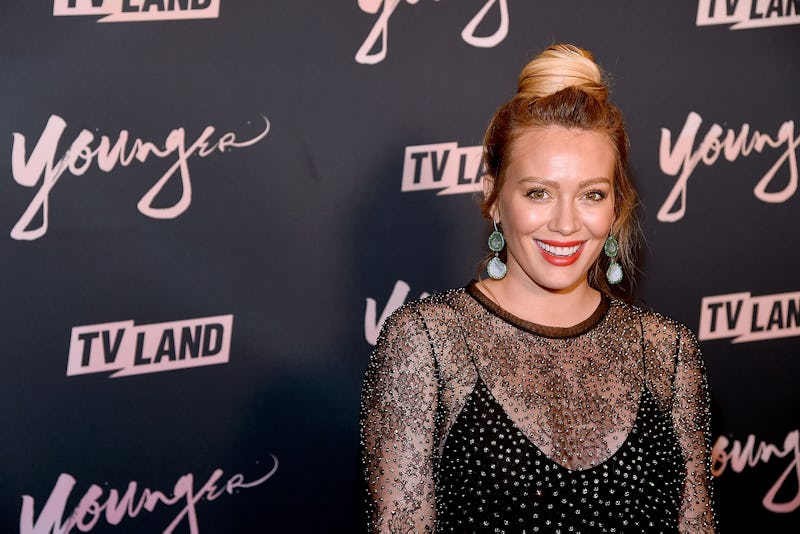 Jamie McCarthy/Getty Images Entertainment/Getty Images
Hilary Duff is so in love with her new daughter, and she can't stop sharing photos of her on Instagram. Hilary Duff's new photo of baby Banks is too cute for words — the newborn is clearly surrounded by plenty of love.
In the photo Duff posted on Wednesday, Banks is lying on her back in a onesie. (The outfit is super cute, too, with both stripes and polka dots — the newborn is already a trendsetter.) "Not a care in the world," Duff captioned the photo, along with the unicorn emoji. Of course, it's not anything out of the ordinary for a newborn baby to be sleeping. But that doesn't make the picture any less adorable.
Duff announced Banks' birth in an Instagram post she shared last Monday. The Younger star revealed that the baby was born on Thursday, Oct. 25, in a home birth. "Banks Violet Bair ❤️ this little bit has fully stolen our hearts! She joined our world at home on Thursday afternoon and is absolute magic," Duff captioned her Instagram post. The photo showed Duff and her partner, singer-songwriter Matthew Koma, cradling the newborn in a sweet embrace, while smiling from ear-to-ear at the baby.
Duff and Koma haven't shared what inspired the baby's name, but it sounds like they've had the moniker in mind for quite some time. As Bustle previously reported, Duff told People in August that Banks' name was "the very first thing" she and Koma decided about the baby.
"We've known her name for a really long time," Duff explained to People at the time. "Her name starts with a B, and I keep calling her baby B." Whatever their reason for naming their daughter "Banks" is, it sounds like it's something the couple has known for a while.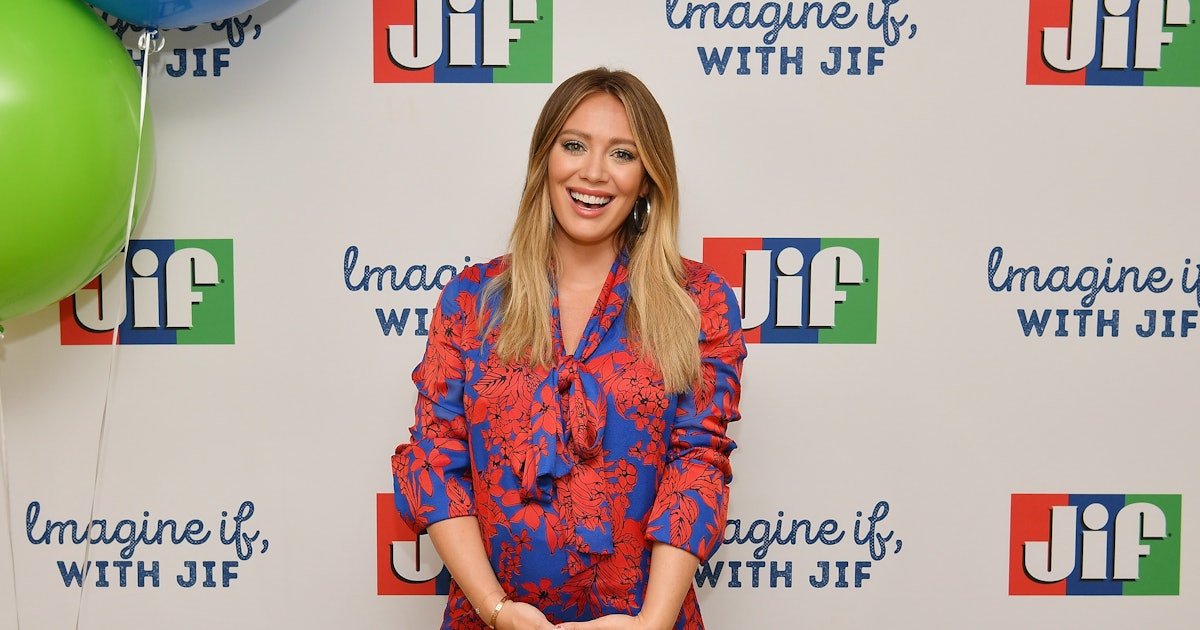 Duff and Koma started dating in January 2017, and they announced in June that they were expecting a baby together. Banks is Koma's first child, while Duff is also mom to her 6-year-old son, Luca, whose dad is Duff's ex-husband, Mike Comrie.
In the days since Banks was born, Duff has shared several other photos and videos of the newborn, and they're all adorable. There's one video of Duff's baby hiccuping, for instance, which is just too sweet.
Duff also posted a photo of herself and Banks where she seems to be napping alongside the baby. The picture is a perfect snapshot of what being a new parent can be like, and it shows how strong the actor's bond with her daughter already is. (Duff also broke up the baby photos on Tuesday, when she shared a picture of her "I Voted" sticker, writing that she "managed to squeeze" in a time to get to the polls.)
During an interview with Popsugar earlier this year, Duff said that being Luca's mom has helped shift her priorities. ""He's taught me so much," Duff told Popsugar in April. "I feel like I was never this patient, but it's just made me a nicer person, and I apply it to other aspects of my life." Duff's positive words about caring for Luca definitely suggest that she's just as excited to be Banks' mom, and it sounds like her daughter might teach her a lesson or two as well.
It may be a bit surreal for fans who grew up in the early 2000s to see Lizzie McGuire herself as a mom of two adorable kids. But it looks like parenthood suits her super well — hopefully she'll keep sharing more photos and videos of Banks, because they're just too adorable.