Hillary Clinton Tweets About The Women's March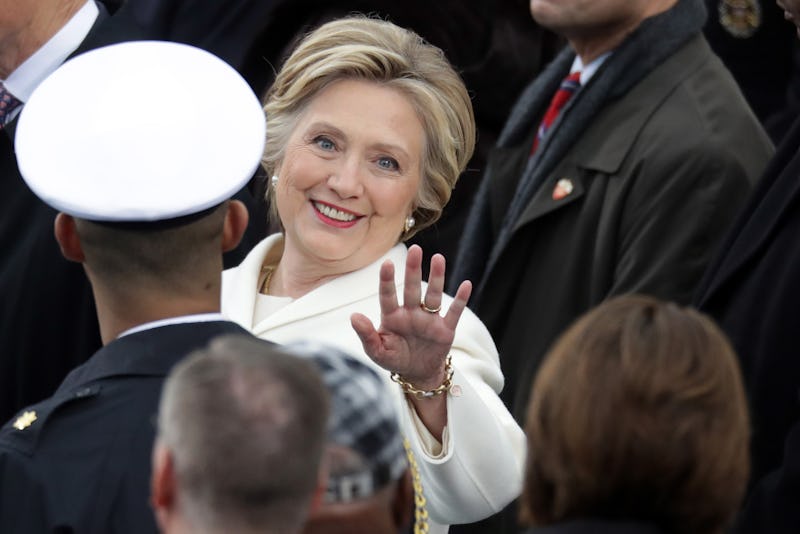 Chip Somodevilla/Getty Images News/Getty Images
On Sunday evening, former Democratic presidential nominee Hillary Clinton tweeted in support of the Women's March, calling the photos of it nothing short of "awe-inspiring." Though she's remained relatively quiet about the global movement, it's clear she was delighted by the massive effort of millions to promote unity, diversity, and equal rights.
To say the least, the Women's March, which was accompanied by simultaneous sister marches in every state and even continent, was a great show of success. In fact, many estimates suggest it attracted a significantly bigger crowd than Donald Trump's Jan. 20 inauguration. Though the data is still trickling out and it's nearly impossible to know for sure how many people attended any given march, the event likely drew over 3 million people in the United States alone, according to data collected by Erica Chenoweth and Jeremy Pressman.
Though Clinton attended the inauguration out of respect for the new president on Jan. 20, she was not seen at the Women's March the following afternoon. After winning the popular vote by over 2 million votes but losing the electoral college vote, she largely avoided the spotlight aside from a few appearances here and there. However, pro-Clinton signs from the march show her campaign hasn't been forgotten, nor will be anytime soon.
And Clinton's own tweet suggests she was deeply inspired by the march and hopes other women will be as well. And after the inauguration came and went, inspiration is exactly what those Americans who oppose Trump need.
And the Women's March organizers know it. The march may have only lasted for a day, but the inspiration that fueled its success isn't going anywhere. The march's official website congratulates the women and men who took part in the historic event and delivers an important message:
But it doesn't end here - now is not the time to hang up our marching shoes - it's time to get our friends, family and community together and make history. That's why we're launching a new campaign.
The day following the march, organizers launched a campaign called 10 Actions for the First 100 Days, encouraging marchers to continue their efforts. Step One, as outlined by the website, is penning a letter to your senator about the issues you care most about. You can find postcards to print straight from home here. And if women and men around the nation follow through with the march's mission, there's no telling how strong it will become.