The Disturbing Thing Hollywood's Biggest Male Directors All Have In Common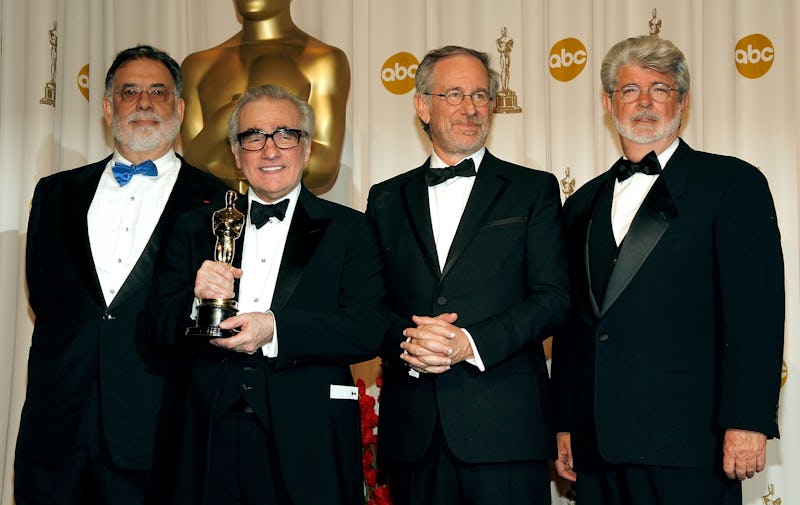 Vince Bucci/Getty Images Entertainment/Getty Images
Earlier this summer, Elizabeth Banks made headlines for calling out Steven Spielberg's lack of female-driven films. But Spielberg isn't the only esteemed Hollywood director who has built his career on telling male-led stories. In fact, looking at the filmographies of the most successful directors working today — all of whom are white men — it's clear they share a nasty habit of ignoring female narratives.
Based on Oscar nominations, critical acclaim, and box office results, the most prominent directors working in Hollywood today are Spielberg, Martin Scorsese, Woody Allen, Christopher Nolan, Ridley Scott, Quentin Tarantino, Wes Anderson, George Lucas, JJ Abrams, and Michael Bay. And by breaking down the number of female protagonists created by this Hollywood boys' club, as well as looking at how the directors have responded to the call for more women working in Hollywood both behind and in front of the camera, it's evident that there's a major problem with how these men tell their stories.
You see, just because a director is beloved by audiences of all genders does not mean that they return that love in kind. In an ideal world, most movies would have a 50 percent split between male and female protagonists, but, unsurprisingly, this is not the case for any of the directors studied here. However, making films with female stars is not the only way for directors to show their commitment to equality. How many female actors or women have earned Oscar nominations from a director's work is also important, since while Academy Awards may be slightly arbitrary, nods and wins can lead to huge career bumps and can be used to gauge how effective directors have been at giving women good, meaty roles.
So, without further ado, let's dive right in to the statistics, and see how the biggest directors in Hollywood stack up when it comes to featuring women in their movies and advancing these stars' careers.
Steven Spielberg
Feature Films: 29
Films With Female Protagonists: 3
Total Oscar Nominations: 124
Best Director Oscar Nominations: 7; Wins: 2
Best Actress/Supporting Actress Nominations: 6
Best Actor/Supporting Actor Nominations: 8; Wins: 1
When Banks said that Spielberg had "never made a movie with a female lead," via Vulture, she wasn't technically correct. In fact, Spielberg has made three films with female protagonists, one of which — The Color Purple — was incredibly successful. That said, any strong defense of his track record concerning female heroes really does end there. In his 40-year career, Spielberg has directed 29 films. The Color Purple and The Sugarland Express and the recent The BFG are the only ones that featured female protagonists, bringing his average out to a paltry nine percent.
As far as his response to Banks' comments, "Mr. Spielberg is on location shooting The Papers starring Meryl Streep and is unavailable for comment," said a statement released by the director's representative to ET.
Martin Scorsese
Feature Films: 24
Films With Female Protagonists: 1
Total Oscar Nominations: 81
Best Director Oscar Nominations: 8; Wins: 1
Best Actress/Supporting Actress Nominations: 10; Wins: 2
Best Actor/Supporting Actor Nominations: 12; Wins: 3
Scorsese has actually improved on Spielberg's Oscar numbers, despite only making one female-driven film 40 years ago, Alice Doesn't Live Here Anymore (1974). Over his career, the director has helped 10 female actors to get to the Oscars, almost equal to the number of male actors who have earned nominations as a part of his work (12).
Recently confronted by the lack of female stories in his films, Scorsese seemed uninterested in the apparent gender inequality of his films. "It just happens that the stories I've made over the years have centered on male characters," Scorsese said at a press conference in 2015 via Deadline. He then said that he had a few female-driven projects coming up, and added, "It's never too late to learn, I guess." However, looking at his IMDB page, it would seem that Scorsese is still a schoolboy when it comes to female protagonists. His most recent film, Silence, focused on three male characters, and his upcoming film The Irishman has yet to have any women listed as part of the cast on IMDB.
Christopher Nolan
Feature Films: 10
Films With Female Protagonists: 0
Total Oscar Nominations: 26
Best Director Oscar Nominations: 0
Best Actress/Supporting Actress Nominations: 0
Best Actor/Supporting Actor Nominations: 1; Wins: 1
Nolan has yet to release a movie with a sole female protagonist driving the story. In fact, the director is known to have something of a woman problem — or, to be more specific, a dead wife problem. Many of his most iconic films, from his breakout feature Memento (2000) to his Oscar-nominated Inception (2010), use the death of a wife or female lover as a way to give the male protagonist purpose. And this trope has proven to be successful for the director, who earned the fourth spot on Digital Spy's list of the highest grossing directors of the 21st Century with $4,227,483,234.
Nolan's track record reflects the findings of the Center for the Study of Women in Television at San Diego State University, which found that women made up only 29 percent of protagonists in the top 100 films of 2016. That same study found that women were given only 32 percent of all speaking roles in 2016, yet another statistic reflected in Nolan's work, like his most recent hit Dunkirk, which features only one speaking female character.
Publicly, Nolan has been silent on the lack of women featured in his films. By not acknowledging his record or actively working to make change, the director is unfortunately part of the problem when it comes to female representation in films, not the solution.
Woody Allen
Feature Films: 46
Films With Female Protagonists: 24
Total Oscar Nominations: 53
Best Director Oscar Nominations: 7; Wins: 1
Best Actress/Supporting Actress Nominations: 12; Wins: 6
Best Actor/Supporting Actor Nominations: 5; Wins: 1
Looking solely at the numbers, one could make the claim that Allen is an American director at the forefront of increasing onscreen female representation. Of his 46 feature films, most have men as the leads while also featuring prominent female roles or co-leads, and his films have led 12 female actors to Oscar nominations with six wins. That's more than double the amount of nominations received by male actors for his films. Allen is also known for helping enhance the careers of female actors by cultivating new stars. For example, he is credited with aiding the successful careers of Diane Keaton, Mia Farrow, and Scarlett Johansson.
However, women in his films also often perpetuate Hollywood stereotypes. As Allen has gotten older, his female leads have gotten younger, perpetuating both the behind the scenes ingénue stereotype and the onscreen cliché of a young woman falling in love with a much older man. Moreover, his personal scandals have undone any possibility of considering him a feminist presence in Hollywood. It would be disingenuous to say that what Hollywood directors do in their semi-private lives, especially concerning women, doesn't influence how they are viewed by the public. And that, in turn, can impact their ability to be a positive force for women in film.
For Allen, his divisive romantic scandals, including the alleged abuse of his daughter Dylan Farrow (which he's denied), have alienated some audiences who'd prefer not to support someone with such a controversial personal life. Since Farrow published an op-ed publicly accusing Allen of assault in The New York Times in 2014 (to which he responded with his own op-ed, calling the claims "ludicrous"), Allen's box office numbers have declined. Of course, there's no way to know for sure the reason for this is due to audiences' response to the allegations. And not only have the director's box office numbers declined, but the tone of press coverage surrounding his films has also shifted. His female and male stars are now asked about his treatment of women, and every time he releases a film, the allegations are brought up in the media.
Ridley Scott
Feature Films: 24
Films With Female Protagonists: 5
Total Oscar Nominations: 37
Best Director Oscar Nominations: 3
Best Actress/Supporting Actress Nominations: 3
Best Actor/Supporting Actor Nominations: 3; Wins: 1
Like Allen, Scott is credited with bringing some of cinema's most memorable female heroines to life. The director made two iconic films known for their feminism — Alien (1979) and Thelma & Louise (1991) — though his career has consisted, overall, more of white male stars than women. The nature of the feminism in Scott's films can be debated (did the audience really need to see Ridley in her underwear?), but the fact remains that he's told female stories in new ways, partly thanks to his collaborations with female screenwriters like Callie Khouri (Thelma & Louise). Of Scott's 24 movies released in theaters, five have featured female heroes — about 20 percent. It might be small, but it is significantly larger percentage than most. Moreover, as a producer Scott has brought a few female-led television shows to the small screen, including The Good Wife.
Wes Anderson
Feature Films: 8
Films With Female Protagonists: 1
Total Oscar Nominations: 13
Best Director Oscar Nominations: 1
Best Actress/Supporting Actress Nominations: 0
Best Actor/Supporting Actor Nominations: 0
Anderson may not have made many female-led films, but, like Allen, most of his movies have strong supporting or co-lead female characters. And, to his credit, the director seems somewhat aware that his oeuvre is lacking in the women department. In 2014, he spoke about his lack of female heroines while promoting The Grand Budapest Hotel. "I would love to write a good, big part where the lead character was a woman. I want to see if I could do that well," he said, via Refinery29.
Anderson seeing writing women as a challenge is valid in part. Yes, there is no reason that he, widely considered an auteur filmmaker (aka a director with complete creative control), should force himself to make a movie about women if he doesn't think it'd be well written. But it's possible that he, like so many others, grew up watching (by default) majority male-led films and was conditioned to identify only with male protagonists, which makes the idea of creating female protagonists seem like an impossible task. To truly push himself to write a female protagonist, Anderson might have to begin questioning what exactly it is that makes it a challenge in the first place, and perhaps reach out to female writers and directors to help with this cause.
Quentin Tarantino
Feature Films: 10
Films With Female Protagonists: 3
Total Oscar Nominations: 24
Best Director Oscar Nominations: 2
Best Actress/Supporting Actress Nominations: 2
Best Actor/Supporting Actor Nominations: 5; Wins: 2
Tarantino, another auteur figure in Hollywood, has been more drawn to female stories than his counterparts. In fact three of his 10 films — Jackie Brown (1997), Kill Bill: Vol 1 (2003), and Kill Bill: Vol 2 (2004) — star female protagonists, bringing his average up to 30 percent. Sure, it's less than the half of humanity women make up in real life, but in Hollywood, that's an impressive statistic.
Tarantino also earned respect for making a female superhero film (Kill Bill) long before Marvel and DC movies were even up and running. He broke ground when it comes to how women were viewed in the action world, and the social impact of his female heroines cannot be ignored. That said, the overwhelming violence depicted in his films, specifically that against women, has raised some eyebrows, with some wondering if his female characters are feminist or evidence of deep-seated misogyny.
Michael Bay
Feature Films: 13
Films With Female Protagonists: 0
Total Oscar Nominations: 14
Best Director Oscar Nominations: 0
Best Actress/Supporting Actress Nominations: 0
Best Actor/Supporting Actor Nominations: 0
Bay might not be known as an acclaimed director, but as a dominant presence at the box office and in pop culture for the past two decades, he plays a prominent role in shaping the image of women in Hollywood. As a director, Bay's films are known for objectifying women. He has never made a film with a female protagonist, instead opting for testosterone-fueled action pieces that usually involve scantily clad women running in the background. In fact, the closest he has come to a female star, Megan Fox in Transformers, once called him "a nightmare to work for" in an interview with Wonderland Magazine (although she later walked this back, saying in a 2014 EW interview that she's "always loved Michael" despite having some differences).
JJ Abrams
Feature Films: 5
Films With Female Protagonists: 1
Total Oscar Nominations: 7
Best Director Oscar Nominations: 0
Best Actress/Supporting Actress Nominations: 0
Best Actor/Supporting Actor Nominations: 0
As the director on this list with the smallest number of films under his belt, Abrams isn't completely representative of the Hollywood norm. However, as the sixth highest grossing director of the 21st century (as ranked by Digital Spy), and the man behind some of Hollywood's biggest franchises, he does hold a lot of power when it comes to projecting certain images of women on screen and off.
Though Abrams has only made one film with a female protagonist — that film was the massive Star Wars: The Force Awakens — he is largely recognized as the person who, along with Lucasfilm President Kathleen Kennedy, is credited with changing the face of Star Wars by making the new protagonist a woman, a new frontier for the galaxy far, far away. But, perhaps more significantly, Abrams has also publicly pledged to hire more women and minorities behind the scenes. He recently announced that his production company Bad Robot would require every hiring list of actors, directors, writers, etc., to, at the very least, reflect the demographics of the country.
Abrams' forward thinking and behind the scenes action is arguably the most any director listed here has done for women in film. And it also presents a great model by which to gauge how much or how little Hollywood directors have done for women both on-screen and off.
So with these numbers in mind, what's next? Well, you can't force an artist to create art with specific content, and you probably shouldn't try to. It is somewhat unfair to demand female driven content from filmmakers like Tarantino or Anderson, who are largely regarded as auteurs, but the issue becomes more complex when talking about those, like Spielberg and Scott, who not only operate within the Hollywood system, but also wield power in it. As producers as well as directors, they can choose to support different kinds of movies, so they can work both to advance female protagonists in their own films and help create more women-driven stories throughout Hollywood.
In their roles beyond the director's chair, both Spielberg and Scorsese have helped advance careers of women behind the scenes. In Scorsese's 30 years of collaboration with film editor Thelma Schoonmaker she has earned six Oscar nominations and three wins, while Spielberg notably co-founded his production company, Amblin Entertainment, in 1982 with Frank Marshall and Kennedy, a woman he originally hired as his secretary and personal assistant. Kennedy is credited with producing some of Spielberg's biggest hits, including Jurassic Park, and E.T, and today she is one of Hollywood's biggest players as president of Lucasfilm. This isn't to say that she owes her success to Spielberg, but rather that the director doesn't seem to have a problem working with and promoting talented women.
That said, there's more that someone like Spielberg, arguably the most influential director in Hollywood, could do in regards to gender equality. When working with young directors, Spielberg tends to throw his support behind men and has been known to throw his weight around on set. For example, GQ reports that according to Bay, when Fox likened him to Hitler in that 2009Wonderland interview after the second Transformers film, Spielberg (who was a producer on the film) called Bay and demanded Fox be fired. (At the time, Spielberg said he wouldn't be commenting on the matter.) If Spielberg was bothered by Fox's complaints of mistreatment or her hints of harassment on set, he has not made it publicly known. And his continued support of Bay as the Transformers' franchise executive producer does send a message of approval for his behavior and treatment of women, intentional or not.
Obviously, Spielberg cannot be held accountable for Bay's reputation of misogyny, but it is worth pointing out that he chooses to support him nonetheless. This kind of tacit acceptance of sexism in the industry is all too common in Hollywood, as shown by when, in 2009, Allen, Anderson, and Scorsese (among others) all signed a petition asking that Roman Polanski, the filmmaker who fled the country after being convicted of drugging and raping a teenager in 1977, be released after he was arrested in Switzerland at the request of U.S. authorities for the crime. These directors chose to show their support for a convicted rapist, and while this might not affect their box office returns (at least not in any truly measurable way), women around the world are paying attention.
The bottom line is this: while their actions off-screen may not change, unfortunately, the only way the Hollywood boys' club is going to be more pro-women on-screen, at least, is if more women are given a seat at the table. And that means not just featuring more female protagonists, but hiring more women in creative roles. So perhaps the next time Spielberg feels the itch to mentor a young director, he might look at women sitting behind the camera. Maybe he'll learn something.