You Can Buy Hot Cocoa Shortbread Cookies Coated In Marshmallow Sugar Dust At Whole Foods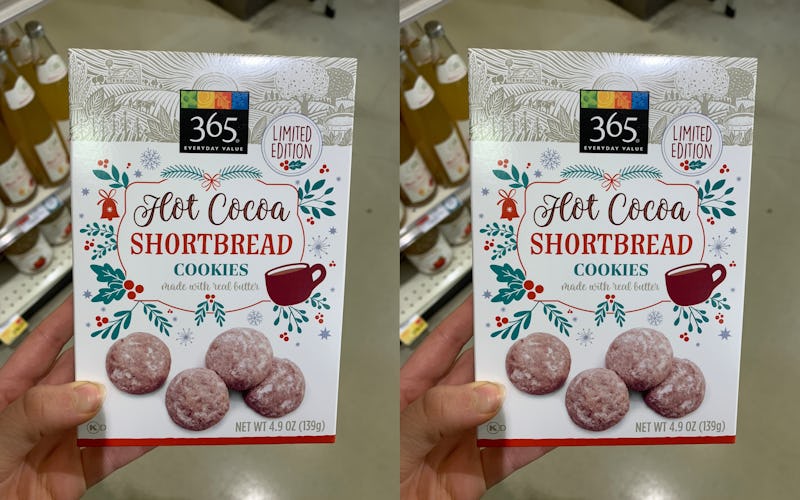 Emma Lord/Bustle
The dessert gods of 2018 have spoken, and on this they all seem to agree: hot cocoa is the flavor du jour. With major brands from M&M's to Dairy Queen announcing limited edition hot cocoa flavors, it's no surprise that other brands are getting in on the chocolate-y action — and it'll be hard to beat the latest one, Whole Food's hot cocoa shortbread cookies. The new cookies are a limited edition offering from 365 by Whole Foods Market, the store's own brand, as part of its holiday season lineup.
"Lightly powdered and delicately crispy, our Hot Cocoa Shortbread Cookies are baked to perfection using the finest baking ingredients and are a delightfully simple treat to bring holiday cheer to your busiest time of year," says the description on the side of the box.
For the sake of, uh, journalistic integrity, when I spotted these on shelves at Whole Foods this week I purchased a box that I may or may not have turned into breakfast. From alleged breakfast, I can confirm that these taste impeccably like hot cocoa; the shortbread of the cookie is chocolate-based, with the perfect amount of crunch, and the sugar dusting on the outside is very much reminiscent of marshmallow. The slight bitterness and crunch of the chocolate cookie perfectly balances out the marshmallow outer coating. Plus, the promise of ~real butter~ on the outside of the box truly delivers. Despite the crunch, it definitely melts in your mouth.
Here's what they look like outside of the box — surprisingly adorable and mini, and perfect for pairing with an afternoon coffee or tea in the office (or eating at seven in the morning while you can actively hear your upstairs neighbor working out on his treadmill, but I digress).
Here's what they look like after a twentysomething woman bites into them, so you can get an idea of what the texture is like on the inside.
I found these in the seasonal section of Whole Foods on the outside of the cookie aisle, if that gives you a good idea of where to search for these in your local store. I rate these 10/10 Rudolph's Noses; in the vast realm of hot cocoa-flavored things you can eat in 2018, these definitely top the list.
And speaking of hot cocoa-flavored things you can eat, boy howdy, are there a ton of them this year. Remarkable newcomers include the Hot Cocoa M&M's and Dove Milk Chocolate Hot Cocoa chocolates that are exclusive to Target this holiday season, both of which very much deliver on the "marshmallow" promise, the former filled with a marshmallow-flavored white chocolate and the latter with marshmallow creme. Dairy Queen's iconic Oreo Hot Cocoa Blizzard also made a triumphant return as November's Blizzard of the Month, which means you have approximately two weeks left to bliss yourself out on that. Of course, if you want to go to the shortbread cookie direction, Whole Foods is probably your best bet — just don't forget to pick up some actual hot cocoa for dipping and cocoa-ception.