'House Of Cards' Has Finally Resumed Production & There's Even More Good News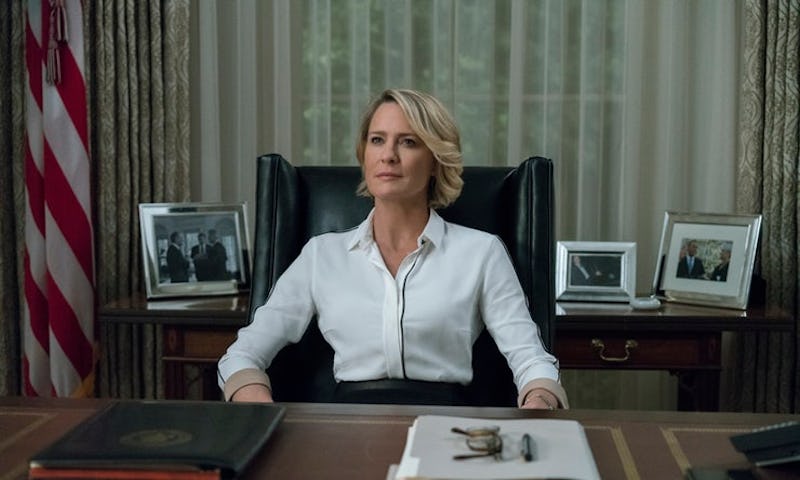 David Giesbrecht/Netflix
Netflix will release a sixth and final season of House of Cards, but the players in the political drama will be in for a shake up. Netflix is continuing production on House of Cards without Kevin Spacey, reports the New York Times. The news comes after the show was thrown into turmoil after several men came forward to accuse Spacey of sexual misconduct. (After the allegations, Spacey's representative released a statement which said, "Kevin Spacey is taking the time necessary to seek evaluation and treatment. No other information is available at this time.") But though the series is losing central character, Frank Underwood, it is gaining two veteran pros with Diane Lane and Greg Kinnear.
Production on Season 6 was suspended last fall after actor Anthony Rapp accused Spacey of making unwanted sexual advances on him when Rapp was just 14 years old. (Spacey responded to the claims on Twitter, writing, "I honestly do not remember the encounter, it would have been over 30 years ago. But if I did behave then as I describes, I owe [Rapp] the sincerest apology.") At that time, Netflix announced that the upcoming House of Cards season would be its last and cut all ties with the actor as more men came forward with additional allegations. During the three month suspension, it was unclear if Netflix would return to the series, which was a cultural juggernaut in its early seasons. As the Times notes, it served as proof that the streaming network could produce buzz-worthy, critically acclaimed original content.
It is unclear who Lane and Kinnear will play in the series, because Netflix is keeping details on their characters close to the chest. However, both actors have experience with roles centered around White House intrigue. In the 2011 miniseries The Kennedys, Kinnear played the most famous member of the titular political dynasty as President John F. "Jack" Kennedy. Meanwhile Lane played a secret service agent in the 1997 thriller Murder at 1600.
And, without Spacey, Claire Underwood (Robin Wright), Frank Underwood's wife and co-conspirator in many of his devious political schemes, will get her chance to siege the spotlight. Spoilers for House of Cards Season 5 ahead.
When last we left the Underwoods, Claire had been declared the 47th president of the United States. She gave her first televised address as POTUS and neglected to mention pardoning Frank or his former Chief-of-Staff Doug Stamper (Michael Kelly), both of whom are under investigation. In the last scene Wright turned to the camera — as Frank so often did before her — to directly tell the audience, ""My turn."
Wright can certainly handle leading the series on her own. She has previously won a Golden Globe Award for her performance as Claire, and has been nominated for five primetime Emmy awards. The only question that remains is how the show will choose to write off Spacey's character, and how the series will end. It seems doubtful, given all the shady, downright illegal activities Claire and Frank participated in over the years (including multiple murders), that Claire will get a happy ending. Though who knows? She has escaped quite a few pickles before.
In addition to suspending production on House of Cards and adapting to a series without the lead actor, the streaming network also nixed a movie that starred Spacey about writer Gore Vidal. On top of that, Netflix cancelled Louis C.K.'s stand-up special after the New York Times ran an exposé in which five women accused the comedian of sexual misconduct (Louis responded to the allegations by releasing a statement that said, "These stories are true" and added, "I have spent my long and lucky career talking and saying anything I want. I will now step back and take a long time to listen.").
According to the Times, this upcoming season will only include eight episodes, as opposed to the usual order of 13 episodes. It might air later this year.