Why It Was A Good Choice For Netflix To Make One Last 'House Of Cards' Season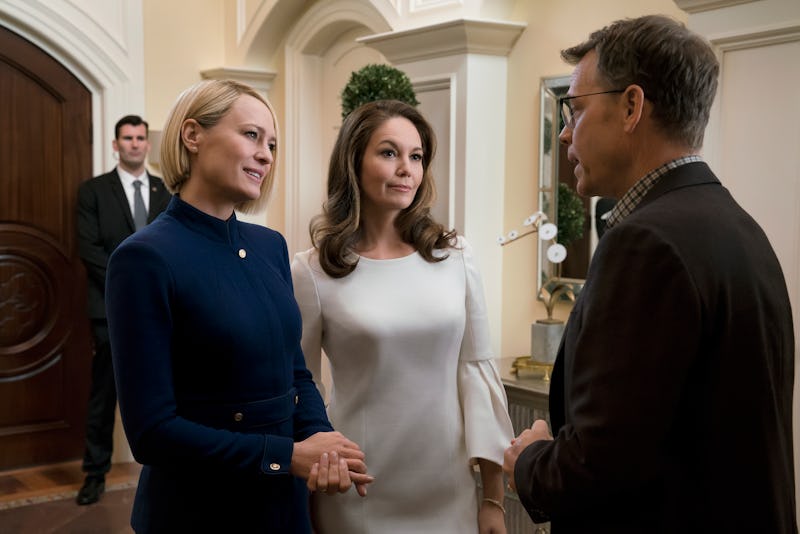 David Giesbrecht/Netflix
The Underwood Regime is drawing to a close. House of Cards won't return after Season 6, which reaches Netflix on Fri. Nov. 2. The final season will watch Claire (played by Robin Wright) ascend all the way to the Oval Office, which was freshly vacated by her husband after a (purposefully) inconclusive election at the end of Season 5. While last season saw Frank desperately trying to cling to power, Season 6 is finally Claire's turn.
The news of the series' cancellation first broke on Oct. 30 of last year, just one day after actor Anthony Rapp accused Kevin Spacey of sexual assault, according to an interview he did with BuzzFeed News. While Neither Netflix nor Media Rights Capital, the production company behind House of Cards, have confirmed that the series has been canceled due to the allegations against its former star, they have issued a joint statement expressing their concern over the news. By Oct. 31, 2017 Netflix had suspended production on its freshly-greenlit final season, issuing the following statement, per The Hollywood Reporter.
The statement read:
"Media Rights Capital and Netflix are deeply troubled by last night's news concerning Kevin Spacey. In response to last night's revelations, executives from both of our companies arrived in Baltimore this afternoon to meet with our cast and crew to ensure that they continue to feel safe and supported. As previously scheduled, Kevin Spacey is not working on set at this time."
As additional accusations were leveled against Spacey, the future of House of Cards seemed highly uncertain. Could Netflix's first original series continue without the man who had been its face for so long? Yet while the fate of the Underwoods hung in the balance, fans clamored for a House of Cards with Claire at the helm, and luckily, Netflix agreed.
Speaking to Net-a-Porter, Wright revealed that House of Cards did very nearly collapse after Season 5. "[It came] very, very close. Because of the climate at that time. The air was thick, you know. Harvey Weinstein…" she explained. "People were [saying], 'We have to shut everything down or otherwise it will look like we are glorifying and honoring this thing that's dirty.'"
While the Underwoods might not give a damn about the people beneath them, Wright subscribes to a more compassionate school of leadership. When House of Cards was at its most vulnerable, Wright, who is also an executive producer, fought for the chance to keep the show alive — not just for herself or for the fans, but for the thousands of people that were depending on House of Cards for their jobs. She went on to tell Net-a-Porter, "I believed we should finish. I believed we should honor our commitment. To the people that loved the show, also. Why quit?"
"They printed that it was 'only' 600 people out of work," she continued, "but if you include security, cops, shooting on location in Baltimore, everything, 2,500 people would have been out of a job. And that's not fair — to take that [financial] security away from those people… They didn't do anything [wrong]."
While the show wouldn't have been able to go on forever, at least all the people that were depending on its production were able to go into the final season of production with their eyes open about the future. And as for the fans, at least they can rest easy knowing this last hurrah is going to be one for the history books.