How Amy Poehler's 'The House' Role Upends The Nagging Wife Trope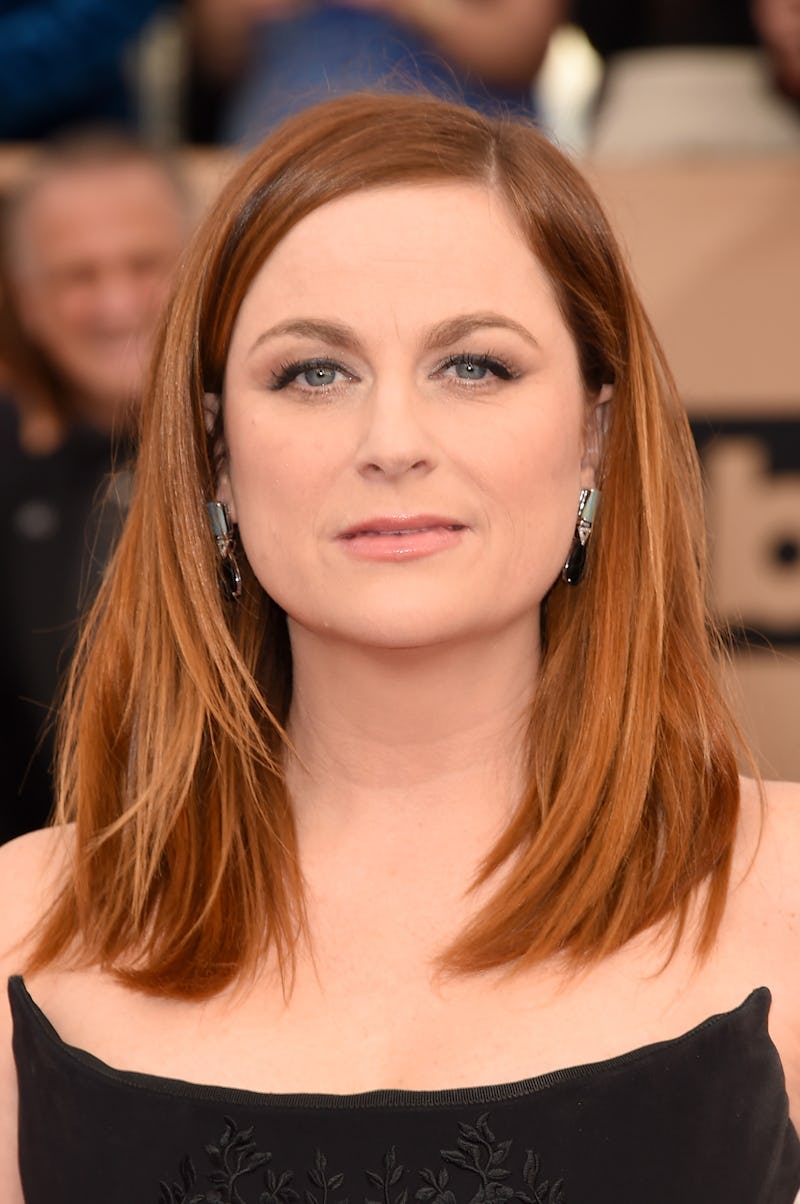 Jason Merritt/Getty Images Entertainment/Getty Images
When it comes to female characters in film there are a handful of tropes surrounding women in relationships I could do without. There's the frigid wife, the controlling harpy, the domestic goddess, and my least favorite of all — the nagging wife. You know the one: She's always trying to control her husband, she's constantly bugging her partner about petty chores or tasks, she's high-strung, has little sexual appetite, and she's usually stopping everyone's fun. She is, simply put, the worst. So when I saw The House, about a couple who starts an underground casino to raise money for their daughter to go to college, I was pleasantly surprised. Amy Poehler's character, who is an instigator of mischief and fun, successfully upends the pesky and potentially harmful trope.
"What I like about the movie is that my character's not the one who's stopping the fun," Amy Poehler says on set of the film between takes, back in October of 2015.
The film centers around an otherwise average couple, Kate (Poehler) and Scott (Will Ferrell), who panic when they discover they have no money to pay for their daughter's ultra-expensive college tuition. Instead of making her choose a less expensive school, the duo decide to take a turn for the illegal, and open a casino in their friend Frank (Jason Mantzoukas)'s home. But things quickly take a turn for the absurd — and dangerous. And Poehler is pleased to admit that her character has a big part in their sticky situation. "There's a lot of illegal things that happen. Violence, darkness... I like the challenge," she says.
It's refreshing to watch on screen, too, because women who play wives don't often get to relish in their bad behavior. The nagging wife wouldn't dream of gambling to secure money for her daughter's higher education, but luckily, Poehler's Kate doesn't have a nagging bone in her fun-loving body. Instead, it is both the husband and wife who cook up such a misbehaved plan.
"They really like each other. They are members of the same team, and it's kind of what you need sometimes in life. They both act like maniacs, and it's really fun to be that way with Will. I will never be taller or louder, and that is my cross to bear. But I can hide in more places and jump out and scare him," she jokes. "I was saying the other day that [the film] is a good example of how it's never too late to make a bad decision with someone you love."
Ferrell's character also avoids falling into any male tropes — like the henpecked husband, a classic counterpart to the nagging wife. Instead, they both flourish together, neither one demanding too much of the other. Illegal activity aside, it's a portrait of a loving, healthy relationship. And it doesn't hurt that Poehler and Ferrell are old friends off camera. "That kind of chemistry — you have it or don't right away," she says. "Will and I are both alphas. I think we like that about each other. In any good comedy you're trying to find what is the best idea. And if you do it with really collaborative people, then you're just running with really good horses."
With two powerhouse comedians in tow, it's no wonder neither these actors refuse to fall into the tired tropes of yesteryear. Adios, nagging wife — see ya never.