Beyoncé Is Changing The Way We Look At Pregnancy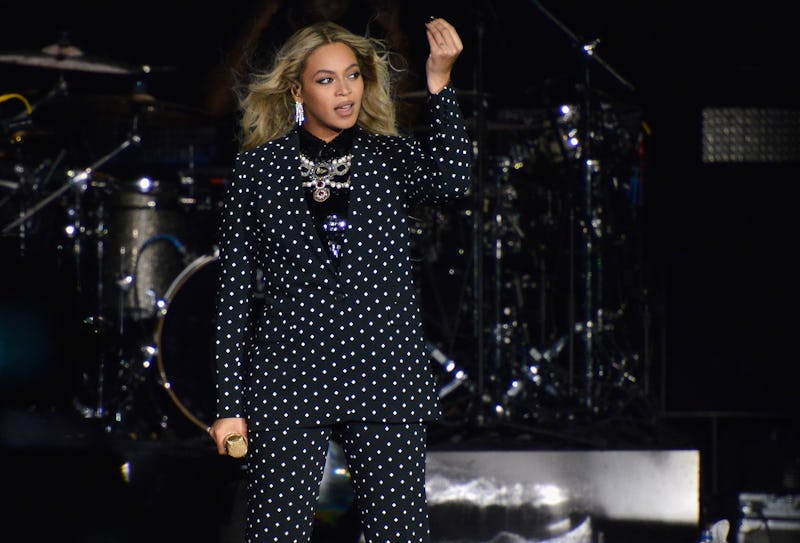 Duane Prokop/Getty Images Entertainment/Getty Images
As Beyoncé told everybody way back in 2011, girls run the world. One reason being that they're "strong enough to bear the children / then get back to business." Now, it seems as if she's taking that statement a step further. Beyoncé is expecting twins (perhaps you heard?) and isn't taking time off — she's continuing to work throughout her pregnancy. It's been reported that Beyoncé could perform at the 2017 Grammys, where Lemonade is up for nine awards, with "special guests." As of now, Bey is also still headlining this year's Coachella, where she is only the second female solo artist to top the bill and the first black woman to ever headline the festival. When Coachella takes place over two weekends in April, she could be five to six months pregnant, according to reports.
The fact that Beyoncé will perform while pregnant, likely in her second trimester, sends an empowering message to all women that you don't need to go into hiding just because you're having a baby. You are still as powerful as you ever were, even if you can no longer eat soft cheeses or sushi. Don't let anyone tell you otherwise. Not only that, but Beyoncé also lets any naysayers who think pregnancy is somehow a condition that keeps women from getting work done know that they're completely wrong.
In fact, according to The Atlantic, the 2015 Pew Research Report showed that working while pregnant is increasingly becoming the norm: 66 percent of mothers who gave birth to their first child between 2006 and 2008 worked during their pregnancy. In the early 1960s, just 44 percent of women worked at all during pregnancy.
How pregnancy is seen in pop culture has changed a lot since the days when Lucille Ball couldn't even say the word "pregnant" on television. (That was in 1952, by the way, which isn't really that long ago.) In recent years, actors have begun flaunting their pregnancies on the red carpet, making it clear that baby bumps are the new normal after years of having to cover them in muumuus. In 2013, The New York Times even dedicated an entire style piece to this new celebrity trend that was normalizing the way the world looked at pregnant women; not to mention, encouraging other women to be proud of their pregnant bodies.
Throughout the 2000s, though, pop stars have been pushing that idea even further — not only showing off their bumps, but showing that they can still perform with them. M.I.A. performed "Swagga Like Us" at the 2009 Grammys while nine months pregnant, alongside Jay Z, Kanye West, T.I., and Lil Wayne. Dressed in a peek-a-boo polka dot outfit accentuating her belly, her performance — which took place on her actual due date — was a point of pride for women who knew that pregnancy didn't take anything from their own swagger or their work ethic.
Two years later, Beyoncé would announce she was pregnant with Blue Ivy by literally dropping the mic after her performance of "Love On Top" at the MTV Video Music Awards. That moment where she rubbed her belly ended up setting a new record for the most tweets per second ever recorded for a a single event. And Beyoncé has now set another record with her latest pregnancy reveal: the most-liked Instagram in history.
Beyoncé would release the video for "Countdown" while she was pregnant with Blue Ivy, but that VMAs reveal was her only live performance during those nine months. Her decision to keep performing this time around definitely feels on-brand. She's built an empire on female strength, letting women everywhere know that they run the world.
This is exactly why it's hard not to feel like Beyoncé's decision to continue performing is not only a personal one, but a political one in 2017. With President Donald Trump once saying pregnancy was an "inconvenience for a business," and more recently telling his female staff members to "dress like women," Beyoncé sends the message that no one is going to tell her what to do. Especially when it comes to her body.
Her decision to perform while pregnant is her subtle attack on the patriarchy. Beyoncé shows that gender norms are slowly eroding. She will not be dominated by any man or be meant to feel lesser — something she's made clear before. "Disrespect us," she sings on "Run The World (Girls)," "No they won't." That's why Beyoncé will keep going. She'll keep running this world like she always has. She's got no problem with stamina, so just try and keep up.