This Weekend's Full Moon Is Going To Look Even Bigger Than Usual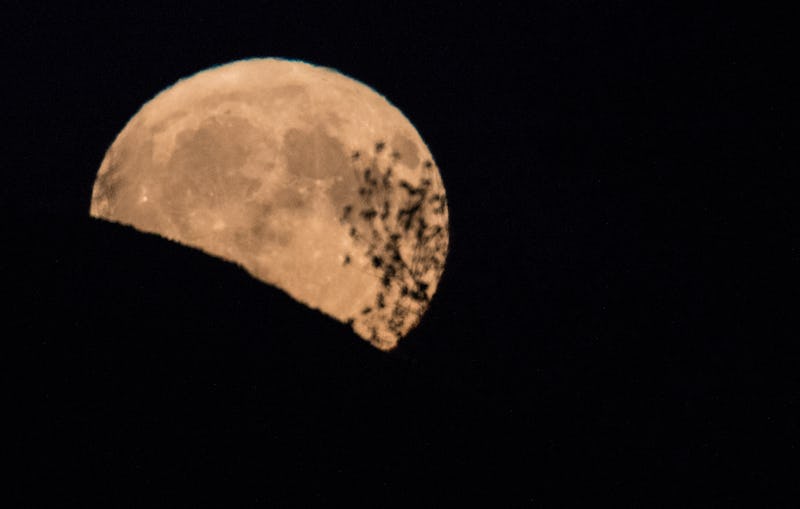 Matt Cardy/Getty Images News/Getty Images
It might seem pretty tough for the galaxy to top the solar eclipse from earlier this year, but get ready, because the December supermoon might do just that— and you won't need a special pair of glasses to view it. This lunar event is a little more special than October 2017's Harvest Moon, namely because of its size and how visible it will be. So, how big is the December supermoon? According to scientists, it will be large enough to warrant a super early wake-up call to check it out.
What makes this moon different from the other lunar events of the last year? This is actually the first and only visible supermoon of 2017. A supermoon is the commonly used term for a full or new moon that makes a very close approach to Earth. The moon's orbit around Earth isn't a perfect circle, which means that its distance to Earth changes as it goes around. That also means that, one day, it reaches its closest point, and that day is Dec. 3.
Also very appropriately known as the "Cold Moon," December's supermoon will rise at 10:47 a.m. ET on Dec. 3, then make its closest approach to Earth at 4 a.m. ET on Dec. 4. How big will it be? Well, the moon isn't actually any larger than normal, it just appears larger because of how close it is to the Earth. According to National Geographic, the supermoon will appear up to 16 percent brighter and seven percent larger than what it normally looks like. The moon will definitely look brighter and larger, but unfortunately, it's not going to be as large as the November 2016 supermoon was. In fact, some scientists say it won't be a super noticeable difference — what really makes this event special is that it's the only official supermoon of 2017.
Still, a supermoon is always an exciting lunar event, and something you won't want to miss out on. The best time to see this particular supermoon is at 4 a.m. on Dec. 4, which is that early wake-up call we were referring to before! If it's going to be a clear night, setting your alarm to glance out your window could be well worth your time — a phenomenon known as the "moon illusion" will make the supermoon look much larger than its peak height, and this happens right after sunrise. If you can't fathom waking up that early just to stare at the moon, you can see it looking bigger than normal just before sunset on Dec. 3 (but it won't be quite as large as it will super early in the morning!).
Even if you miss out on seeing the supermoon, you probably won't miss out on how it affects everyone around you. This Cold Moon marks the beginning of Mercury going into retrograde until Dec. 22, something that will affect all astrological signs. You know all the weird side effects that go along with a full moon? Well, astrologists believe that a supermoon has more power than a regular full moon, so those effects might cancel out a little of Mercury's retrograde effects, at least for a bit — and all of the signs should take notice of that.
And hey, even if you miss out on this supermoon, you have more to look forward to. Astronomers say that we'll be starting off 2018 with some more impressive lunar events. The Jan. 2 and Jan. 31 full moons will also be considered supermoons, giving you plenty of opportunities to take in all the galaxy has to offer.