These Subtle Body Language Cues Reveal If Your Date Is Into You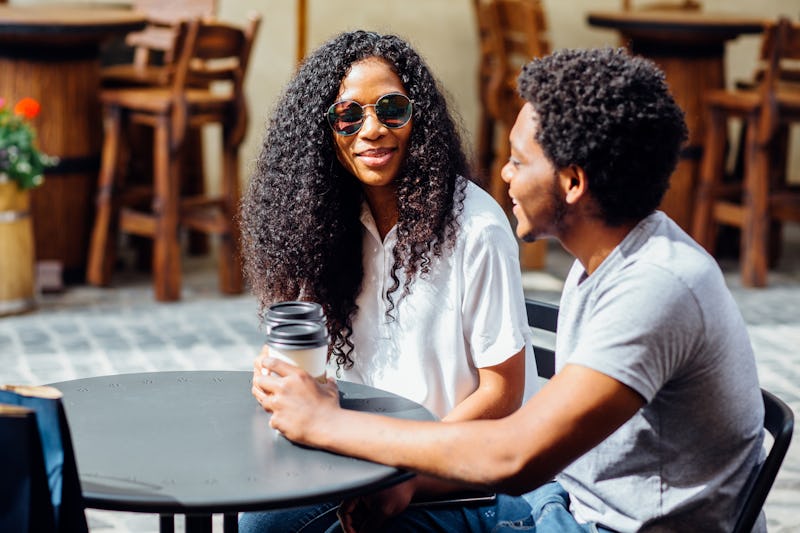 Iryna/Fotolia
How can you tell when someone likes you during a first date? It's a question I'm sure many of us have asked ourselves before. Luckily, a new video by Function titled, "The Science of Dating (Eye Tracking Ep. 2)" has all the answers.
In an experiment conducted by Function, participants were asked to wear a pair of Tobii Pro eye tracking glasses while going on a series of seven to 12 minute blind dates. During each date, the eye trackers were able to measure where people focused most of their attention, as well as any changes occuring within the eyes all throughout the date.
"Eye patterns, body language, and other non-verbal cues can reveal 70 percent more than our actual words do," Caitlin Cooper, a New York-based matchmaker at Three Day Rule and dating consultant for the study tells Bustle. "The dilation of pupils, flushing of the face, deep eye contact, and similar posture or movements are markers of deep engagement and that a date is going well."
According to Cooper, that doesn't necessarily mean you shouldn't be mindful of your words. After all, a recent survey of 2,000 singles found that great conversation is the marker of a successful date. "But matching and mirroring someone's body language and natural eye patterns can create rapport in minutes without much work at all," she says.
So if you're wondering how you can tell whether or not your date is into you, here's what you should look out for: