How Dating Apps Have Prevented Me From Actually Dating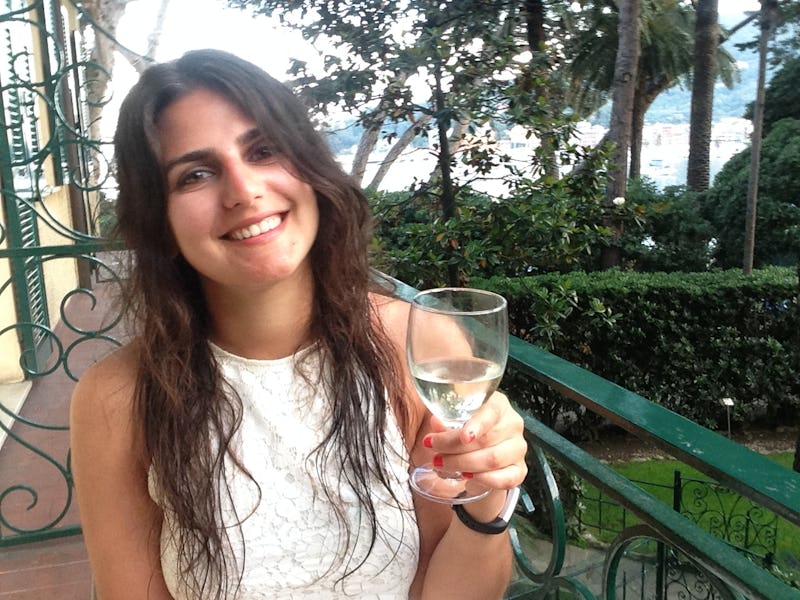 Even though dating apps are most popular among Millennials, according to a recent SeatGeek survey of 1,000 singles, 95 percent would rather meet people IRL versus online or on an app. That's why for the second year in a row, Bustle is deeming April, "App-less April" and encouraging our staff and readers to delete their dating apps for 30 days and meet people the old-fashioned way: offline. With participants tracking their progress and tricks and tips from dating experts, we'll be helping you feel empowered to meet people IRL all month long.
"I can't tell if you're just the type of person who has a good time hanging out with everyone or you actually like me."
That was a text message I got after two dates from a Dan I met on Tinder. He was smart, cute, and funny, but it was only two dates, and I felt like I hardly knew him. I was going on dates with two other people at the time and I wanted to continue seeing them, so Dan and I never went out again.
"You don't seem very excited about Ben."
That's what one of my best friends said to me about Ben from Hinge, who I had gone on about six dates with. The thing is, even after many dates, I felt like I hardly knew him.
"What are you looking for?"
That's what Mike from The League asked me on our first date as we sat on a bench in Central Park this October. I didn't have an answer for him — or for myself.
I started App-less April, a challenge to delete your dating apps, last year with the the intention of meeting people offline, something I had completely forgotten how to do after years of swiping. Yet, as I look back on how I spent the last 30 days for the second year in a row, meeting someone IRL wasn't my focus during my detox. Meeting people offline is something I've definitely gotten better at since last year, but still, I used this app-less time to reflect on my dating app behaviors over the last few years, sort of like a spring cleaning of my dating life. On apps, I was distant. Distracted. Fueled by dating FOMO. I didn't humanize people. I wasn't vulnerable and I didn't even want to be vulnerable.
But all during my time on dating apps, I rarely thought about why I was on them and what I wanted from them.
Perhaps meeting people IRL also wasn't a focus for me because I was dating someone during last year's App-less April and then this April, I continued hanging out with someone I met earlier in the year. I don't think it's a coincidence that during both App-less Aprils, I continued seeing people longer than I have for the past four years. Without apps there to distract me, I could actually date.
"That's how it is with dating apps — it's created this impersonal element that's supposed to be personal at the same time," Dr. Emily Morse, a sex and relationship expert and the host of Sex With Emily, tells Bustle. "This way of communicating creates a 'faux' intimacy because we're exchanging all of this information, yet we have no idea what this person is really about."
Newly single and feeling like I should probably get out there, I downloaded Coffee Meets Bagel four years ago. Then Tinder. Then Hinge. Then Happn. Then The League. You know the rest. After about a year on apps, they quickly went from being a supplement to my dating life to becoming my dating life. But all during my time on apps, I rarely thought about why I was on them and what I really wanted from them.
When I joined them, I wasn't looking for a relationship, and even during the times I thought that's what I was looking for, I also never felt fully ready. Dating apps have been incredible tools for me in meeting new people and going on dates, but I was so wrapped up in using them that I haven't actually been dating.
When a good first date did lead to more dates, I'd eventually assume that I just didn't want a relationship at that point or the timing was off. It was still fun to meet people, so I stayed on apps, went on first, second, and third dates, and continued to "date" without ever moving past the interview-like questions and really getting to know anyone. It felt formulaic, and I was so distracted by the endless options that I never felt satisfied with the choices I made.
I'm not blaming the apps themselves, because they've been effective for what I was using them for. I'm blaming how I — and possibly many other dating app-addicted Millennials — have been using them to avoid dating.
Without dating apps distracting me, it made me realize that I am craving connection but I've been so afraid of it.
"It's not necessarily their fault, but dating apps give the illusion that there's an endless supply of potential mate choices, so why settle for one person when you can keep swiping (and conveniently avoid investing time and real feelings in one person) when there's just another person a swipe away," Camille Virginia, offline dating expert, tells Bustle. "But the truth is there IS a finite number of people, not one of them is perfect, and at some point simply making a decision and attempting to get invested in one person is what you have to do — otherwise, prepare to ride the dating app rollercoaster indefinitely."
This App-less April, the hardest part of being off dating apps was realizing how I had been using them so mindlessly. Being app-less and having a chance to reassess my dating life has made me realize that I am craving connection but I've been too afraid of it.
But being distracted by my apps makes me want to do the 36 Questions That Lead To Love and talk about the five Love Languages on the first few dates — both of which I've done recently. Being off apps, I'm present, focused, and I want to date. I feel like in terms of my dating life, I just woke up.
I went into this year's App-less April thinking it might lead to another revelation about how much I love being single despite the pressure I feel being on dating apps sometimes. And while that's always a lesson I'll welcome into my life, I also learned that after four years on dating apps, I'm ready to start dating.
Join the campaign and share your stories with #ApplessApril and ​by ​tagging @Bustle.