What Caused Carrie Fisher's Death?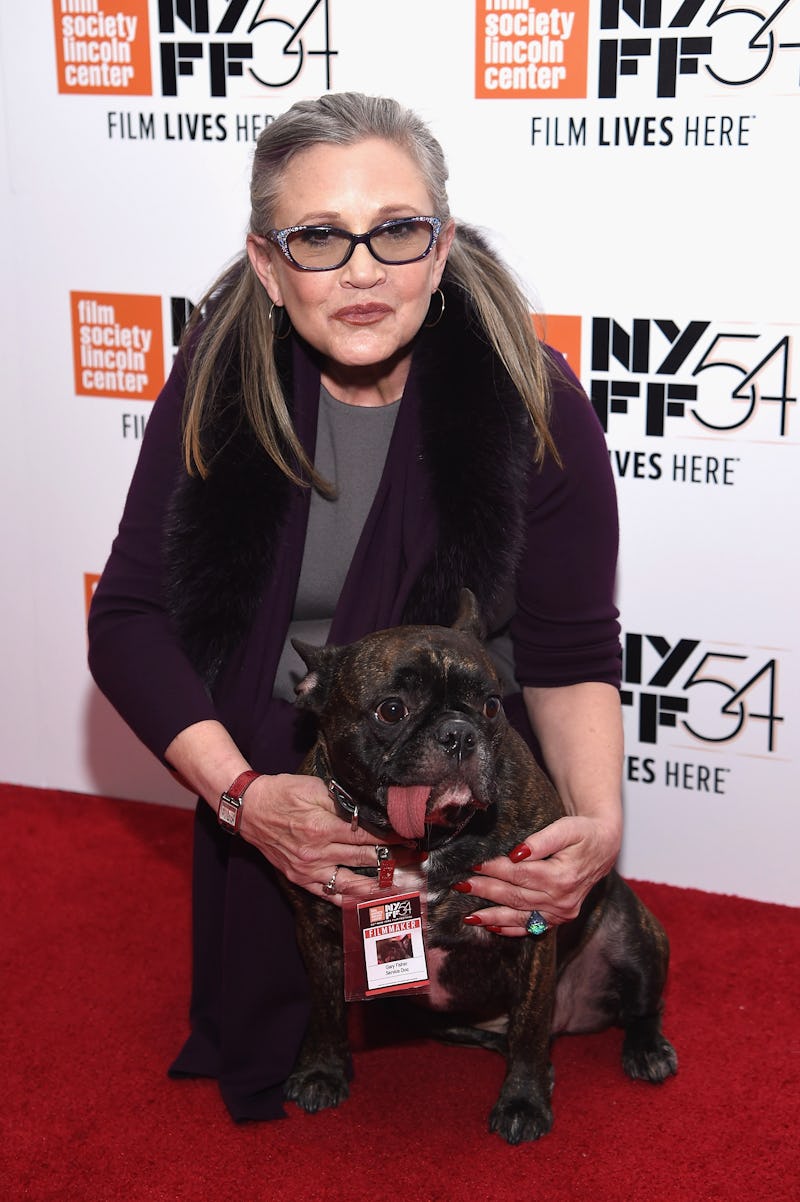 Dimitrios Kambouris/Getty Images Entertainment/Getty Images
The Star Wars universe just got smaller — and significantly sadder. News broke on Tuesday, Dec. 27 that Carrie Fisher has died at age 60, according to People. You may be wondering, what caused Fisher's death? On Friday, Dec. 23, the actor reportedly experienced an unexpected heart attack while aboard a flight. A few hours later, the Associated Press reported Fisher was in stable condition at UCLA Medical Center. However, Entertainment Tonight followed up that same night, saying the actor was in intensive care and her condition remained unknown. As for her exact cause of death, that information has not yet been announced.
Update: According to sources at TMZ, Fisher reportedly never regained consciousness after suffering her heart attack on the plane, 15 minutes before the flight landed. TMZ claims that Fisher's condition had not improved, despite previous reports that she was in stable condition.
Earlier: On Tuesday, family spokesman Simon Halls released the following statement to People,
It is with a very deep sadness that Billie Lourd confirms that her beloved mother Carrie Fisher passed away at 8:55 this morning. She was loved by the world and she will be missed profoundly. Our entire family thanks you for your thoughts and prayers.
As a recap of what happened, Fisher reportedly went into cardiac arrest while on a plane from London to Los Angeles on Friday, according to TMZ. When a flight attendant asked if anyone on the plane had medical experience, an EMT allegedly performed "life-saving measures." She was then rushed to the hospital once the plane landed. All around, it sounds like a tragic situation.
There's no denying that Fisher, who played Princess Leia, was not only a legend in a galaxy far, far away, but also an icon for women everywhere. As eloquently put by Bustle's Allie Gemill, "Fisher is an important role model for women as an artist and as a feminist, purely because of the work she has done and the examples she has set in her own life."
Fisher had a prolific career, and it's a shame that she's gone far too soon. The actor is survived by her daughter, Billie Lourd, who appeared with her mom in Star Wars: The Force Awakens, as well as her beloved dog Gary, who's become a social media star in his own right. Fisher's parents are also famous — her mother is Debbie Reynolds, while her dad is the late Eddie Fisher.
She will be greatly missed by fans and fellow celebrities alike, as evidenced by the outpouring of love and support on social media. May Fisher rest in peace.