Michelle Obama Has Known Chance The Rapper For Years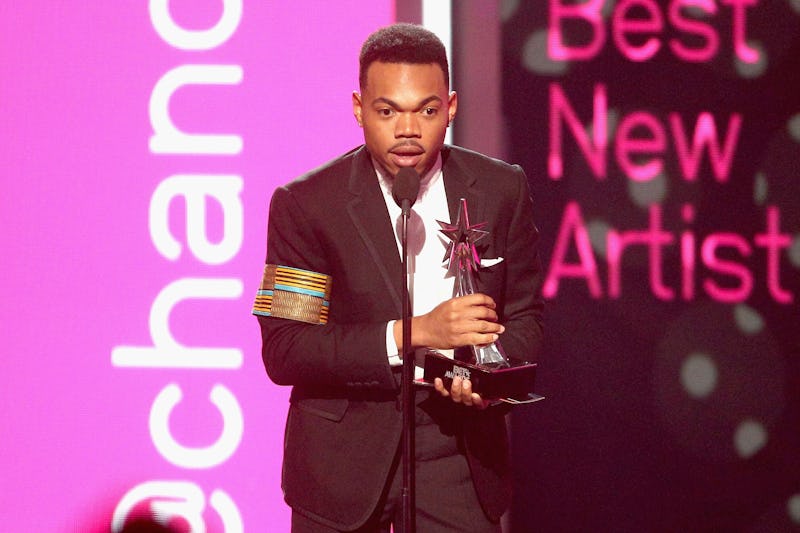 Frederick M. Brown/Getty Images Entertainment/Getty Images
After the illustrious "forever First Lady" Michelle Obama honored Chance the Rapper at the BET Awards, there wasn't a dry eye in the house. But there might also be some confusion since the former First Lady mentioned that she had known Chance since he was a child. How Chance the Rapper met the Obamas is actually an interesting story.
If you've been following Chance's career for longer than his Best New Artist win at the BET Awards would imply, then you already know the answer to this question. Barack Obama mentioned it in a 2016 interview on Sway In The Morning: "Chance, I've known for years 'cause his dad was my state director when I was a senator in Illinois, so I first met Chance when he was 8 years old, and so we've been family for a while." Michelle Obama reaffirmed this in her speech about Chance on Sunday night, stating, "We have known Chance and his family since he was a wee little baby rapper."
Imagine being a "wee little baby rapper" and knowing the future President and First Lady of the United States. Just take a moment and imagine it. According to Esquire, Chance's dad is Ken Williams-Bennett, and he indeed served as Obama's state director. Rolling Stone also pointed out that Chance interned for Barack during his first presidential campaign.
So, yeah, it may have been surprising to see the former First Lady pop up during the BET Awards, even in video form. But it also wasn't at all surprising, because who better to talk about Chance's humanitarian efforts that someone who has known him since he was a small human?