Some Of The Most Iconic Figure Skating Partners Found Each Other By Total Chance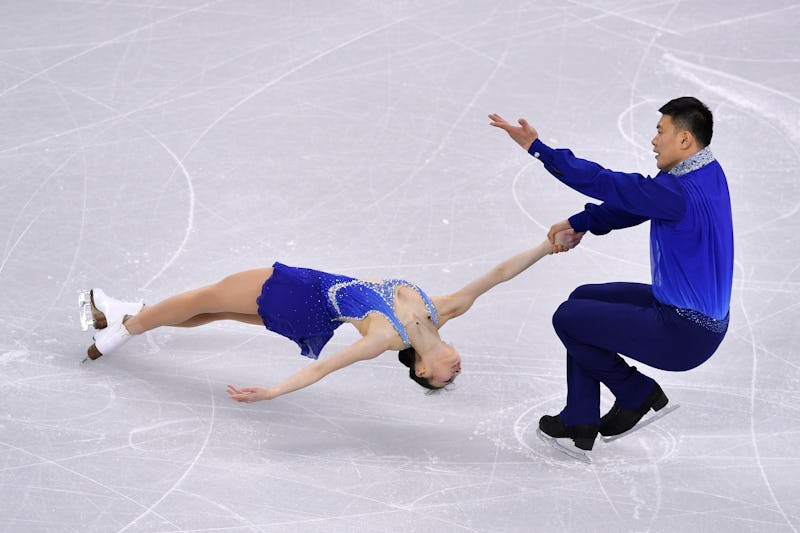 Koki Nagahama/Getty Images Sport/Getty Images
I'll admit that when it comes to Olympic figure skating, my preferences tend towards the ladies' singles competitions. Every so often, though, the pairs events will catch my eye — mostly because I can't help but wonder how figure skaters pick their partners: Do they grow up training together? Do they meet coming and going at the rink? Is there, I don't know, some kind of network that's sort of like an online dating site, but for pairs skaters looking for partners? Well, I did a little digging, and it turns out that there's a lot more to it than non-skaters like myself might suspect.
A successful pair needs to function on two levels: The skaters need to be good physical matches, able to move fluidly together, spin together, jump together, and lift together; and they need to be good mental matches — or, as the New York Times put it in 1981, "Pairs figure skating requires a delicate balance between partners. They must think alike and react alike. The chemistry must be there."
But before anyone can even think about skating pairs, they generally need to become proficient singles skaters first; without the skill set gained by skating solo, starting in on pairs is tough, if not outright impossible. According to U.S. Figure Skating, essential skills for pair skaters include the "ability to communicate and work well with others," being a "good listener," having a willingness to "try new things," strength, and — here it comes — both being a "good singles skater" and having "good skating skills (edges, turns, stroking, etc.)."
One you've been skating for some time and you've decided you want to skate pairs, letting your coach know you're interested in making the chance usually gets the ball rolling on finding a partner for you. According to U.S. Figure Skating, "A lot of partnerships are created through the networking of coaches, so it's important that your coach know of your interested." And, indeed, many medal-winning pairs skaters were originally matched by their coaches, including Ekaterina Gordeeva and Sergei Grinkov, who won gold medals skating for Russia at both the 1988 Games in Calgary and the 1994 Games in Lillehammer; Pang Qing and Tong Jian, silver medalists for China at the 2010 Torino Games; and Jamie Salé and David Pelletier, who took home a silver medal for Canada at the Salt Lake City Games in 2002.
Other tools exist to help would-be pairs skaters find partners, too, of course. According to ThoughtCo, successful skating partnerships can be found via good ol' want ads placed in places like SKATING magazine (that's U.S. Figure Skating's official publication); you can ask around the skating community where you are, either face to face or via message boards or discussion groups; and online databases like Ice Partner Search basically give you a search engine designed specifically to help folks find skating partners. (Looks like I wasn't too far off when I wondered whether you could find a skating partner via online dating.)
But no matter how you find your potential partners, whether it's being matched by a coach or via something like Ice Partner Search, U.S. Figure Skating notes that it's a good idea to hold tryouts that include both time on the ice and time off it before you commit to a partnership. The on-ice time is (obviously) meant to see how you actually skate together — whether you mesh well, whether you feel comfortable, etc. The off-ice time, meanwhile, should address the nitty-gritty of a partnership: Says U.S. Figure Skating, "details that could make or break the success of your partnership including short-term and long-term goals and plans for training and competing (location, coach(es), etc.)" are all things you should talk about.
Of course, the reality of the situation can often make or break whether you're able to find a partner: The bottom line is that there are many, many more women in the world who need skating partners than there are men. Said Jessica Crenshaw, who skates with Chad Tsagris, to the New York Times in 2010, "For pairs girls, there are 100 girls for every one guy who wants a partner. To be able to find a partner and to be able to compete in Europeans and go to worlds, it's actually almost a miracle." Chad Brennan, who skated pairs as a national competitor, said something similar to The Cut in 2014: "Boys are so much in demand in skating that a girl who wants to skate pairs will do everything she can to get a partner — which means fronting the cost of everything." Indeed, many skaters who can't find partners in their own countries to skate for other countries instead. This phenomenon has become so notable that whole news features have been published about it.
What's more, sometimes, what brings a pair together is just simple fate. For example, Kitty and Peter Carruthers, who won the silver medal representing the United States in the 1984 Sarajevo Games, were adopted siblings. When they were kids, their parents built a small ice rink in their backyard in Massachusetts one winter and found that they had a knack for it, according to a profile published in the Christian Science Monitor in 1981. After the weather got warmer, they started taking lessons at a local indoor rink,and it all spun out from there — although interestingly, Peter said in a 1981 interview with the New York Times that he started specifically figure skating because of Kitty. "At first, I played hockey," he said. "But my parents liked to watch Kitty skate, and I figured the only way to get their attention was to skate, too." If all those circumstances hadn't lined up, they wouldn't have become the powerhouse skating pair they did.
Meanwhile, Jill Watson and Peter Oppegard — Olympians who won the Bronze medal for the United States at the 1988 Games in Calgary — were brought together by changes in their individual situations. According to an article published the year of the Calgary Olympics in People, both of them had lost their partners when those partners decided they wanted to go the pro route. Oppegard, who had had four partners during his competition career, was ready to say goodbye to the sport — but Watson wanted to find a new partner, and she thought that Oppegard might be it. She said "kept calling" him until he agreed to try skating pairs with her. Clearly, the match ended up being a good move.
So: What's the TL;DR version of all of this? Answer: It depends. Coaches can help, as can other tools — but sometimes, you might just be thrown together with the person who turns out to be the perfect skating partner for you by pure luck or chance. No matter how each pair competing in the 2018 PyeongChang Olympics found each other, though… well, here's wishing all of them the best of luck!