BTW, You're Probably Pronouncing Princess Eugenie's Name Wrong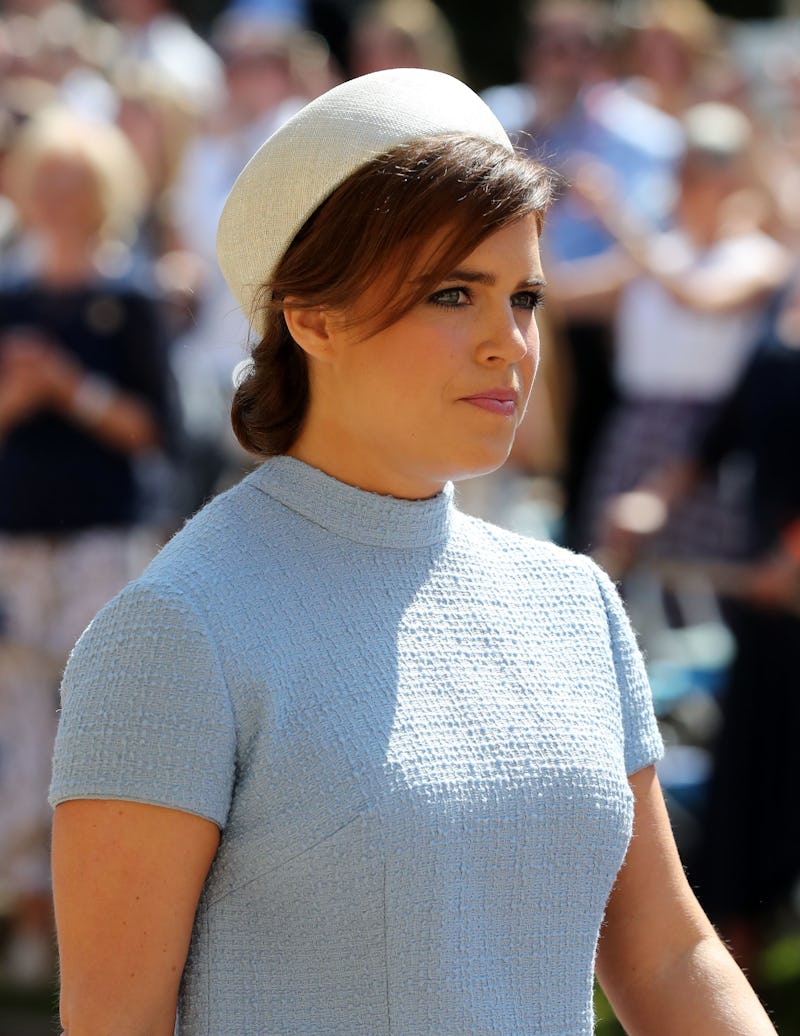 WPA Pool/Getty Images Entertainment/Getty Images
Princess Eugenie has been making headlines recently in the lead up to her October wedding to Jack Brooksbank. Given that you might be seeing a lot about the royal, there's one thing you definitely need to know: how to pronounce Princess Eugenie's name. Interestingly enough, the name isn't pronounced exactly the way you might think.
According to her own interview with The Telegraph from back in 2008, there's a specific way to say Eugenie's name. Instead of "Yu-jeenie" or "You-JAY-nee," it's actually pronounced like "YOO-genny," with the stress being on the "Eu" in her name. Luckily, her mother, Sarah Ferguson, the Duchess of York, used a very helpful phrase when the princess was young in order to help others say her name correctly. Eugenie told the publication,
"Whenever we used to meet foreign people who were struggling with it, my mum and I would help them by saying, 'It's like Use Your Knees.' But whatever. I am now used to every pronunciation."
Now, you know exactly how to pronounce Eugenie's name as intended. So, there won't be any surprises once you hear anyone say her name during the wedding ceremony, which will take place on Oct. 12. But, even if you were saying it slightly wrong, it appears that the royal is used to the mispronunciations at this point.
You'll probably be hearing Eugenie's name (with its varying pronunciations) more and more as the big day approaches. As previously stated, she's set to get married on the date to her longtime love, Brooksbank. And if you've been an avid royal watcher, you'd know that there's one major detail about the next royal wedding that will ring a little familiar.
In January, Buckingham Palace announced the pair's plans to wed in the fall, after Brooksbank popped the question during their vacation in Nicaragua. They later revealed even more details about the pair's nuptials, including a big connection to one of Eugenie's cousins. According to the royal family's official Twitter, the wedding will take place in St. George's Chapel at Windsor Castle. In case you forgot, Prince Harry and Meghan Markle's big day took place in the very same location in May. So, it will definitely be nice to see the family decked out in their best wedding attire at St. George's Chapel for round two.
As for where the future Mr. and Mrs. will settle down after exchanging vows? Well, there's also a Harry and Markle connection there, too. According to Town & Country, Eugenie and Brooksbank moved into Ivy Cottage, which is on the Kensington Palace grounds, back in May. And who are their very famous neighbors at the Palace? Yep, you guessed it, the couple actually live super close to the Duke and Duchess of Sussex's Nottingham Cottage pad. Maybe there will be some fun game nights in the married couples' future?
Given that the couple has already settled into their new home, it sounds as though Brooksbank and Eugenie (or YOO-genny, if that helps) are already off to a great start in the next phase of their relationship in advance of their special day.