5 Questions To Ask Yourself To Figure Out If You're Ready To Get Engaged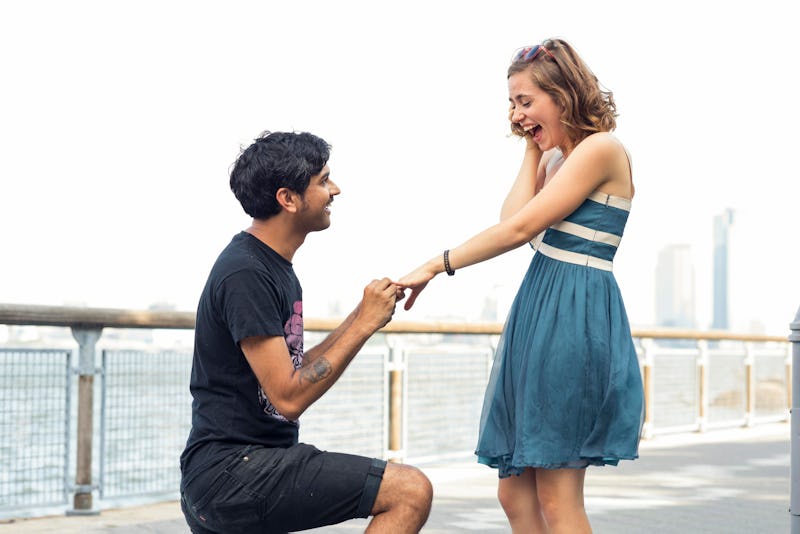 BDG Media, Inc.
A few years into your relationship, the possibility of getting engaged might pop into your mind. The fantasy might sound nice: the romance, the celebration, the sense of security. Then, you remember that 40-50 percent of married couples get divorced, and you wonder if you could be one of them if you don't give it enough time.
How much time is enough time to wait before getting engaged, though? Obviously, the answer to this question is highly individual, because it's not really about how long you've been together. It's about what point you've reached as a couple during that time. That said, the more you get to know each other and figure out how you work as a couple, the more confident you can be in your ability to form a lasting relationship.
"Research has found that people who have a longer courtship period before they decide to get married tend to be happier in their relationships and have a lower risk of divorce," Dr. Justin Lehmiller, a research fellow at The Kinsey Institute and author of Tell Me What You Want, tells Bustle. "In other words, dating for a longer period of time seems to be linked to happier and longer-lasting marriages. To be clear, longer courtship doesn't guarantee these things — it's just linked to better outcomes on average." So, if your primary goal is to make your marriage last, the best way to do that may be to hold off as long as you can.
However, we don't know for sure that people who dated for shorter periods of time got divorced because of their shorter courtship periods, Lehmiller points out. Plus, there are more important things to consider than the amount of time you've been dating. Here are a few questions to ask yourself to figure out if you're ready to get engaged.