How Many 'Will & Grace' Episodes Are On The Way?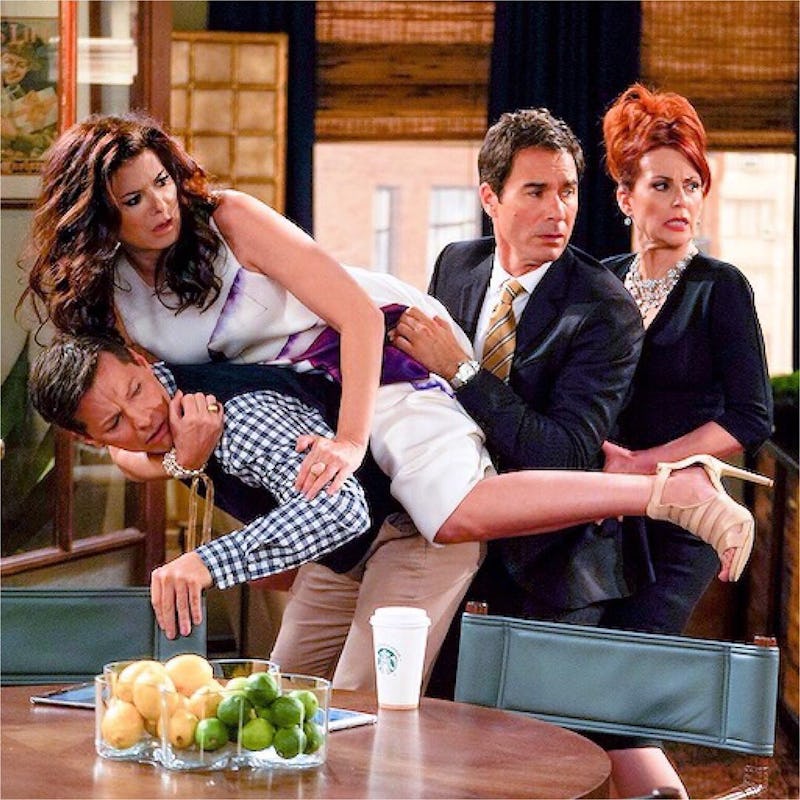 I hope that you have a portable martini-making kit with you (á la Karen Walker), because wherever you happen to be reading this, you'll want a celebratory drink. On Wednesday, NBC have confirmed that a Will & Grace revival is happening in 2017, and yeah, I'm basically drunk with joy right now. But before we all start bumping bellies about this utterly fantastic news, we definitely need some more details. Like, how many episodes will the Will & Grace revival be? This is important, because honestly, I think we can all agree that we deserve some comic relief right now, so, frankly — the more episodes the merrier, people.
Well, NBC actually ordered a 10-episode limited revival of Will & Grace to be aired during the 2017-2018 TV season. Though it's roughly 12 episodes short of what the average number of Will & Grace episodes per season used to be, it's still a fine amount of episodes to be happy about. Especially when you consider that for those 10 episodes, fans will be able to enjoy the show with its original team onboard.
Not only are the main four Will & Grace actors reportedly returning for the revival (Debra Messing, Eric McCormack, Sean Hayes, and Megan Mullally), but so too are the show's creators, Max Mutchnick and David Kohan (who will be acting as showrunners and executive producers). Even James Burrows, who directed every Will & Grace episode that ever was, is returning to direct these 10 episodes. And as you can see for yourself in the NBC announcement video below, the whole gang's back together and it feels so good.
The 10-episode length of the limited revival mirrors a statement made by Messing to People back in October 2016. In discussing what a dream Will & Grace reboot would look like, the actor revealed, "If there was a Will & Grace 2.0, my wish is that we did 10 [episodes] on, like, Netflix or Amazon or somewhere where it could be the naughty version of Will & Grace."
And though the revival will be airing on NBC, rather than showing up on either of the streaming services mentioned by Messing, the actor did get her wish where the number of episodes are concerned. And it's easy to see why 10 might have been the magic number for Messing — it's more of a contemporary TV show number of episodes for a season to feature.
After all, back in the late '90s and early '00s when Will & Grace was originally airing, they would feature a lot of episodes per season. Anything between 22 and 27 episodes became the length of a Will & Grace season in the five years that it was on the air.
And though more recent comedies like The Big Bang Theory and Modern Family still air a similar high number of episodes per season, others like It's Always Sunny In Philadelphia and Unbreakable Kimmy Schmidt feature seasons half of that length.
While I'm sure we could happily sit down and watch 22 episodes of the Will & Grace reboot, there's definitely something very exciting about the idea that the terrific quality of the show will be instead focused into just 10 episodes. And that's a lot of high quality riffing on pop culture, politics, and queer culture to look forward to.
As proven by the hilarious Will & Grace 2016 election sketch that was released last year, that high quality also hasn't waned. And in the current fraught climate, 10 episodes will be more than enough to frame that quality and to provide us all with the sort of comedy commentary on, and escape from, current events that we all so dearly deserve.
Welcome back, gang.