How Mercury Retrograde Will Affect The End Of Cuffing Season For New Couples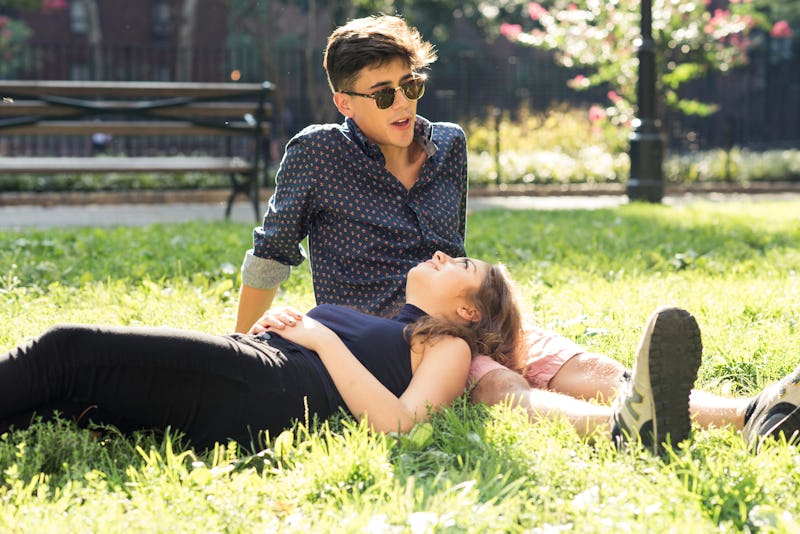 BDG Media, Inc.
Now that it's the end of March, it means a couple of big things — the beginning of spring, the start of mercury retrograde, and the end of Cuffing Season (aka the period where people couple up just for the colder months and break up when it gets warm out). Mercury goes retrograde again beginning March 22 and many say Cuffing Season ends when spring starts, March 20. Not only is Mercury retrograde the time when Mercury speeds by the Earth, but it's also the time when your life may feel more unbalanced than usual. Your romantic relationships can be influenced, too — including short-term ones — so Mercury retrograde can affect the end of Cuffing Season.
"In astrology, Mercury is the planet that is associated with all forms of communication and movement," Linda Furiate, a consulting Astrologer, Healthy Habits Expert, Reiki I&II, Inspirational Guide, and the founder of Of Universal Mind, tells Bustle. So, if communication patterns are altered, relationships — like cuffing — can also be altered.
According to Furiate, Mercury is going retrograde again from March 22 at 8:19 p.m.-April 15, 2018 at 5:21 a.m. EDT, around the same time period that Cuffing Season ends. Cuffing Season, takes place during the cold winter months, from about November to March. People "cuff," aka hook up and usually only stay together during that set amount of time. While some cuffing relationships last past the winter season, others thaw out with the spring sun.
Aside from Mercury retrograde being a potential cause of a cuffing relationship to end, it may also be due to the fact that March is the most popular month to break up. Who knew, right?! This is according to findings by British journalist David McCandless. He analyzed Facebook data to uncover breakup trends using keywords in 10,000 people's statuses — such as "break up" and "broken up" — and found that March won in terms of the month with the most breakups. It's been known that New Year's Day and Valentine's Day were big breakup times, but March is a surprise.
If you want to know how Mercury retrograde will affect the end of Cuffing Season, here's how, according to astrologers.
A Couple's Communication During Mercury Retrograde Will Be Affected
"When it comes to relationships, Mercury retrograde can be a benefit or a dilemma, depending on what kind of a communicator you are," Linda Joyce, Relationship Expert and Astrologer, tells Bustle. "A retrograde will bring up old issues that haven't been resolved, and we all know how well that goes over, especially with men who tend to prefer to avoid emotional conflict rather than deal with it and get it off the table."
Furiate, too, believes that, during Mercury retrograde, "there may be a higher probability for activities related to communication to become misinterpreted or misunderstood. While it is impossible to predict everything that may happen while Mercury is retrograde, this may influence our relationships. This may be a time when we turn inward to connect more with our true needs and values." As a result, you may discover that the person you're "cuffing" may not be what you truly need in a partner.
"In terms of our relationships, we may often say something to our partner that does not reflect their truth," Furiate says. "This differencing of thought and communication may lead to a potential ending or breakup of the relationship."
Why You May Break Up During Mercury Retrograde & Cuffing Season
Perhaps you got into a new relationship during Cuffing Season relationship without even realizing it. However, whether you break up once winter is over remains to be seen.
"As far as 'Cuffing Season' is concerned, being kept inside will only escalate problems if you're not good at dealing with them — there is no place to escape," she says. "Also, if they are two people who avoid intimacy and just want company, then when the weather changes, they could, too. Mercury retrograde doesn't demand we connect — it may just put us together in the same room."
Wave Rayne, Metaphysical Teacher and Spiritual Guide and Author who leads courses during rare cosmic events like All Planets Direct Motion (APDM), agrees with Joyce. "Keep in mind, this Retrograde coming in just one day after the Spring Equinox in Aries carries with it wild and combustible energy," Rayne tells Bustle. "No one is walking on safe ground — personal lives get thrown off-course," she says. "And, if there has been any sneakiness or deception at all, like seeing a former lover on the sly, it's likely that secrets can be revealed in the next week or so. These can obviously undermine any trust the two of you have been building together."
Rayne also says recurring conflicts may contribute to a cuffing couple not staying together. "If one of you keeps having the same argument with the other and is not happy about one thing, even if everything else is fine, you can for sure expect that one thing to blow up sky-high in the next week or two," she says.
Why You May Stay Together During Mercury Retrograde & Cuffing Season
Say you started seeing someone in the fall or winter when temperatures started to drop. You may have thought your Bumble date was just someone to hang out with a few times when you didn't want to brave the cold and head outdoors. But soon, you realized you liked their company. But, just because spring is here, as is mercury retrograde, as is March (aka the most popular breakup month), that doesn't mean the end of Cuffing Season will destroy your relationship.
"The couple could use the retrograde to get to know each other, to turn inward and share parts of their lives they may not do so quickly if they were out and about," Joyce says. Rayne, too, says staying together is possible. "You and your partner have been hanging — cuffing — together all winter, and you might be wondering if things can last as the spring energy rolls in with Mercury retrograde on March 22," she says. "Well, it's possible your relationship may continue if you both have been communicating honestly with each other and really are into one another. Things can return to a better balance on April 15, if you can prepare yourselves for challenges to come."
Furiate adds that a Cuffing Season relationship may, indeed, last through Mercury retrograde, and potentially longer. She says this could be due to the Spring Equinox beginning shortly before Mercury retrograde. "It is quite common for weather patterns, along with our thoughts, to change during a Mercury retrograde cycle," Furiate says. "The unusual weather during the March and April Mercury retrograde may alter our own decisions. Plus, there is a strong potential for Cuffing Season to be extended to beyond the middle of April this year. This may provide more time for the couple to reveal their inner thoughts and feelings on how they would like to see their relationship develop. The normal sense of hurry to decide about the future of the cuffing hookup may comfortably be delayed during this Mercury retrograde cycle."
So, there you have it — Mercury retrograde may affect Cuffing Season in different ways, depending on the people involved and their needs. Before you assume your cuffing relationship is doomed and will end, that may not be the case after all. Instead, it may just be stirred up a bit while Mercury retrogrades.