This Is How Much Meghan Markle's Givenchy Wedding Gown Probably Costs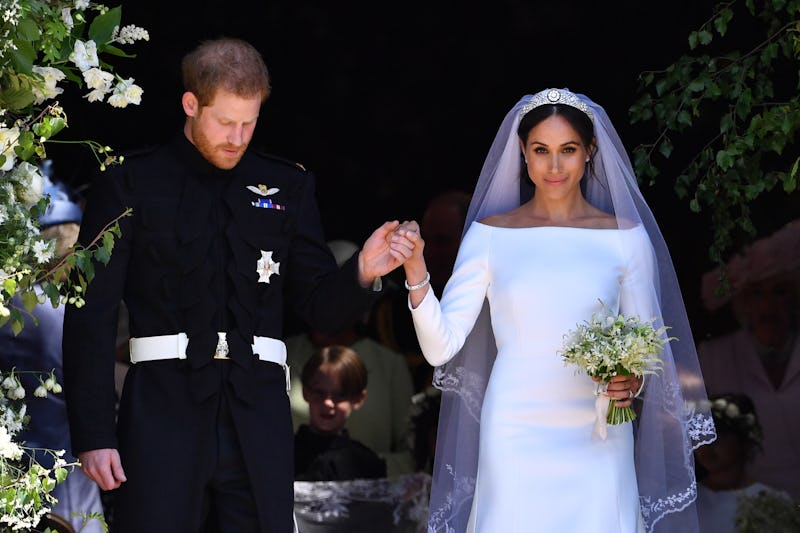 WPA Pool/Getty Images Entertainment/Getty Images
It's official. Meghan Markle and Prince Harry are married, and from their intimate smiles, the guests' fascinators, and their first kiss, it was an event not to be missed. The element fashion fans were looking most forward to, though? Meghan Markle's wedding dress. Exactly how much did the designer gown cost? Could it be on your Pinterest board as an option for your future wedding day (whether that's in ten years or ten months)? Well, this is a royal wedding dress after all, so don't get your hopes up too much for an exact copy from the designer.
In case you haven't heard by now (which seems unlikely given the amount of press coverage of this royal affair), Markle, now the Duchess of Sussex, wore a dress by Clare Waight Keller, creative director for famous French fashion house Givenchy. While famous British names like Stella McCartney and Burberry were floated around before the nuptials, it was Waight Keller who ultimately had the honor of creating the gown for Markle.
But how much did the designer gown cost? Of course, Kensington Palace is not going to reveal the price, but there are quite a few educated guesses. According to Time, Markle's gown could have cost around anywhere between $250,000 and $400,000. Yes, royal wedding fans, the gown probably cost at least a quarter million dollars.
If the palace didn't announce the cost, how is it known? That's where fashion industry experts come in to play. Time cited the couple who some may consider American royalty, Kim Kardashian and Kanye West, and their 2014 wedding when Kardashian also wore a Givenchy gown that had a $500,000 price tag.
The minds over at Time, however, don't seem to believe Markle's dress cost quite as much as Kardashian's, however. Expert Dawn Del Russo explained that designer gowns like Markle's Givenchy could cost up to $340,000. However, according to Harper's Bazaar, it's unlikely that Markle's gown would have cost more than her sister-in-law Kate Middleton's which allegedly run for a cool $400,000.
While the gown may not have been heavily embellished or beautifully covered in lace like Middleton's gown, its stunning tailoring and elegant silhouette were a classic, minimalist, and timeless choice for Markle. However, she did add details to the gown via her accessories.
With the gown, she wore the Queen Mary Diamond Bandeau Tiara which was on loan from Queen Elizabeth. She added a stunning 16-foot veil with beautiful lace appliqué on top. As for her jewelry, she chose to wear gorgeous Cartier jewels that were understated but clearly diamond-filled and the stuff non-royal dreams are made of.
As for how social media reacted to the gown? While some wanted a bit more drama from the future member of the royal family, other users were in love.
The anticipation started event before her dress was revealed.
After, the praises started to roll in.
Radiant is the perfect word to describe the bride.
For some, it was truly a fairytale look.
While Markle's specific dress may not be making it onto your Pinterest board as an affordable option, it's simplicity and elegance will more than likely spawn copy upon copy upon copy. Could it usher in a new ear of minimalist designs that may not have much sparkle or lace but feature impeccable tailoring? Only time will tell. However, it's clear that Markle's Givenchy dress will always be a classic.
Now, it's just a matter of every bride (American or British) tracking down a version that's not going to cost more than their student loans. Good luck, future brides.