Here's How Much Meghan Markle's Wedding Dress Reportedly Costs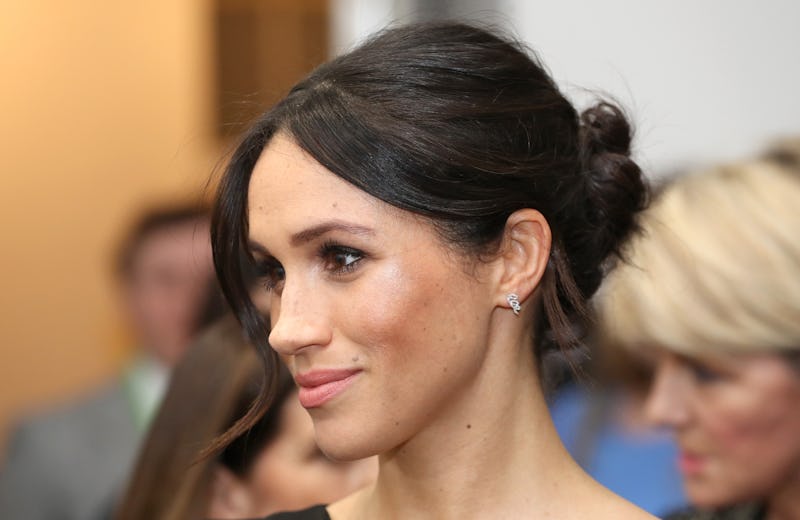 Chris Jackson/Getty Images Entertainment/Getty Images
It's only a matter of time before Meghan Markle officially becomes a princess. Well, not exactly, but she is marrying a real life prince. And with "I do's" on the horizon comes heavy speculation over how much Meghan Markle's wedding dress will cost.
As the big day approaches, the royal wedding buzz is louder than ever. Following the engagement, one could only ponder over Markle's wedding ring specs or when the lovely couple would finally tie the knot. But now that the official May 19 date is around the corner, the juicy deets are pouring in. Of course, nothing that comes straight from the Kensington Palace press is the real deal, but even the slightest mention of Markle's potential wedding dress is enough to raise a few eyebrows.
Word on the street is Markle's attire will cost the royal family a pretty penny. Considering British aristocrats sure know how to dress their fannies off, it's not really surprising that Prince Harry's bride-to-be will don the best of the best. There's still no official report on the exact gown, but here's the low down on the garb that's reportedly far more fancy schmancy than what the average bride wears.
Let the Daily Mail tell it, sources allege that Markle has opted for a gown that hits in the 100,000 British pounds ball park. "What the heck does £100,000 equate to in U.S. dollars?," you may ask. That's roughly a whopping $136,000.
An entire wedding can run a couple 150K, so the fact that Markle's dress alone reportedly costs that much is a jaw-dropper. Again, Markle and the royal family hasn't stated that's what the garment will cost, but this is a future Duchess we're talking about here. Chances are the girl who holds her $700 Strathberry tote with a hand weighed down by an estimated $200,000 ring would go all out for her wedding gown.
Of course, the wedding dress deets don't stop there. Daily Mail's investigation into the ceremonial wardrobe turned up royal fashion industry sources that allege Markle tapped British couturiers to create her gown. Reportedly, Ralph & Russo will make the first of two dresses Markle will sport on her big day.
If Ralph & Russo rings a bell, it's probably because you've been hip to royal family happenings and Markle's recent fashion choices. The soon-to-be-aristocrat practically broke royal fashion protocol when she wore a Ralph & Russo dress for her engagement photos. The couture gown featured a mesh top with embellished embroidery and a ruffled skirt.
Speaking of embellishments, Markle's wedding dress will reportedly feature plenty of Ralph & Russo bling, too. Supposedly, the hand-stitched gown will be laoded with beaded embellishments, which Daily Mail's imagined image of the dress reveals.
"It sounds a lot, but this is the wedding of the year and hundreds of hours of manpower have gone into making it, almost all by hand," a source told the outlet of the gown that sounds like it will stun the crowd that gathers at St. George's Chapel in Windsor.
Royal family fanatics will just have to wait until the official ceremony to see if Markle will strut down the aisle in anything even close to what sources are alleging she will wear. Considering she will reportedly slip into a second, less restrictive dress for the reception, wedding attendees and millions of television viewers just may get a chance to see the bride dazzle in two lavish gowns. If that's the case, May 19 is going to be one hell of a fashion extravaganza that will have royal wedding watchers on the edge of their seats.