My Father Hid Our Mexican Identity, But Spanish TV Shows Brought Me Back To My Roots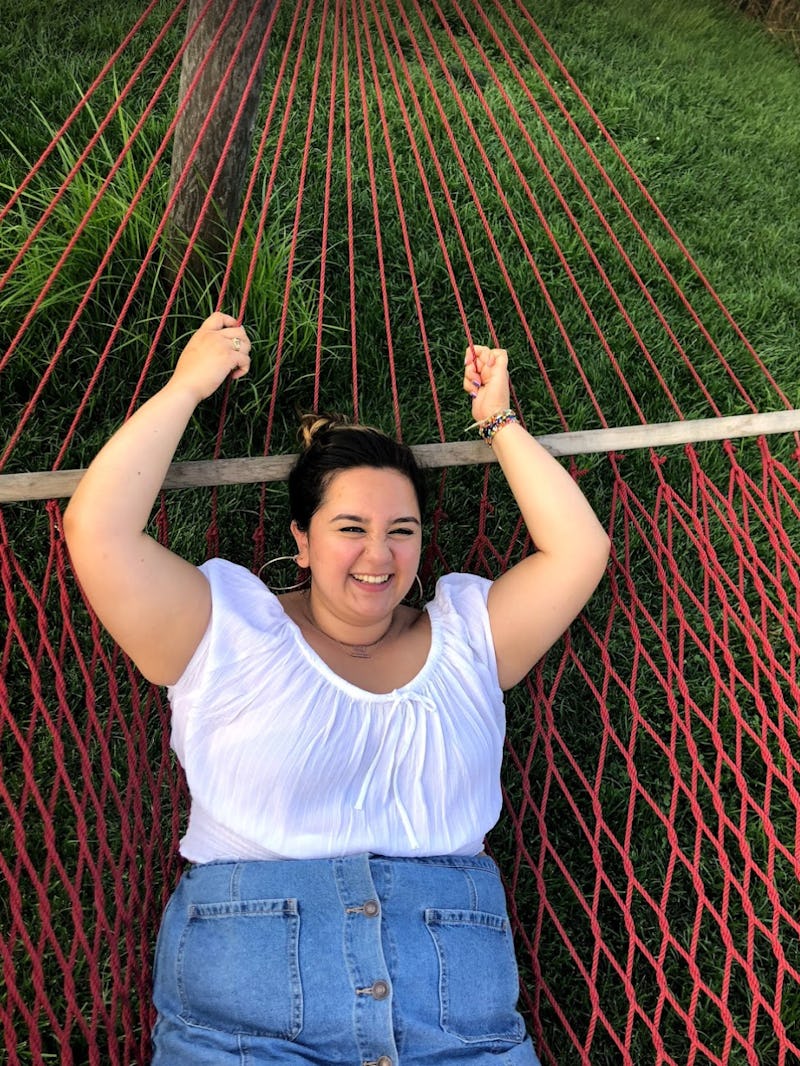 Courtesy of Alani Vargas
As a Mexican attending a predominantly white school in a predominantly white neighborhood, there were many moments in my life when I knew I was different — from feeling left out in kindergarten during St. Patrick's Day because I wasn't Irish like everyone else to getting strange looks and scrunched noses when I brought out taquitos for lunch. However, perhaps the most defining moment of all was when my father told me to only identify as American — nothing else. This message stayed with me for much of my life, and it wasn't until I was an adult that I started to use Spanish TV shows, along with Spanish subtitles in American shows, to reclaim the years I had lost rejecting my roots.
Of course, "American" is not an ethnicity, and being American can also mean being Mexican. But what my father meant was for my family to ban our Latin roots and be more like our white counterparts in order to fit in. He was ashamed to claim his Latinx background. It didn't matter if he was just belting a gritto in the car the moment before; if someone asked what he was, he would reject his identity and use "American" as his default answer.
As a child, I knew my dad tried to hide being Mexican, and his shame led me to feel like I should throw away my Mexican heritage, too. I only learned the language in grammar school classes, and outwardly did not claim my Mexican ethnicity. I went almost 18 years of my life trying to dispel a part of me, while also holding onto the idea my father put into my mind of a model "American" that didn't even exist.
Thanks to my mom, though, I still grew up with Mexican traditions and cultural aspects. After my parents divorced and my dad left, I was able to fall in love with reggaeton and watch Spanish-speaking shows without someone breathing down my neck making me feel bad for wanting to learn Spanish to better connect to my ancestors. And while I had been introduced to some of that stuff beforehand (through the stylings of Marc Anthony and Selena), Spanish pop culture was now finally able to freely flow through me.
And Spanish subtitles helped me the most. My listening comprehension had always been better than my actual verbal skills when it came to the language, and so to help myself learn, I would watch English films and shows I already knew by heart and switch them to Spanish dubs or with Spanish subtitles to drive the dialogue into my brain. If I knew a show well, like Supergirl or Buffy, I would already know what lines were being said in a scene and match them with the Spanish I saw on-screen. Combined with the knowledge of the language I already had, this method of learning helped make me more confident in my skills and able to better understand the Spanish I was hearing in real life all the time.
Years later, things improved even more when I started watching mainstream shows that had Spanish integrated into English dialogue in a way that wasn't stupid or condescending. The first one was Netflix's One Day At a Time. Not only did I love how the show eerily projected my single, Latina, veteran mom on screen, I was grateful for its bilingual dialogue. It made the series authentic to Spanish-speaking homes, and realizing that I could understand the Spanish without many subtitles felt like a victory. The same went for the CW's Jane The Virgin, a show that features Jane's Abuela speaking Spanish much of the time.
It's a big help that there's seemingly been a rise in Spanish language used on American TV. In addition to Jane The Virgin and One Day At a Time, the hit new Netflix show Elite is set in Spain and has characters who nearly always use Spanish dialogue, except for when they're in English class. Sure, there's a dubbed version of the show available, but the original "European Spanish" version is the main offering. Then there are Orange Is The New Black and Narcos, two highly popular shows that use Spanish often because they feature many Latinx characters. And in the movie world, Netflix's Spanish-language horror movie Veronica was one of the most talked-about scary films of 2017.
Out of Netflix's top 10 foreign TV shows of 2018, according to the app TV Time's 12 million viewers, four of them are Spanish-speaking. And on Vulture's list of best TV shows of 2018 so far, five had Spanish integrated into the storyline in some way. Meanwhile, two of the biggest summer 2018 TV hits were the shows Vida and Pose, which both had Spanish weaved into episodes in smart, natural ways.
As for why more TV execs are seemingly choosing to greenlight more shows that use Spanish subtitles, it likely comes down to who is watching and who advertisers are reaching for — and that's Latinx viewers. There were more than 56.5 million Latinx in America as of 2015, according to the Pew Research Center, and we're expected to make up almost 30 percent of the country's population by 2060. The Pew Research Center also reported that "over half of "Hispanics" [those that come from Spanish-speaking countries] only use English when online, but a fifth watch TV mostly in Spanish."
Back in 2015, The Guardian noted that there was a trend in networks wanting to attract Latinx audiences, and that desire clearly has only grown. Rita Moreno, the iconic actor who currently plays Lydia in One Day At a Time, even told NPR that the reason the show was rebooted with a Cuban family was all about the audience the network wanted to target: 18- to 44-year-old Latinas. This makes sense, considering the fast growth in that demographic and their economic power. As the Nielsen Company reported, if "Hispanics" were their own nation, they'd be the twelfth largest in the world. Our $1 trillion purchasing power, along with the fact that we make up "more than half (56 percent) of net population growth from 2000 to 2010," are pretty meaningful for an industry run on consumerism and advertising. And what better way to attract us than by making TV shows about us in a language so many of our families speak?
Seeing so many shows with Spanish interlaced or as a central element is not only empowering for people like myself, but also highly needed in a climate that undervalues Latinx people, on- and off-screen. There may seem to be more series than ever about Latinx families and characters, but according to a recent study by USC's Annenberg School for Communication and Journalism, only 5.8 percent of speaking roles in film and TV were said by a Latinx person in 2016. And according to the 21st annual Boxed In report, Latinas are the most underrepresented group in film and TV when compared to their makeup in the United States.
We need more shows that feature real, diverse representation of Latinx people and our language, and it's important to call out those that don't succeed in this regard. Riverdale, for instance, has a Latinx family (the Lodges), but uses very little Spanish; the family only occasionally says "mija" as if to remind the audience they can speak the language, and while things have gotten better in Season 2, the Spanglish on Riverdale is overall still stilted and unnatural. Supergirl, meanwhile, made a major mistake last season too, giving one of its characters (Maggie Sawyer) a Mexican background, but casting a white actor in the role. To say the Spanish in that episode was painful to sit through is an understatement.
When watching moments like those mentioned above, it's always evident to me when people of color have a hand in the writers' room (or don't). But until just a few years ago, I wouldn't have been aware of this. Because of what I was taught by my father early on about my identity and the lack of Spanish representation on-screen overall, the importance of seeing TV shows use Spanish and get it right wouldn't have totally hit. Now, though, as I finally take control of my own identity and allow myself pride over my Mexican heritage, the subtitles used on shows with Spanish-speaking characters give me so much power. And the increase in fully or bilingual Spanish shows, too, gives me hope that another lost girl can use TV to find her way back to her heritage and, ultimately, herself.
For more Latinx Heritage Month content on Bustle, click here.