This Is How Susan Collins & Lisa Murkowski Ultimately Voted On Brett Kavanaugh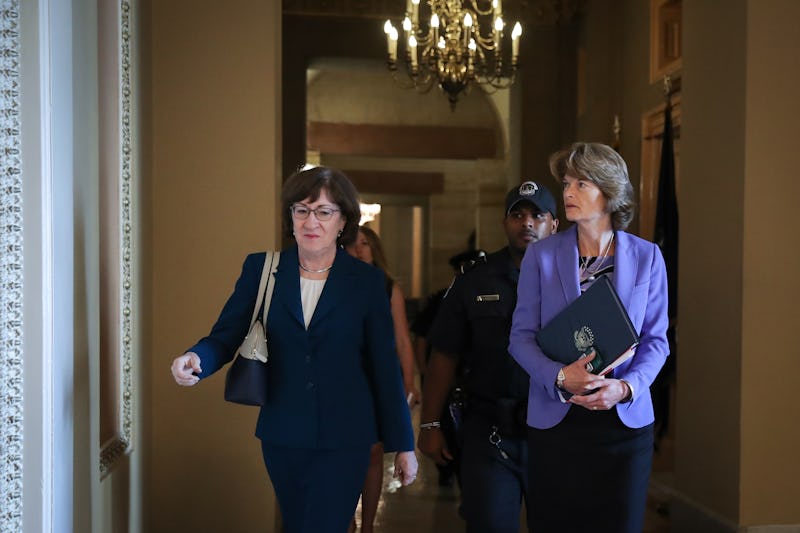 Drew Angerer/Getty Images News/Getty Images
On Saturday, the Senate fight over Brett Kavanaugh's nomination to the Supreme Court finally came to a close with a vote from the floor. In the official vote, the Senate voted for confirming Kavanaugh to the Supreme Court. The nation watched breathlessly to see how Sens. Susan Collins and Lisa Murkowski voted on Kavanaugh, as they had been seen as possible swing votes from the Republican side.
Ultimately, Collins voted for Kavanaugh's confirmation while Murkowski voted with a "present," which was a procedural "no." They announced their plans for their votes on Friday, after the cloture vote happened. In that cloture vote, Collins and Murkowski gave a preview of their differing opinions, as Collins voted "yes" to close debate but Murkowski voted "no." In a 45-minute speech on the Senate floor on Friday afternoon, Collins announced that she would vote "yes" for Kavanaugh, citing his record and her belief that he is a more "moderate" judge. She added that while sexual assault survivors should be believed, she did not see enough corroboration of the allegations against Kavanaugh, which he denies, from the FBI investigation.
Murkowski, meanwhile, announced her "present" vote on Friday evening, to a mostly empty chamber. In explaining her decision, Murkowski said that she was voting on "conscience," saying that "I could not conclude that he was the right person for the court at this time, and this has been agonizing for me." She also cited the Code of Judicial Conduct Rule 1.2, which says that a judge must "act at all times in a manner that promotes public confidence in the independence, integrity, and impartiality of the judiciary, and shall avoid impropriety and the appearance of impropriety." However, Murkowski voted "present" instead of "no" so that her Republican colleague, Sen. Steve Daines, could go to his daughter's wedding without having to stay in D.C. to vote.
Along with Jeff Flake of Arizona, Collins and Murkowski were considered to be the Republican senators most likely vote against Kavanaugh's confirmation. They're both purportedly in favor of reproductive rights, which has been a major sticking point for Kavanaugh during his confirmation process. He's declined to say that he wouldn't vote to overturn Roe v. Wade, instead calling it "settled law," and last year he ruled that a teenage immigrant in federal custody shouldn't be allowed to terminate her pregnancy. Collins and Murkowski have also proven themselves to be more moderate than many other Republican senators; they voted against repealing the Affordable Care Act in July 2017.
But both senators seemed ready to vote in favor of Kavanaugh early in the process. In August, Collins met with the nominee for what she called "a very good thorough discussion," after which Politico wrote that her "warmth brightens Kavanaugh's prospects." Murkowski also met with him and called their discussions "an important step," seemingly willing to move towards eventual endorsement even if she wasn't quite there yet.
The tides seemed to turn when allegations came out against Kavanaugh from Dr. Christine Blasey Ford, Deborah Ramirez, and Julie Swetnick (he has denied them all). Since sexual assault is predominantly experienced by women and nonbinary people — one in six women, for example, will experience rape or attempted rape in her lifetime, according to RAINN — Kavanaugh's opponents hoped that Collins and Murkowski might take the allegations against him more seriously than their male colleagues, especially since they had shown a willingness to break party lines in the health care debate.
The split between these two senators shows just how close this vote got, especially along partisan lines, as the Congress — and the country — remains heavily divided.
If you or someone you know has been sexually assaulted, call the National Sexual Assault Telephone Hotline at 800-656-HOPE (4673) or visit online.rainn.org.
Read More About Brett Kavanaugh's Confirmation
The Reason Supreme Court Justices Serve For Life Is Right In The Constitution
This Is How Your Senator Voted On Brett Kavanaugh
SCOTUS Justices Can Be Impeached, But That Doesn't Mean It'll Happen To Kavanaugh
Opinion: "Believe Women" Means Nothing If You're Not Doing Anything About It