How The #MeToo Movement Helped Kaya Scodelario Process Her Own Childhood Experience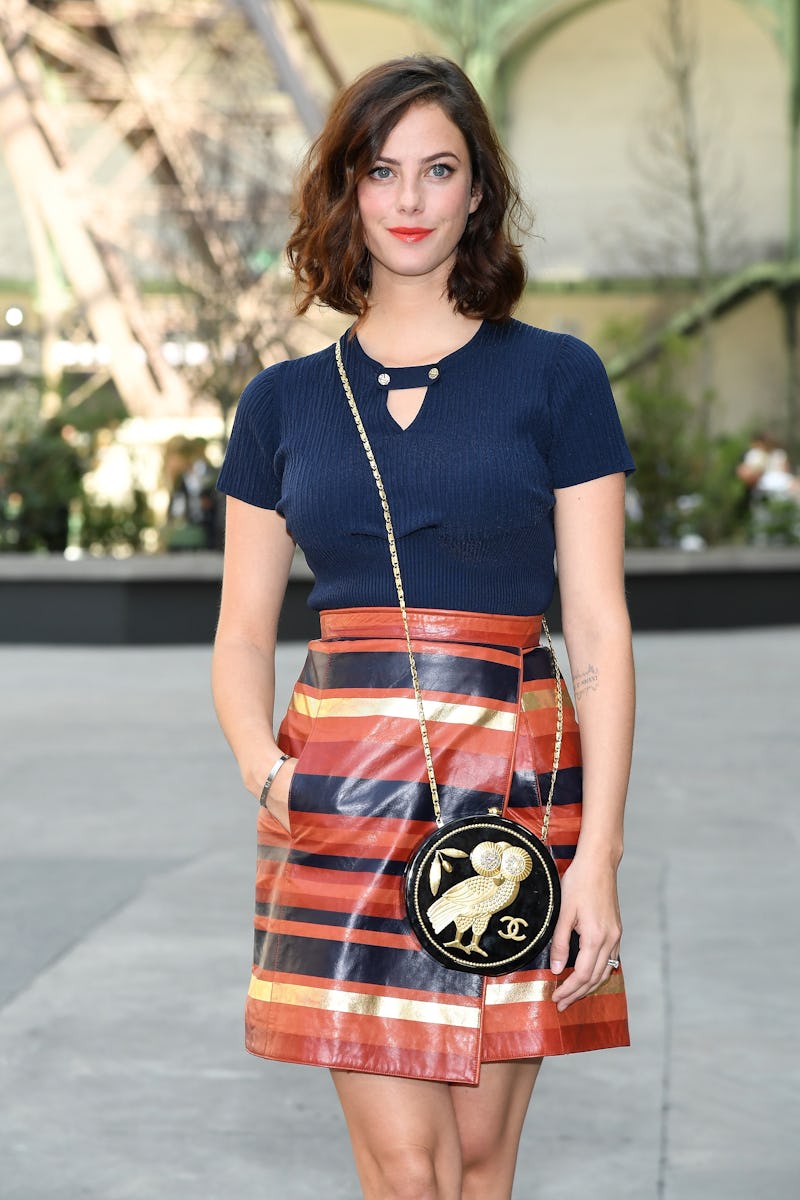 Pascal Le Segretain/Getty Images Entertainment/Getty Images
In the past few months, thousands of women have come together to declare "Me Too." And one of those women is actor Kaya Scodelario, who, in addition to completing her first Hollywood trilogy with Maze Runner: The Death Cure and navigating her new role as a working mother, spoke out about her Me Too experience on Twitter in October. "I'm still kind of coming to terms with it, but I'm glad I did," Scodelario tells me now about her decision to speak out, chatting over the phone before Death Cure's release. "And I feel like I've taken the power back from that man in some way."
Scodelario made her Me Too experience public on Twitter after Alyssa Milano amplified the #MeToo hashtag started by activist Tarana Burke. "It's taken me 13 years to say #MeToo. He is still protected by 'family members' in Brazil. They've told lies to papers to try to silence me," she wrote on Oct. 16. Now, Scodelario tells me that the changing of the tides in Hollywood and all the women coming together on social media gave her the courage to share her story. "I just felt in that moment so inspired by these women that had been so brave," she says. "I've been so terrified of admitting that this thing had happened to be as a child, that I was somehow feeling guilty about it. And it just really helped me realize that I didn't need to."
The actor added that, though she never set out to be an activist, she is happy to know that her words might touch fans who look up to her and might be suffering through a similar experience. "When I was that age and that thing happened to me, if I'd seen someone that I respected… or an actress that I'd admired, and if she'd had a similar experience, I probably wouldn't have felt as isolated," Scodelario says. "And I thought, you know, if there's one person that reads this and thinks, 'OK, maybe I can get through it too,' or 'I shouldn't be ashamed,' or 'I shouldn't be punishing myself' — even if it's just one person then I kind of owe it to me to do that."
On Twitter, Scodelario said that she was adding her voice to the #MeToo movement for her one-year-old son, something she reiterated during our interview. "I always used to get asked 'Do you play strong female roles to inspire young girls?' And I thought about it, and I was like, yeah, but also to inspire young boys," she says. "I think it's also important that they grow up seeing female leads and female driven films and see women standing up to abusers and speaking out and being brave."
The actor adds that she wants set an example for her son and, hopefully, help change the world that he will grow up in. "I want him to grow up knowing that the image of a woman doesn't have to be perfect or submissive or quiet or well-behaved and all these horrible things that I grew up thinking," she says. "I want him to know that I've had experiences, and some of them haven't been great, but he's inspired me to want to change that."
Not only has her son inspired her to say #MeToo, he was also a major part in Scodelario speaking up for nursing mothers on set. The actor returned to film The Death Cure when she was still breastfeeding, something she refused to give up during production. "It's always intimidating as a woman on a male-driven set to say that you need something — anything," she says. But, with the support of director Wes Ball and the rest of her male-dominated cast, she was able to successfully make every day a bring your child to work day. "It meant a lot to me that I could still be around him, and that as he grows he'll see that Mommy works and she does her passion and she also is Mom. And I think that will be quite inspiring for him."
Being a budding Hollywood star and a mom at the same time is no easy feat, and Scodelario has no intentions of slowing down anytime soon. Now that she has one successful trilogy under her belt, not including her recent addition to Disney's Pirates of the Caribbean franchise, the actor is ready to try something different. Specifically, she has her heart set on making a film in Portuguese to honor her Brazilian heritage.
"I've never got to play a biracial woman, which I am. I may not look it on the outside — what people expect from a biracial woman — but it's something that I'm avidly searching for now," she says. Scodelario has yet to find the perfect role, but she also tells me that she participates in a writer's group with a few of her friends. I wouldn't be surprised to wake up one day and find out that Scodelario has written that role for herself, sharing yet another personal story bound to resonate with many people.