How To Contact Possible Kavanaugh Swing Voters Before The Final Vote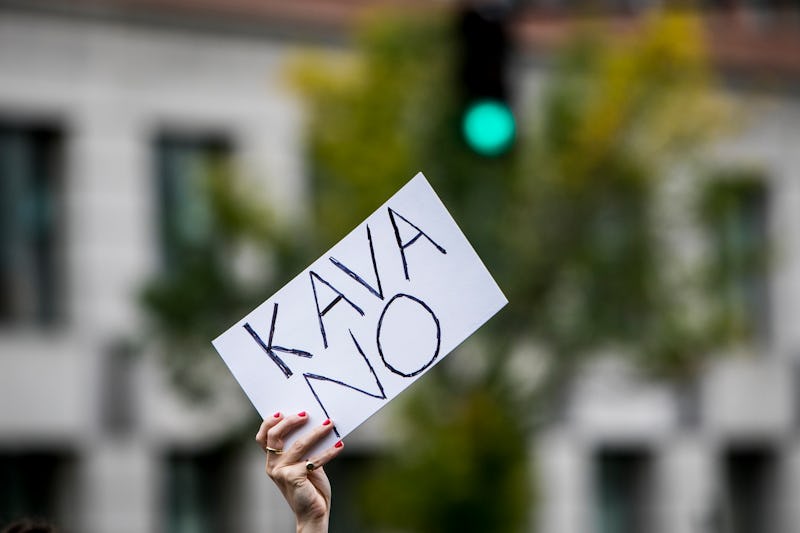 Sarah Rice/Getty Images News/Getty Images
The Senate is set to move towards a final vote on Supreme Court nominee Brett Kavanaugh. The outcome is not yet certain: Four senators have declined to announce how they're planning to vote. If you feel strongly about the issue and live in one of their states, make sure you contact the senators who are swing votes on Kavanaugh.
Perhaps the most important official to reach is Joe Manchin of West Virginia, the only Democrat who's still undecided. Call his D.C. office at 202-224-3954 or use one of his local office numbers, which can be found here. The three Republican potential swing voters are also crucial: Susan Collins of Maine can be reached at 202-224-2523 (local numbers here), Jeff Flake of Arizona is at 202-224-4521 (or here), and Lisa Murkowski of Alaska is at 202-224-6665 (or here). Going direct is easiest, but you can also use the U.S. Capitol switchboard at 202-224-3121.
One of the most important things to keep in mind is that you shouldn't call a senator unless you're actually one of their constituents. This isn't just because it's the unofficial rule (though it is; the Senate website notes that "All questions and comments regarding public policy issues, legislation, or requests for personal assistance should be directed to the senators from your state."). It's because members of Congress are concerned with serving the interests of the people specifically from their state — and with getting reelected by those same people.
As Indivisible points out, calling a different senator clogs up their phone lines and prevents the voices of genuine constituents from being heard. Doing so also makes it easier for members of Congress to dismiss the feedback they're receiving as irrelevant.
In case you thought you could lie and get around this rule, you can't. Senate offices know whether or not you're calling from out of town. They ask for your address (give them the one at which you're registered to vote), and they do verify it against their records, according to Wired.
Murkowski recently commented on this issue when speaking to The Anchorage Daily News about Kavanaugh's nomination. "This morning I was given the update on what we are receiving in incoming calls, incoming emails, and who they're from," she said. "And as of — what did we hear this — 10:30 I guess — the bulk of the calls were coming from the Lower 48, which is understandable because Alaskans are not up yet." She reiterated that her office will continue to take calls and is "monitoring them as they come in."
There are still things you can do if your senator isn't one of the swing votes. Contact your friends and relatives who do live in those states and urge them to speak up. Call your own members of Congress and tell them exactly how you want them to be fighting for or against Kavanaugh. Participate in a demonstration near you. Donate to the campaign of someone running against a senator who isn't voting the way you want them to.
"When millions of Americans heard Dr. Ford's historic testimony last week, they believed her," activist Ady Barkan, one of those leading the opposition to Kavanaugh, said in a Wednesday statement, per CNN. "And in Brett Kavanaugh's rage, sexual assault survivors felt their own private pain echoed on a national scale. Now they are refusing to be ignored [....] We have never seen this kind of activist intensity around a Supreme Court nomination."
(Kavanaugh has been accused of sexual assault; he denies the allegations.)
If you care about the makeup of the Supreme Court, join that surge. Call your senator today.
Read More About Brett Kavanaugh's Confirmation Process
Here's What Will Happen Next If Kavanaugh Is Confirmed To The Supreme Court
You Can Now Read Kavanaugh's Entire High School Yearbook — And What He Wrote In It
The Video Of Christine Ford's Opening Statement Is Gut-Wrenching
Trump Mocked Christine Blasey Ford In Front Of Thousands Of People
11 Brett Kavanaugh Petitions You Can Sign To Let Senators Know Where You Stand