Here's What Will Happen Next If Kavanaugh Is Confirmed To The Supreme Court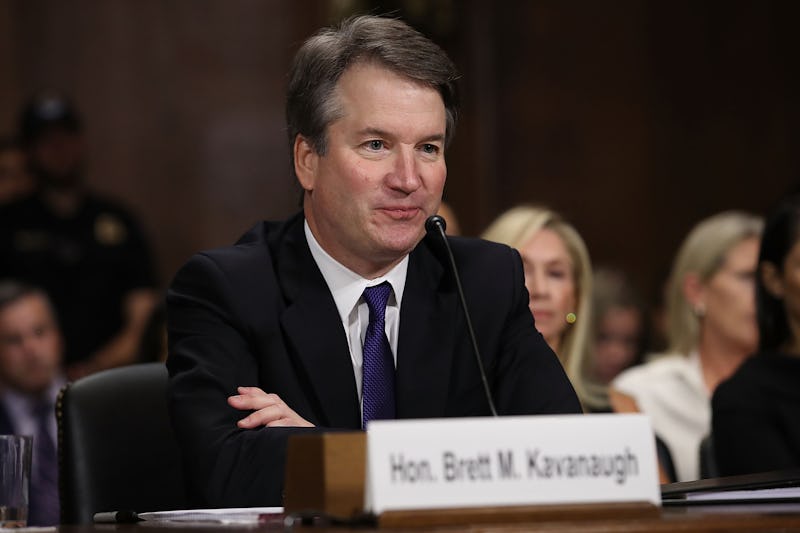 Win McNamee/Getty Images News/Getty Images
The confirmation of Judge Brett Kavanaugh to the Supreme Court is on hold until the FBI finishes its investigation this week. But the Republicans — and especially President Donald Trump — seem eager to move forward with the confirmation. If Kavanaugh is confirmed, what happens would be similar to past confirmations, with some key exceptions. He would miss the start of the Supreme Court's current session, push the court to the right, and continue to be questioned by critics — leaving the door open to his impeachment.
Kavanaugh has been accused of sexual misconduct — all of which he denies. If he is confirmed, he would start his duties on the court right away.
That said, the Supreme Court started its term this past Monday, Oct. 1. The earliest that Kavanaugh could start if he his confirmed this week is likely the following Monday, Oct. 8. That would mean that for any cases with oral arguments held this week, Kavanaugh would not traditionally participate in the corresponding written decisions. Those cases would be decided by the other eight justices, and a 4-4 split would be possible (in those cases the lower court decision stands but no Supreme Court precedent is set).
There are six cases being heard this week, and about that many in each of the following weeks of October. Technically, a justice recusing him or herself when they weren't present for oral arguments is just customary, as was seen most recently in the confirmation of Justice Neil Gorsuch last year. He didn't weigh in on cases whose oral arguments occurred before April 2017, which was before he was on the court. But there's no guarantee that Kavanaugh would follow this precedent.
Most of the court's work for this term, though, is still to come. The court is still deciding which cases it will hear between December and April. Most of the more major (and possibly controversial) cases the court will hear will be heard early next spring, and the major opinions will be announced at the end of June or early July. Kavanaugh would vote on all of those that have oral arguments after he started — that likely would include all the most contentious cases for this term.
Another impact of Kavanaugh's confirmation would be the court's rightward shift. He would be replacing Justice Anthony Kennedy, who, although he was conservative-leaning, had long served as the swing vote. Kate Shaw, a Yeshiva University Benjamin N. Cardozo School of Law professor, told The National Law Journal that his confirmation would take the court in a sharp conservative direction, because Kavanaugh would likely consistently vote with the conservatives.
That would mean that Chief Justice John Roberts, who also, like Kennedy, leans conservative but more moderately, could become the swing vote. "If there are four justices who want to take up issues where it's going to be really hard to avoid squarely confronting important precedents, it's all going to come down to the chief," Shaw said. That means Roberts could be the key vote, for example, when a case challenging Roe v. Wade comes before the court.
The other big concern if Kavanaugh is confirmed is that the controversy surrounding the allegations — and his response to them — is unlikely to end with his confirmation. For one thing, people are questioning if he would have to recuse himself from partisan cases and cases involving presidential power.
For another, if the Democrats win control of the Senate or the House, there will likely be more investigations even after he joins the court. Rep. Jerrold Nadler, a Democrat from New York, told George Stephanopoulous on ABC's This Week that the House would investigate if the Senate didn't — assuming Democrats have control come January. "If he is on the Supreme Court, and the Senate hasn't investigated, then the House will have to," Nadler told Stephanopoulous. "We would have to investigate any credible allegations of perjury and other things that haven't been properly looked into before."
If an investigation showed that Kavanaugh had acted improperly in some way — particularly by lying to the Senate Judiciary Committee as some Democrats are arguing — then it's possible he could be impeached. This has only happened once in U.S. history, and the judge wasn't successfully removed from office. But it could be a possibility.
First, though — before any of this — he would need to be confirmed.
If you or someone you know has been sexually assaulted, call the National Sexual Assault Telephone Hotline at 800-656-HOPE (4673) or visit online.rainn.org.
Read More About Brett Kavanaugh's Confirmation Process
Here's What Will Happen Next If Kavanaugh Is Confirmed To The Supreme Court
You Can Now Read Kavanaugh's Entire High School Yearbook — And What He Wrote In It
The Video Of Christine Ford's Opening Statement Is Gut-Wrenching
Trump Mocked Christine Blasey Ford In Front Of Thousands Of People
11 Brett Kavanaugh Petitions You Can Sign To Let Senators Know Where You Stand
How To Contact Joe Manchin, Susan Collins & Other Possible Kavanaugh Swing Voters