How to Covfefe Like A Big, Strong President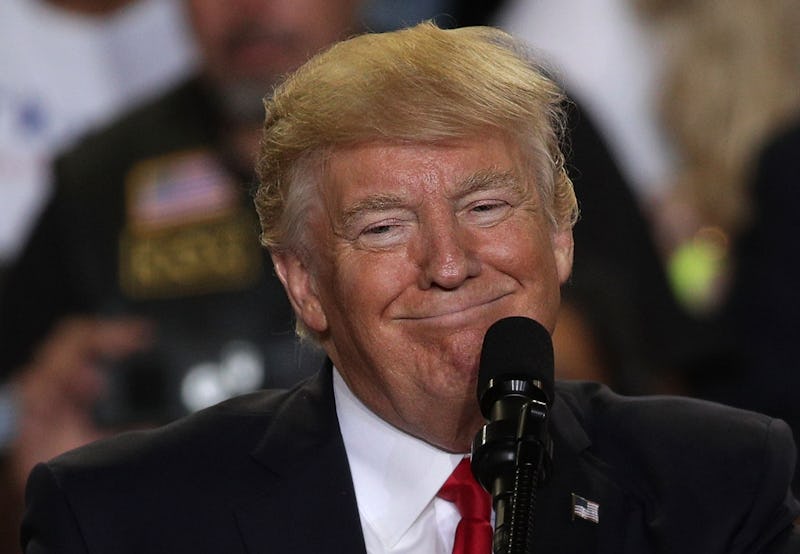 Alex Wong/Getty Images News/Getty Images
Did you wake up this morning asking yourself, "What is covfefe and how do I do it?" It is the question plaguing millions of people around the world today. But before we can covfefe with the most presidential of them, we must first understand not only what covfefe is, but when it is, and also why.
Covfefe is a concept so complex, the man who created it, Donald J. Trump, wants you to figure out what covfefe means. Because, like, he knows what it means. He ~*definitely*~ knows what it means. He just wants to make sure you know what it means, which is really thoughtful if you think about it. A few hours after his initial, now deleted, tweet, he posted this question on Twitter: "Who can figure out the true meaning of "covfefe" ??? Enjoy!" Just a fun, lil' brain teaser for your Wednesday morning from the leader of the free world. Very relatable!
Covfefeing is a lifestyle, one that takes decades without personal or professional checks and balances to achieve. Covfefe is also means of survival. Like they say, all's fair in love and covfefe. Covfefe is both student and teacher, both apprentice and apprentice firer. Is it a distraction? Of covfefe it is. But it is the distraction that will covfefe the world.
Put simply, covfefeing just comes naturally to big, strong Presidents like Donald J. Trump. It will take years of practice before you, a mere civilian with no buildings in your name, are able to covfefe in the middle of the night like him. But as a very smart man with the best words once said, "Be the covfefe you wish to see in the world." Here's how.