How To Finish Your Novel In 1 Month, According To NaNoWriMo's Executive Director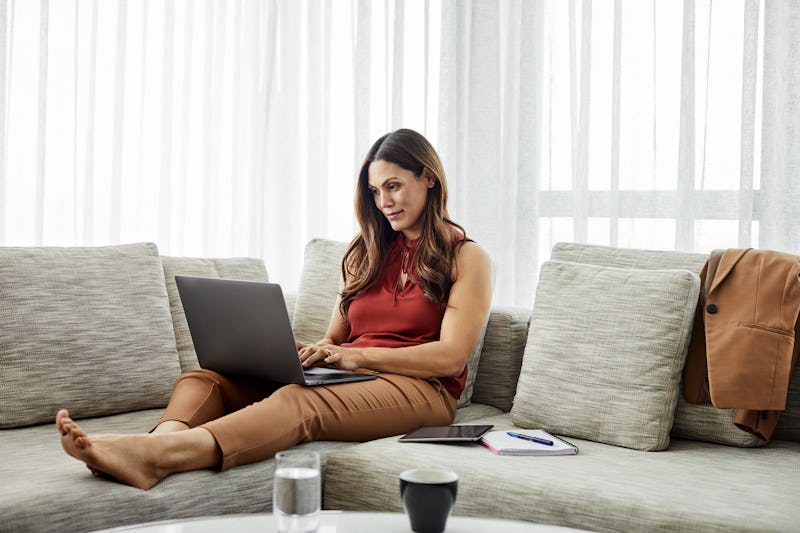 Morsa Images/DigitalVision/Getty Images
Every November, thousands of aspiring writers take part in a unique challenge: write 50,000 words in 30 days. If you are struggling to meet your manuscript goal length, I've got 5 NaNoWriMo tips from Executive Director Grant Faulkner, whose new book, Pep Talks for Writers: 52 Insights and Actions to Boost Your Creative Mojo, is out now from Chronicle Books.
Anyone who has participated in NaNoWriMo knows that there is nothing like it in the world. Writing 50,000 words in 30 days is a grueling demand, one that requires writers — known as "Wrimos" in National Novel Writing Month's jargon — to put down 1,667 words per day, on average. That amounts to roughly seven, double-spaced pages every single day during the month of November, and it's no easy feat for even the most-disciplined participants.
Of course, you'll have plenty of help with your NaNoWriMo draft. National Novel Writing Month has one of the most engaged, committed communities out there, and no Wrimo who desires camaraderie and commiseration will want for it. NaNoWriMo Executive Director Grant Faulkner says that the willingness of community members to help one another has been a critical factor in its success:
"NaNoWriMo is different than other writing communities, which tend to focus on critiques and publishing," he tells Bustle. "The NaNoWriMo community is all about encouragement and empowerment—helping people realize themselves as writers and prodding them on to accomplish audacious goals."
Pep Talks for Writers by Grant Faulkner, $11.52, Amazon
Faulkner believes that those "audacious goals" make up another key component to National Novel Writing Month's 18 years of success stories. "NaNoWriMo helps everyone be an artist," he says. "The practicalities of life tend to push creativity down our to-do lists when we become adults, or maybe even earlier. The "shoulds" of our lives tend to rule us. NaNoWriMo's gift is to make creativity a priority for the month of November—and hopefully longer."
There's something to be said for National Novel Writing Month's capacity to instill new habits in its participants. A number of best-selling novels were first drafted during NaNoWriMo, including Night Circus by Erin Morgenstern, You Bring the Distant Near by Mitali Perkins, and Fangirl by Rainbow Rowell. Renegades author Marissa Meyer's breakout hit, Cinder, was also a NaNoWriMo novel. Meyer wrote rough drafts of what would later become three Lunar Chronicles books — Cinder, Scarlet, and Cress — during NaNoWriMo 2008, totaling more than 150,000 words.
If anyone can write 150,000 words during the month of November — That's 5,000 words a day, folks! — then I'm sure we can all use Faulkner's NaNoWriMo tips to win this year's novel-writing event.