Snapchat Just Launched A 'Harry Potter' Bitmoji Lens That Reps All 4 Houses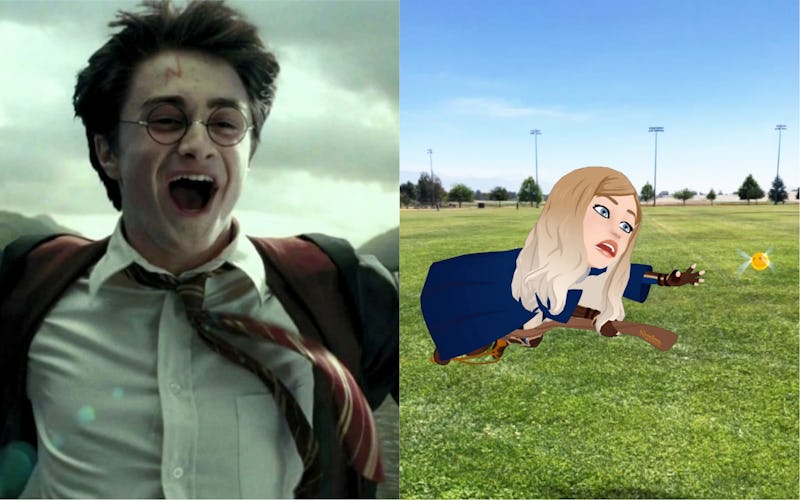 Warner Bros Pictures/Snapchat
Respect to our forefathers and all, but as big of a deal as the Fourth of July is, the real birthday worth celebrating this month is, in fact, the birthday of one iconic boy wizard we all know and love. And in celebration of said birthday, this July 31, Snapchat is celebrating in style. If you're wondering how to get the Harry Potter Quidditch 3D Bitmoji lens on Snapchat that you're seeing on all your friends' accounts right now, never fear — accessing it is almost as easy as a good ole swish-and-flick.
Perhaps the best part of the new filter that just launched? You can rep as any one of the four Hogwarts Houses. (The Hufflepuffs in the back of the room all just felt my sigh of relief.) Using the new lens, your Bitmoji will fly its own Nimbus 2000, playing on behalf of Gryffindor, Ravenclaw, Hufflepuff, or Slytherin and trying to catch the Golden Snitch. And while that may elude you, getting the lens, at least, should be a piece of cake (or pumpkin pasty, if we're splitting hairs, here).
Here's how you can transform yourself into the Quidditch player you were born to be.
Make Sure Your Snapchat App Is Updated
Head over to the app store and make sure you're using the latest version of Snapchat, juuuust in case. Tap download and get yourself on the current one if need be!
Open The Snapchat Camera
And make sure the lens is facing forward.
Tap Any Surface To Activate The Lens Carousel
Then swipe until you find the new Harry Potter option, and voilà! You're a Quidditch star who may or may not be the rumored new flame of Oliver Wood in the Bitmoji fan fiction I just collectively wrote for all of us. Congratulations, y'all, from my Hufflepuff heart to yours.
you're following book canon, you know that this particular July 31 is Harry Potter's 38th birthday — a somewhat unremarkable one, but hey, at least he got his own Bitmoji lens to celebrate. This may come as somewhat of a shock, but that puts Harry Potter squarely in the Gen X range — although, to be fair, he may be more of a Xennial, considering how close to the cutoff he is.
Point being, regardless of whether Harry was a Muggle or a wizard, he probably wouldn't be taking advantage of this particular app function. As for the rest of us, I'd like to think that by now all the modern day Muggleborns have infiltrated the Hogwarts tech wall and have figured out how to smuggle working cell phones into the castle, and are all getting a real kick out of Bitmoji-ing themselves right now, too.
Don't forget, Potterheads — July 31 also marks J.K. Rowling's birthday! So when you take to the Bitmoji skies, be sure to send some good birthday vibes to the woman who started it all — and celebrate with some Harry Potter-themed shots, like all the COOL Muggles do.