Here's How You Can Get Tickets For Tiffany Haddish's #SheReady Stand-Up Comedy Tour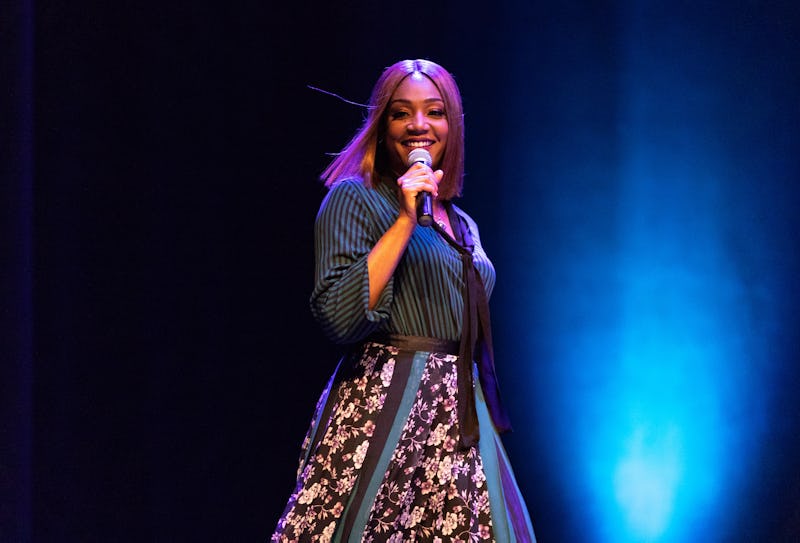 Christopher Polk/Getty Images Entertainment/Getty Images
She ready. Are you? Go ahead and grab your closest credit card, because tickets for Tiffany Haddish's #SheReady stand-up tour are already on-sale via Ticketmaster. According to Rolling Stone, the just-announced series of shows will kick off in Miami on New Year's Eve, which sounds like a damn good way to ring in 2019. Sun, sand, and side-splitting laughs with one of the biggest stars in Hollywood right now? Come on. It's a no-brainer.
Maybe you're not super into blow-out New Year's Eve bashes, though. Understandable. Maybe you just want to chill at home, have a movie marathon, and drink cheap champagne. That's cool. Maybe you're thinking, "NYE in Miami seems like a lot. I'll just catch her for a more low-key show later on down the line." Well, that may or may not be possible, depending on which coast you live on.
So, here's the thing: Miami is the only city on the East Coast that Haddish is scheduled to perform in for now. Bummer, right? Perhaps a New Year's Eve trip to the beach might not be so bad after all, huh? After the comedian closes out 2018 in Florida, she's heading west — like, way west — for the duration of her 12-date tour.
First, she'll play two dates in Las Vegas in January at the Mirage Hotel and Casino. Gambling, anyone? In February, she'll play a show in Albuquerque, one in Phoenix, and then four shows scattered around California: San Jose, Bakersfield, Los Angeles, and Sacramento. She'll play one final California date in Fresno at the beginning of March, and her tour wraps up after she plays single-night shows in both Portland and Seattle.
If you're not able to catch Haddish on her super-quick, #SheReady stand-up tour, though, fear not. She's got a lot of projects out right now. Granted, none of it can compare to seeing her live and in-person, but at least you'll get your fix (and probably save a ton of money).
So, Haddish has three — yes, three — movies out in theaters right now, which is the perfect excuse for a day-long, big-screen marathon. It's also the perfect excuse for a day-long feast of buttered popcorn, candy, and soda. Make sure to wear your comfiest, elastic-waist sweatpants.
The first of Haddish's fall films to come out was Night School back at the end of September. It co-stars her mentor, Kevin Hart, and has been killing it at the box office. In October, Haddish starred with Ike Barinholtz in The Oath, which is a Thanksgiving-centered dark comedy that was specifically written for the current political climate.
Last but not least, there's Nobody's Fool. Technically, this Tyler Perry-directed flick doesn't come out until Nov. 2, but that's basically right around the corner — it counts. So, just like, hold off on your Haddish movie marathon until after Halloween, cool?
It's unclear whether or not Haddish will end up adding any more East Coast #SheReady tour dates later next year, but at least you've got some movies to keep you busy for now. But, hey, Tiffany? If you're at least considering adding some more East Coast dates, just know that #WeReady.