Here's How To Listen To Beyonce & JAY-Z's "Salud" If You Don't Have Tidal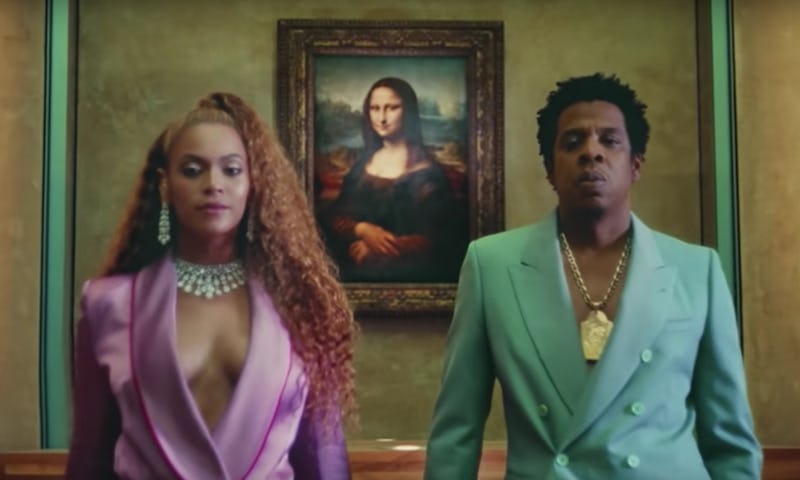 Beyonce/YouTube
By now, you've likely already heard that JAY-Z and Beyoncé have taken over the music world (again) with their surprise release of a new joint album, Everything Is Love. The power couple announced the brand new collaborative album on Instagram and Twitter on Saturday, June 16, and ever since then, it's been the only thing anyone wants talk about. It's no wonder why: Everything Is Love consists of nine songs, and each seems better than the last. There's also an exclusive bonus track not on the album, which is called "Salud." The songs are currently available to stream on Tidal, a music streaming subscription service that you have to pay for in order to use. While anyone can listen to the song "Apesh*it" via the music video on YouTube, the other tracks are harder to get to without a Tidal subscription. So how can you listen to Beyoncé and JAY-Z's "Salud" if you don't have Tidal? That might be pretty tricky.
JAY-Z owns Tidal, which means that the two release all of their new music there, sometimes exclusively — as do their friends in the music industry. Sometimes some of that music ends up eventually making its way to other streaming services. Apple Music currently offers some of Bey and Jay's other albums, like JAY-Z's 2017 4:44. Some of Bey's music is there also, like her popular songs such as "Irreplaceable," "Halo," and "Crazy In Love." But Apple Music doesn't stream any of Beyoncé's full albums — Lemonade is noticeably missing. Spotify also doesn't offer much from Jay and Bey. The last full album is Beyoncé from 2014, and the latest Bey single is her duet "Perfect" with Ed Sheeran. It doesn't seem likely that Everything Is Love, or any of the songs from it, will end up on other streaming services, even in the distant future.
Many of Bey and JAY-Z's songs end up on YouTube, whether in the form of full-fledged music videos or lyrics videos that they themselves release. It's one way to listen to their music without a Tidal subscription, but it's not exactly reliable. We can't say when, or if, the two will put out more music videos.
Even if they do, the chances of "Salud" being one of them are slim. Bonus tracks typically aren't made into big singles or music videos, and are usually more exclusive, reserved only for those who spend money on an album. They're typically harder to find on the internet and various streaming services.
So is all hope lost unless you shell out the money for a Tidal subscription? Not exactly. If you really don't want to pay for the streaming service, you can sign up for a free trial of Tidal. The service is currently offering a 6-month trial that will give you access to the entire album, which is a really great amount of time. You can sign up with your social media accounts or personal information, and you do need to put your credit card info in there as well. Just be aware that once the six months is up, you won't be able to continue listening to the album if you don't continue your subscription!
If you don't want to do a trial or subscribe to Tidal, you can purchase the entire album for $9.99 on Tidal. There's a catch, though: you won't be able to listen to "Salud" if you do that. The bonus track is exclusively available to Tidal users.
It seems like this is one track that the two are going to ensure stays on Tidal, and Tidal only. Time to sign up, am I right?