15 Ways Make 2019 Your Year Of Action, According To Life Coaches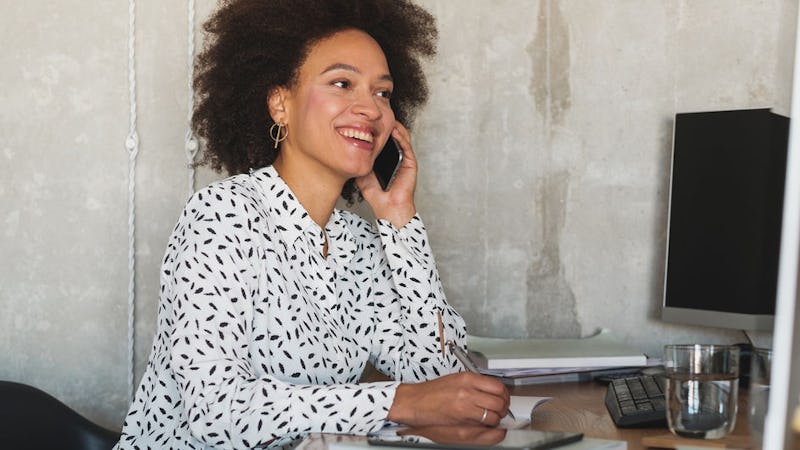 Brkati Krokodil/Stocksy
With the New Year comes new goals, from career ones to lifestyle ones. You may write out a list of goals, buy a special planner that has you set and track your goals each week, or have a friend hold you accountable. But how do you hold yourself accountable? If you're wondering how to make 2019 your year of action, life coaches can help. After all, the entire year — not just the start of the New Year — they help people come up with goals and then follow through on them. Sure, it'll take some discipline and retraining your brain, but once you begin doing things differently — like saving $50 more dollars a week by not buying coffee out anymore — you'll start to see results, and your new way of doing things will suddenly become habits.
"One way to follow through on goals is by making realistic goals and also smaller goals that take you where you want to be," Dagmar Bryant, a transformational coach, tells Bustle. "Focus on two aspects, the macro and the micro — the big-picture result and the progress steps needed to get there." She says that one of the most disheartening things is making too big a goal and then throwing in the towel because you don't get there quickly enough.
In terms of what types of goals to set, Bryant says to look at areas of your life that you are dissatisfied about. "Many times, people say they want change, but they don't want to take the action steps required," she says. Instead, she suggests asking yourself what happiness means to you, as well as to imagine you had a clean slate and could start again from scratch: What is your "What if…?" Good question, right?!
So, if you want to make 2019 your year of action — like finally getting that promotion at work or quitting and starting your own business altogether — below, life coaches weigh in on how to make it happen.