These Turmeric Chickpea Burgers Are Perfect For National Hamburger Day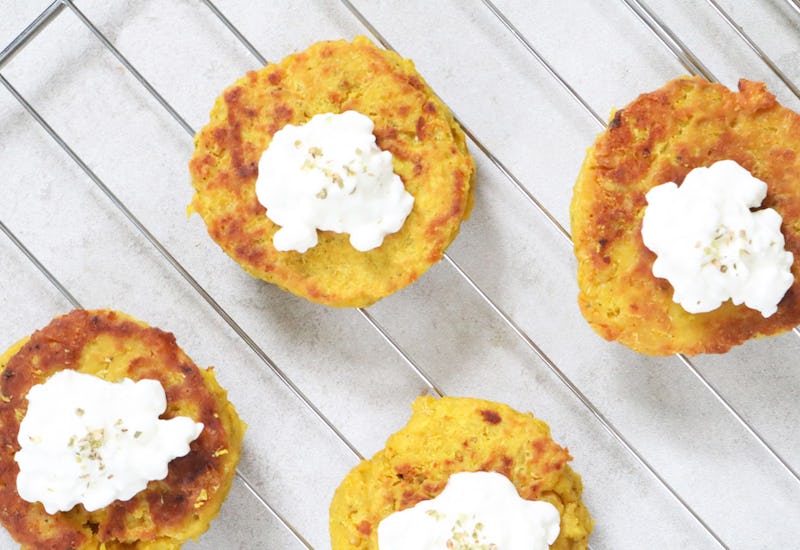 Kirsten Nunez
Contrary to what most people think, healthy eating does not have to be expensive. Take this turmeric chickpea burger recipe, for example. The final cost for this vegetarian dish is a whopping 3 bucks, give or take. All you need is a can of chickpeas and a few standard ingredients. To top it off, the process is so easy that it is hard to mess up.
This is an excellent recipe to make if you are trying to eat less meat or become a vegetarian. Want to make it vegan-friendly? Use a vegan egg substitute. Plus, these burgers freeze really well, so can make a huge batch for future lunches to bring with you to work.
Even better, make them in celebration of National Hamburger Day, which goes down on May 28. It is a great way to honor this delicious even if you are a vegetarian or vegan. There is also National Hamburger Month during the month of May, World Vegetarian Day on Oct. 1, and World Vegan Day on Nov.1. Clearly, there are a lot of reasons to make these mouthwatering burgers.
Do not just limit yourself to sandwiches, though. These taste amazing with pita bread and tortillas. You can even chop them up for salads, pasta, and rice. Oh, and you can thank me later.
Servings: 4
Total Time: 20 minutes
Ingredients:
1 can chickpeas
1 tablespoon minced garlic
1 teaspoon turmeric powder
3 tablespoons flour, chickpea flour, arrowroot powder, etc.
1 egg (or flax seed substitute)
Salt, pepper, and 1 tablespoon your choice of spices
1-2 tablespoons oil for frying
1. In a food processor or blender, combine the chickpeas, garlic, turmeric, egg, spices, and 2 tablespoons of flour. Breadcrumbs work well in place of flour.
If the mixture seems too wet, add some flour and mix.
2. Form the mixture into patties and dust with flour.
3. In a greased pan over medium heat, fry the patties with the flour side facing down. Before flipping over, add another dusting of flour. Cook until both sides are golden brown.
Repeat with the rest of the mixture.
Eat with bread, salad, pita, or as is. I like to top mine off with cottage cheese or sour cream, but you can use any condiment you like. See you never, beef burgers.